Politics | From Ferguson to the UK: Racist State Violence is a Global Problem. So Must be the Resistance.
The #BlackLivesMatter campaign highlights the necessity for a global movement of solidarity against racially-motivated state violence.
By Imani Robinson, Yusuf Dirie, Mattieu Dominic Ramsawak, Neelam Rai and Nat Jeffers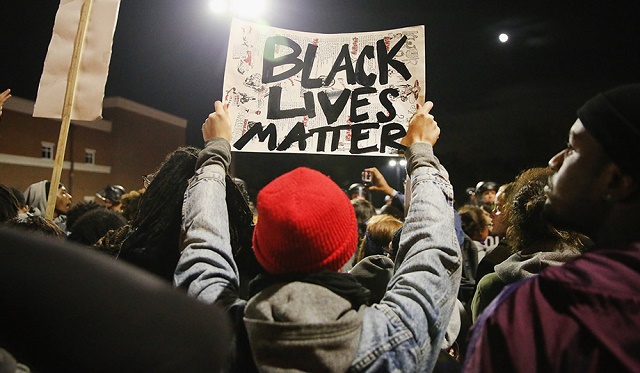 The Ferguson Solidarity UK Tour kick-started 2015 with over 20 awareness-raising events. It aims to galvanise support for an ongoing struggle for justice. And it allowed participants the opportunity to acknowledge the reality that anti-black racism is not confined to U.S. borders, but rather that anti-black racism and state violence is a global crisis. The tour enabled an important exchange of ideas between the U.S. #BlackLivesMatter campaign and activists in the UK, challenging police racism and exposing facts relating to deaths in police, prison and psychiatric custody.
We acknowledged each others' experiences and pledged to work together to build a world in which our black lives, and the black lives of the future, will, in a real and tangible way, matter. As Assata Shakur says, and as participants repeated during each event, "It is our duty to fight for our freedom. It is our duty to win. We must love and support each other. We have nothing to lose but our chains."
No Justice, No Peace
Britain has done a great job painting itself as the humanitarian, with the U.S. being the torturer. But that shit ain't true. […] From Christopher Alder being brutalised on tape, hearing the officers calling him racist slurs, to the G4S guards who killed Jimmy Mubenga, who had racist texts on their phones. You have that same hatred, these white supremacist ideologies coming out of both of our countries. And here, too, justice is not being served. We have Mike Brown, no justice. We have Eric Garner, no justice. Here we see the same: Mark Duggan, Sean Rigg. The list is vast.
Patrisse Cullors, co-founder of Black Lives Matter
A disproportionate number of the deaths in British police custody, of which there have been over 3,000 since 1969, are of those from black and minority ethnic communities. There have been no convicted officers since 1969, when the two Leeds Police officers responsible for the death of David Oluwale were found guilty of assault and sentenced to a mere few months in prison. There was no mention of racism at the trial, despite vast amounts of evidence. This refusal to tackle issues surrounding race head-on in the courtroom was repeated in Jimmy Mubenga's case. In order to combat racism, we have to put race into the picture.
Just as families in the US have to battle against legal frameworks that allow for the the state of Cleveland to declare that the fatal shooting of 12-year-old Tamir Rice in a park last November was caused by his own actions, countless times UK families have been faced with perverse verdicts of "lawful killings", as in the high profile 2011 case of Mark Duggan, who was unarmed at the time of his death.
The current legal framework effectively makes all people of colour a legitimate target for police violence. It is one that extends surveillance and harassment to all "suspect communities" in its range – from the Irish community in the past, to Muslim communities today, from the working class victims of the Hillsborough stadium disaster to the miners who picketed at Orgreave. This movement is not just about black lives, it is a fight for all those who challenge the state's right to use violence with impunity (Defend The Right To Protest, 2015).
Why does this Matter?
The fight for truth and justice for the family of Michael Brown and the community in Ferguson is not just their struggle. It is a collective struggle with families and communities around the world over deaths in custody and at the hands of the police. No family should ever have to face our fight: an injustice anywhere is injustice everywhere. Keep on fighting on in peace and solidarity: Ferguson, you are not alone.
Marcia Rigg, Justice for Sean Rigg
Families of those whose loved ones have been killed at the hands of state agents do not get the privilege of unutterable grief. They must raise their voices loud as they fight for justice for their lost ones. They must stand by, unwavering in their outrage against a justice system that deems a "reasonable belief" or "perceived threat" by the police to be permissible defence for lethal force. When justice is not served, the families and friends of those killed, or otherwise abused, have no choice but to unite in order to support each other through their struggle – a struggle they should not have to go through.
The United Families and Friends Campaign is an example of such a support system, a coalition of affected families. They have a list of demands that need to be met in order that the perpetrators of state violence and police brutality are held accountable. The list does not seem to ask too much of state service providers. Rather, it aims to shine a light on the situation in a stark and honest way that says: "We demand that you merely do your job, and are held accountable when you step outside of that: when you kill our children, our parents, our siblings, our friends". Another organisation called INQUEST, founded in 1981, works for truth, justice and accountability in the UK, providing free advice to people bereaved by a death in custody, entirely independent of government. For those who are unaware of the current and historical situation concerning black lives – and deaths – in the UK, these are just two of the organisations set up to hold power to account, and to support those who might – so understandably – feel powerless. They need our unified, ongoing support, in the same way that the Black Lives Matter movement needs our unified, ongoing solidarity.
 'Shutting Shit Down'
We want legislation that will see divestment from law enforcement and investment in poor communities. We want to build a national project linking families who have been impacted by state violence, with a national database that looks at individual law enforcement officers and agencies. We also want to look at how to develop a system of independent investigation. We want to figure out a victims' bill of rights, to counter the police bill of rights. Until then, we're gonna shut shit down.
Patrisse Cullors, co-founder of Black Lives Matter
Black people in the US have little expectation of being treated fairly by the law or receiving justice – and this is a commonly held opinion in the UK as well. "This is not a local issue, or a national issue – it's a global system of repression we're fighting," as Tef Poe, of Hands Up United, put it in a recent BBC HARDtalk interview: "We need to draw on each other for solidarity – but also come up with a common strategy." We need to respect and understand the regional specificities of our struggles without forgetting that oppression is oppression. It must be met with resistance.
Black Lives Matter is an ideological and political intervention in a world where Black lives are systematically and intentionally targeted. It is an affirmation of existence, a collective recognition of the current and historical contributions Black people have made to society. As Bell Hooks reflects, 'our struggle is also a struggle of memory against forgetting.' We must not lose sight of our place in the struggle,  of those who came before us, of our current reality. We must "Stay Woke".
We're not saying Black lives are more important than other lives, or that other lives are not criminalized and oppressed in various ways. We remain in active solidarity with all oppressed people who are fighting for their liberation and we know that our destinies are intertwined.
Alicia Garza, co-founder of Black Lives Matter
Systems that perpetuate and reproduce white privilege remain intact, and in the minds of many, go unchecked. Rather than being supported, the victims of discrimination are often blamed. To dismiss the experiences of those affected by racism is to deny the need for progressive conversations that typified the Ferguson Solidarity tour. These are the voices that need to be heard, that must be heard.
If you want to become an ally of the movement numerous articles offer suggestions for engagement. In order for justice to be realised, we must continue to acknowledge that white privilege is real and that it is the foundation upon which our state and public services were built across the world. #BlackLivesMatter doesn't mean that other lives do not– it means that black lives need to be respected and given the same value as white lives.
The people showing up to lead this movement are young, and they are black, queer, trans, disabled, poor, middle-class, students. And they're bringing their whole selves—all of their converging identities—to the movement.
Adrienne Maree Brown – writer and activist
This article is a call for action, which asks us all to become active participants in holding the police in the UK accountable for their actions.  We are young, passionate and bent on justice. This is what the modern movement looks like. Claim your place. Fight for justice. You can't stop this revolution but, if you want to, you can be part of it.
Black Lives Matter from Nat Jeffers on Vimeo.
Leave a Reply