Hackney Riots: Eyewitness account
Ceasefire contributor Melanie Scagliarini, a Hackney resident, sends an eyewitness report from the area.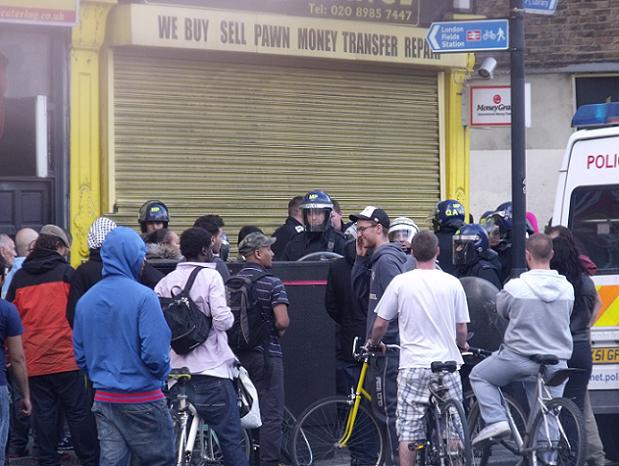 By Melanie Scagliarini
When you see a nine year old kid snatch a phone from a 30-year-old woman's hand three metres away from where riot police and three police vans are, you wonder if these London lootings are about the shooting of a black man or the wide-screen, high def television in the recently looted shop up the road.
As I walked up Hackney's Mare Street, what can only be described as swarms of kids barely 16-years-old and all hooded-up were walking towards Bethnal Green openly discussing where they're going to loot next. For a moment, it seemed the next target is Bethnal Green, and with it being just a short walk away it seemed logical. But then as I heard another crowd wonder aloud if people were heading back into Hackney central, it then seemed that these 'protesters' could be doing an about-turn and heading back to where they had just been rioting.
Despite rumours of messages on Twitter leading the protesters or the report of the locked-down BlackBerry message informing people where to go, from what I overheard there's no chieftain leading the pack; just opportunistic people delivering chaos to our front doors helped along with a few social media messages giving them a target area.
Speaking on the BCC, Paul Lewis from The Guardian, described last night's anarchy in Hackney as "far worse" than Tottenham's, estimating that more people – including girls – are involved in the area's drama.
What's especially concerning is how many kids I saw. Not teenagers; kids. More of the age that one would expect to be playing with their Power Rangers instead of running around their hometown looking like mini criminals, with scarves covering their faces as they try to set fire to a bin before pushing it towards the police cordon nearby.
A little further down Mare Street, kids were facing up to the riot police in what appeared to be a stand-off outside the Cash Xchange shop, as the shop's alarm rang out and dozens of onlookers stood by. One local resident, who didn't want to be named, explained: "They were trying to break in. That's why the alarm's going off. They were all ramming it."
They're just kids letting off some anger", the same resident explained. "They don't know what they're doing. There's not much here for them and it's getting worse now".
The air that was filed with confusion and disbelief turned to anger, and one brave woman tried desperately to remind them all what these protests are about; the shooting on Mark Duggan.
This father of four was shot whilst travelling in a taxi in Tottenham last Thursday. There are yet to be clarifications about the circumstances surrounding his death, amid claims by his family of a cover up by the police.
The child I saw take the woman's phone, was barely three foot tall. As he grabbed it and ran several people ran after him – two guys on bikes – to try to wrestle the phone back and return it to its rightful owner. Many people started asking each other why he wasn't at home. "Where was his family?" one resident asked.
Overnight, further parts of London have been hit with violence. In Croydon, a furniture shop owned by five generations of the Reeves family was destroyed by fire and the more affluent area of Clapham Junction has been hit by looters. Again, word on the street is that the majority are kids and teenagers.
Back in Hackney, darkness fell and residents locked themselves away for the night hoping that these rioters were off home to do the same. However, small spates of violence continued moving up towards Clarence Road, as Ceasefire Associate Editor, Usayd Younis, has reported.
When I heard one female rioter excitedly comment, "this is a trip!", I cannot help but wonder if the events of the past few days -fuelled more by the adrenalin rush than anything else – are yet over. And as the London Mayor, Boris Johnson and, Prime Minister David Cameron finally return from their holidays, only time will tell.
But let's hope that, amidst all this chaos, the questions surrounding the shooting of Mark Duggan do not get forgotten.
Melanie Scagliarini is a freelance journalist and activist based in London.
6 Comments
Leave a Reply