Special Report Ethnic Cleansing at Dale Farm
In an exclusive report, Director and activist Dean Puckett, who has spent four days living in the heart of the Traveller community at Dale Farm, gives a powerful and impassioned account of the grave act of injustice unfolding there, and what must be done to defeat it.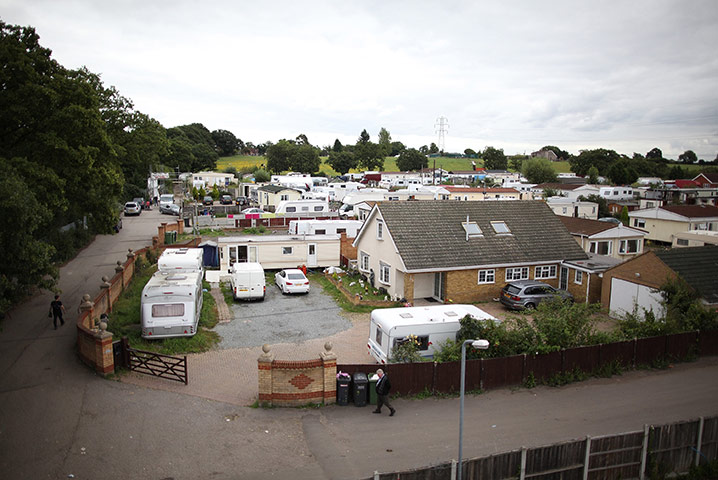 By Dean Puckett
I have just spent 4 days living in the heart of the Traveller community at Dale Farm in Basildon in Essex, as part of a the Camp Constant protest site. Dale Farm is currently the largest Traveller community of its kind in Britain. It consists of nearly a hundred plots of land and at its peak, over a thousand residents of Irish Traveller and English Gypsy heritage. Basildon Borough Council has voted to spend £18m evicting some 90 families (about 500 people, many of them children) from the 52 plots of land at Dale Farm that do not have planning permission, making these people homeless. This can happen at any time from midnight on 31st August, 2011.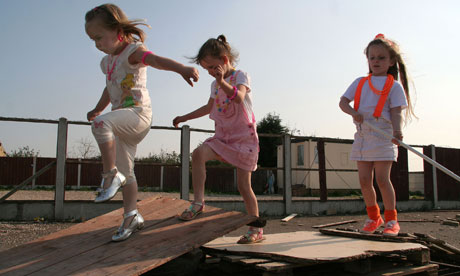 Ethnic Cleansing ?
The official United Nations definition of ethnic cleansing is "rendering an area ethnically homogeneous by using force or intimidation to remove from a given area persons of another ethnic or religious group."
The state and local councils are tightening their grip on this already marginalized community by telling them that they have to live like the rest of us, and they are doing so because they believe that they have a remit from the British public and are reluctant to challenge the prejudices of their voters. Basildon Borough Council has proposed that the community be separated and placed in flats and houses.
Travellers are an ethnic group largely defined by strong religious beliefs, the vast majority being  Roman Catholics and living in caravans in close-knit outdoor communities. To destroy this is to destroy the Travellers. One of the Traveller woman chatted to me as I cooked a large (vegan) curry for my fellow concerned citizens at camp Constant. She said, " We tried living in bricks and mortar before", but "we couldn't sleep, we all ended up sleeping together on the floor of the front room." Then she laughed and offered to fetch us some tins of sweetcorn that she had going spare to donate to the kitchen.
John Baron, the MP for Basildon and Billericay, appealed for the Travellers to leave peacefully. He said: 'The law must be enforced equally and fairly, otherwise we discriminate against the law-abiding majority. No one group or individual can be above the law.'
But what he fails to recognise is that the law is not applied equally and fairly. Planning permission is not easily available to Traveller communities anywhere. It is almost impossible for Travellers to find a place to live in safety without the constant threat of eviction. The Commission for Racial Equality reports that more than 90 per cent of Traveller planning applications are initially rejected, compared to less than 20 per cent of rejected applications for everybody else.
So the law is not equally applied. Gypsies and Travellers in the UK are trapped in a web of overlapping, systemic failures to respect their customs and preferences. This is compounded by racism. A 2004 MORI poll revealed that one third of the public admit to being personally prejudiced against Gypsies and Travellers. Some commentators in the media and on forums I have scanned have said things like "If they are travellers why don't they want to travel?" The answer to that amongst other things is the fact that many of the children are now enrolled in local schools and are learning to read and write, an opportunity that many of the mothers here did not have, and which they are seeing the value of for their own children.
The media magnifies the 'tensions' between Traveller community's and the 'Settled community' out of all proportion. There are tensions for sure, but mainly to do with lack of understanding and economic considerations such as house prices going down – which of course is linked more to the prospect of national and global recession than local issues. In any case, this is a vicious circle as house prices are linked to consumer desires which are heavily influenced in this case by racial prejudice. Perhaps some of the £18m could be used to ease these social tensions, rather then just sweeping the problem under the carpet or in this case onto the side of the road.
Just one square mile of land would be enough to provide all Gypsy and Traveller families in the UK with a place to stay, according to a report by the Equality and Human Rights Commission, but there is a shortage of authorized pitches. It is a legal requirement for councils to provide pitches for Travellers but nationally Councils are 4,000 pitches below their targets, or about 25,000 individuals who are forced to lead their lives outside the law. Speaking to residents it is clear that living outside of the system is not necessarily something they want to do, rather a necessity to protect their culture and avoid being separated by "bricks and mortar"
Communities secretary, Eric Pickles, insists Travellers who "play by the rules" will get a fair deal.  The government, however, has just cut £30m of funding for new sites. Under the new localism bill, retrospective planning permission will be outlawed, which has been virtually the only way Travellers have managed to get sites approved in the past. This government  with the consent of the British public is tightening the vice, and there is nowhere for these families to go.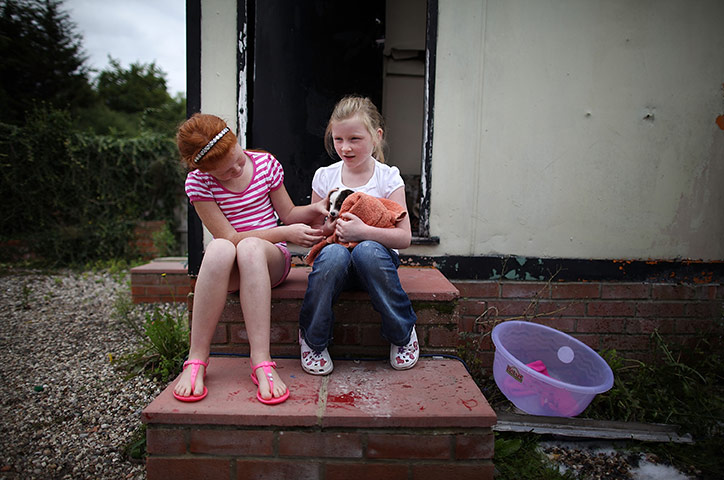 The Land is Ours
It is very important to realize that Travellers at Dale Farm actually own the land that they have settled on but only half of the site has planning permission. Reading the local Paper, The Basildon Echo and other right wing news outlets you would be forgiven for thinking that the Travellers had invaded a lush green paradise and destroyed the English countryside.
Although the site is officially registered as greenbelt land this is a cynically used argument. Before the Travellers bought Dale Farm, it was being run as a concreted brownfield site and part of it was a legally-recognised scrap yard. The residents cleaned up the scrap yard and turned it into a home for their families. One resident told me personally that there was battery acid seeping through the ground when she arrived 10 years ago. The Traveller's thought they were 'playing by the rules' when they purchased the land. But now it is very likely that it will be confiscated and sold by the council to pay for their eviction.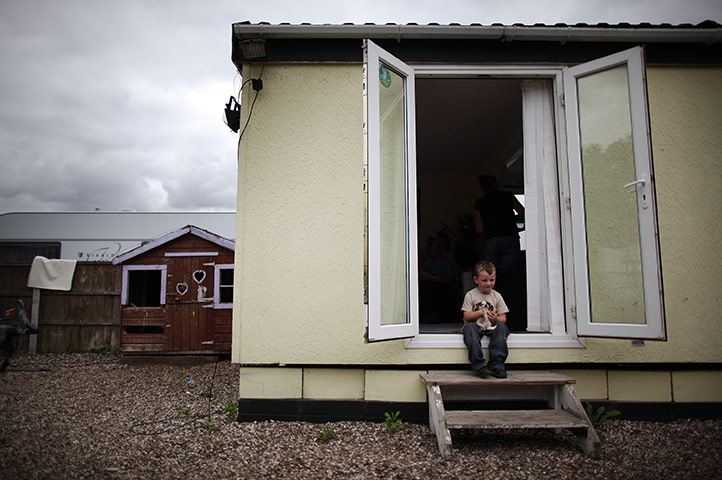 The cynical use of the greenbelt argument is exposed when other planning permission cases involving similar greenbelt land are explored. For instance, Basildon council has been willing to use their discretion to override the greenbelt status of a similar partially concreted 'greenbelt' site, the 'Barleylands Depot', to permit development (a recycling plant). There is much land in Basildon, including greenbelt land, which is earmarked for development, including large 'affordable housing' projects. In August 2010 172 acres of Green belt land was bought by developer Barratt Homes what will they be doing with this piece of greenbelt land?
Watch this video and note at 4.23 mins Tony Ball Leader of Basildon council regurgitates the totally undermined greenbelt argument.
Immature and Unwise
The UN committee on the elimination of racial discrimination (CERD) has spoken out about the "immature and unwise" eviction of Dale Farm residents and expressed its "deep regret" at the £18m eviction. The UN was joined by Thomas Hammarberg, the Council of Europe's commissioner for human rights has warned there is a great risk of human rights violations if 86 families and 100 children were forcibly removed .
Specialist 'Traveller and Gypsy' bailiffs Constant & Co. have been offered the contract, and are notorious for their physical disregard and abuse of Travellers, including children, during past evictions. Forced evictions are brutal: homes are often bull-dozed. A Journalist from the Sunday times relayed to me information about them  "lifting a caravan with a bulldozer while a family sat inside"  An Elderly man told the camp at one of the regular Activist/ Traveller meetings that 'They always go for the young men first' and that at a past eviction he had be surrounded by police officers while Bailiffs repeatedly punched and kicked him to the extent that he was hospitalized.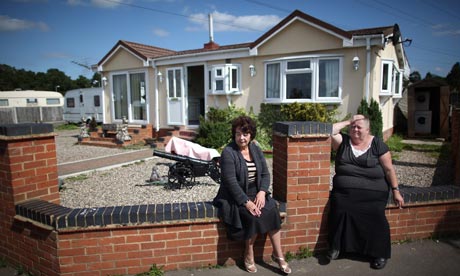 "If they go ahead with the eviction that would be very immature and unwise," Hammarberg said. "The only way to do this is for the government or the authority in Basildon to appoint people who have trust on both sides to find an agreed solution."  It called on the authorities to provide "culturally appropriate accommodation" before evictions were carried out. This means a piece of land for caravans.
Amnesty International UK said the UN intervention showed the eviction had "become an international issue that is putting the UK to shame". Tim Hancock, its campaigns director, said: "Central and local authorities have a duty to comply with international human rights law and standards."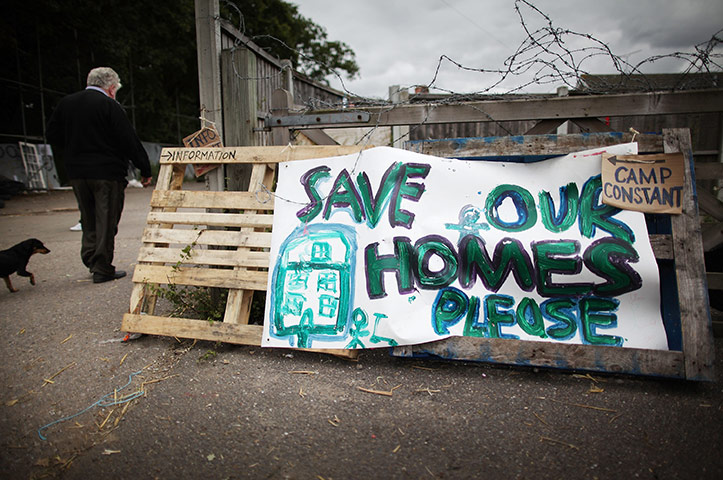 Camp Constant & Civil Disobedience
Often social justice and the Law come into direct conflict.
Tony Ball, leader of Basildon council, said  "We've gone through the courts and it's been tested all the way to the court of appeal. As far as English law is concerned, we're in the right,"
In my opinion If the law is backing something which is morally bankrupt then that law must be broken. The only answer left for citizens who care about human rights is civil disobedience.
Dale Farm residents are calling for outside supporters to come to Dale Farm and to stay at 'Camp Constant' to stand with the community and oppose the threatened eviction. Rather than question systemic state violence which leads to Homes and Communities being destroyed, the media would like to shift the focus onto possible violence by the supporters or the Travellers themselves. 'Anarchists Hijacking Travellers last stand' was the daily Mail headline this week, apparantly gleaned from police sources. This kind of journalism is lazy and dangerous and diverts attention from the real issues.
Camp constant is a growing community of concerned citizens with a diversity of political opinions and approaches towards resistance. This is unprecedented and I feel privileged to have been welcomed into this community with such warmth. Watching the woman and children take a blessing from Franciscan monks on thursday evening, their faces lit by candles and the shadow of eviction looming over them, I knew where I needed to be. Today I get on a train and head back to Dale Farm I hope to see you there.
Dean Puckett, is Director of the new feature length documentary 'The Crisis of Civilization' and concerned citizen of Great Britain.
32 Comments
Leave a Reply