Deserter's Songs Free Music: A Price Worth Paying?
Should music be free? Should anyone have a right to listen to any music they like? Is giving away music for free a guarantor of cultural stagnation and death both for artists and listeners? David Bell takes a look at the arguments.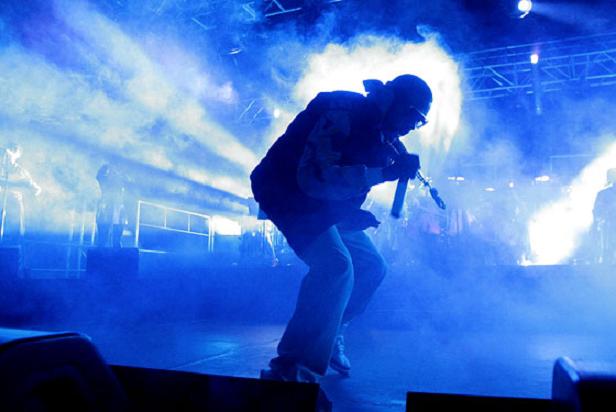 By David Bell
During the Ceasefire sessions last week, Michael Albert- the man behind Paraecon and a co-founder of the radical website Z-net- expressed his frustration with the idea that information should be free: an attitude he felt was increasingly common amongst those on the left.
Z-net, he noted, is paid for by a relatively small percentage of its readership- 'sustainers', who pay a monthly fee ($2 is the minimum) to help fund the site's reporting (the sustainers also get some additional content, but the vast majority of the site is available to all for free). He argued that the quality of Z-net's reporting would suffer if the sustainers did not exist, and lambasted those who believe it is a right to access information for free.
It is counter-productive, he says, to the left's cause, not to financially support people and organisations who continue to agitate for social reform- because the more money they have, the more they can speak to power and help bring about the change they so desperately seek.
It's a debate that's been well rehearsed in music circles, with the claim that musicians should be financially rewarded for their work. As a co-founder of Records on Ribs– a record label that releases its music as MP3/FLAC for free (but also accepts donations and sells physical releases).
I naturally have a number of points of contention with this argument, but it is a powerful argument nonetheless, and I aim to address it in this week's column. Ultimately, however, I wish to argue that releasing music for free can be seen as an act of prefigurative utopianism that seeks to go beyond the social relationships of the present day. I do not, however, think it is the model for releasing music, and argue that we should continue to support ethically run labels which do charge for their music.
My primary argument in favour of free music runs a little like the following:
I have an insatiable appetite for music. It is, quite simply, one of the most important things in my life. I do not, however, have a large disposable income and can rarely afford to buy new music. Yet I do not accept that this means I should not listen to new music. Just because I choose not to (or am unable to) earn more money does not mean I should not be able to listen to as much music as I like. Why should the person who earns more money than me (which may be through luck or by sacrificing ethical principles) be in a position to listen to more music than me?
The counter-argument which I wish to engage with runs a little like this:
Oh, you beautiful soul! It is all well and good saying that your music should be free. I too would like free music! But what about those who produce it? Why should they not be paid for their investment and labour? Why should your 'demand' for free music mean they cannot afford to eat, live and buy music themselves?

I think there are powerful pragmatic responses to this argument (which my Records on Ribs co-founder Alex wrote about here– although there are significant disagreements between us), but it is with ethics I am concerning myself here. And I think the first thing to do is to acknowledge that the anti-free argument I've just outlined is a powerful one.
Just as I care passionately about music, I care passionately about musicians. I am a musician myself, and many of my best friends play and make music (though I do not claim that this gives me any special insight of privilege on the rights and wrongs of releasing music for free). I want them to be able to carry on making the best music they can, and I want them to live healthy, happy lifestyles free from money worries.
It is these last few words which, I think, get to the crux of the matter. I want everyone to be free from money worries- whether they are a musician, a music fan, a single parent or an elderly couple. But there is a problem here: the best way to achieve this in the short term is not the best way to achieve this in the long term, a tension which, as David Harvey has pointed out, is often a problem for those on the left (for example, the defence of crap jobs may have to take strategic preference over lobbying for better conditions for those in these jobs).
In the short term, the best answer to this issue in relation to music is to support musicians by buying their work. To this end, I advocate that everyone reading this column should spend as much as they can on music from small, independent labels who do as much as they can to trade ethically and pass on as much as they possibly can to the artists themselves.
These labels- which are invariably run by people who could spend their time far more profitably- fulfill a vital function in our cultural landscape and are responsible for some of the finest music currently being made. At the larger end of the scale, I would offer Montreal's Constellation as an exemplar in this regard, and at the smaller end of the scale I would offer Nottingham's Low Point. Both are ethically smart, release great music and support their artists as much as they possibly can. And both have stated in interviews and on twitter just how much free downloading is hurting their business.
Buying music from them will enable them to continue releasing excellent music and allow their artists (most of whom will have to have 'normal' jobs to make ends meet) the time and space to continue making excellent music. It will also help a number of related small 'producers': recording studios, music producers, designers, vinyl pressing plants- all of which I absolutely want to survive.
In the long term, however, I don't think that this is an answer. I believe that there is something fundamentally wrong with the capitalist economy in which money is the be all and end all of exchange, and the notion of the common has been almost completely eroded. Not only do I think that free healthcare is a good thing, I believe that free food, free medicine, free access to sport and- yes- free art and music, are good things.
I do not believe it is possible to blueprint a utopia in which the problems raised by this belief have been solved, but gift economies and the rise of commonly owned property (both intellectual and physical) must, I feel, play a central part in moving towards such a world. By giving away music for free, musicians can help to precipitate a move towards such a society in the here-and-now, hence my term 'prefigurative utopianism' (and by the way I fully acknowledge that I am being utopian in the sense of being unrealistic here as well).
If, by giving away an album for free, a band helps the recipient to think about what they could offer for free- and inspires them to do offer something for free- then this prefigurative utopianism has grown and a space outside capitalist relations has been constructed (though, of course if the music is only free when it's online then the provision of internet, and a phoneline, and the advertising the downloader will see when online mean that this space cannot be considered completely separate from capitalism, and we must also be wary of 'freeconomics', which is a way of manipulating the idea of 'free' to make money).
We are, of course, a long way from a realised utopia of the kind I am talking about. Indeed, it will probably never fully emerge. But this does not mean we should give up, and there are shoots emerging: shoots where people are prepared to put aside the question of their own financial gain to enrich the world by offering something for free. Free record labels are ten a penny, and open source software has an even longer history (though it is sometimes linked to an unpleasant right-wing libertarianism).
This week, meanwhile, I've stumbled across something I'm feeling particularly excited by: The Free University of Liverpool. These are exciting developments, and I'd encourage everyone who reads this to think about what they can offer 'for free'. Because free can be an ethical principle; free can help us change the world. Until that world is fully changed, however, we should be mindful of the needs of ethical producers and- where music is concerned- continue to financially support small scale musical production as well.
David Bell is a doctoral candidate in the Department of Politics and International Relations at the University of Nottingham. His work seeks to rethink utopianism through the work of Gilles Deleuze and anarchist thought. He is currently writing a book on the politics of improvising music for Zer0 Books. Deserter's Song, his column on music, is published every Saturday.
4 Comments
Leave a Reply