Arts & Culture | The Campaign to Save Centerprise
One of London's most well-established Black bookshops and resource centres is being threatened with closure by Hackney Council. Ceasefire's Adam Elliott-Cooper and Usayd Younis visited Centerprise, in Dalston to report on the campaign to save it.
By Usayd Younis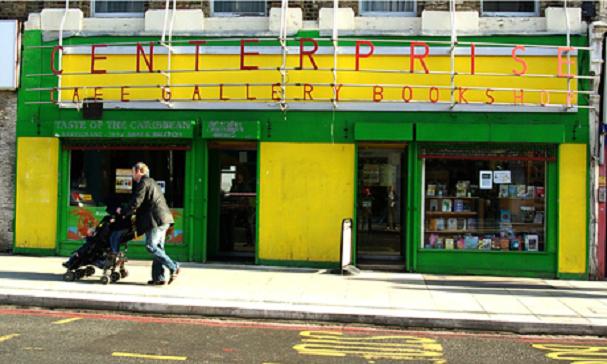 Centerprise has been a space for radical learning and organising for over 40 years
Dalston, in Hackney (North East London) immediately makes us think of Ridely Road Market, with vegetables, fruits and meats from the Caribbean, Africa and South Asia available for customers who commute from across and outside of London. There are fabric shops with West African prints and hair salon's catering to the needs of the local communities. However for many, it's a place of trendy coffee shops, thick-rimmed glasses, tight trousers, moustaches on backdrop of exotic shops and people who should be avoided because they're probably not clean.
This process of gentrification is quickly usurping the outlets and services which local working class communities have built up over time. Pushing up the prices of rent is one of the most significant ways in which this process is perused. This rent hike is not affecting the bookmakers or pubs, as much as cultural spaces such as Centerprise bookshop and restaurant. The local council is raising the low rents offered to community outlets, in favour of the commercial establishments which gentrification has brought to the area.
Centerprise has a large space which it uses to serve the needs of local residents, running workshops, poetry, music and other functions. It has a quiet space for students to do homework, as many young people in the area live in overcrowded housing.
There are reading and study groups in history, politics and literature which are accessible to local people, and reflect their own experiences more than those of the national curriculum.
For over 40 years, it has provided a space for activists and educators to meet, organise and study. Now those activists and many more are campaigning to keep Centerprise open and resist the encroaching commercialisation of the area.
Ceasefire went to the Save Centerprise fundraising event, in which a number of spoken word artists performed, including Anthony Anaxagorou, JJ Bola, Shaka Rah and Akala. Check out the performances here.
To sign the petition please visit: http://www.petitionbuzz.com/petitions/savecenterprise
For further information on organising and donating to the appeal please visit: http://www.centerprisetrust.org.uk/
Leave a Reply