Chess Corner – Original Maverick: Remembering Tony Miles
In this week's Chess Corner, Paul Lam pays homage to Tony Miles, one of the greatest players of his generation. Miles was a flawed, irreverent, gentle genius, whose tragic early death robbed the chess world of one of its true, irreplaceable originals.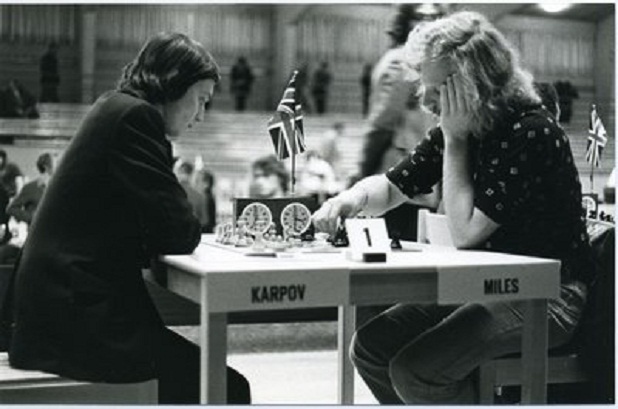 By Paul Lam
Within Warwickshire junior chess circles, there is one trophy in particular that carries significant prestige. Not the title of under-18 Warwickshire Champion, as might be assumed, but the under 14 trophy. For it bears the name of one of the greatest players to come out of the UK, not just Warwickshire, Tony Miles. Next week will see the anniversary of his tragically untimely death at the age of only forty six.
In the light of this, it seems highly appropriate to celebrate the life and achievements of one of chess' most colourful characters.
I did not know Tony Miles very well, although I met him on a number of occasions, most of these encounters taking place at the Checkmates Junior Chess Club in Birmingham, the city in which he lived all his life.
I was fortunate enough, however, to know well those who knew Miles intimately, including the chess author, and my former teacher, the late Mike Fox, who ran Checkmates. Mike was one of Tony's closest friends and spoke at his funeral.
Contrary to popular belief, Tony Miles was not Britain's first grandmaster; a claim to fame that rests with Jacques Mieses, a German-born Jew, later to become a naturalised British citizen, and one of the twenty seven original recipients of the first Grandmaster titles awarded by FIDE in 1950.
Miles was however Britain's first true grandmaster of the modern chess era, gaining this distinction in 1976 at the age of 21. He was rewarded with an honorary degree (he had earlier dropped out of his Maths degree at Sheffield University to pursue a career as a chess-professional) and a prize of £5,000 from British chess benefactor Jim Slater. His rise was meteoric, and by the early 1980s he was ranked among the best players in the world.
Other than his striking leonine hair, the other defining characteristic possessed by Miles was an inveterate disregard for authority, which he displayed on and off the board. He had a penchant for unorthodox openings which most GMs would not have touched with a barge-pole, but as far as he was concerned they offered him more scope for originality and creativity.
Against 1.e4 he would happily respond with either knight; the Nimzowitsch or the Alekhine. However, he was just as comfortable playing more mainstream openings; witness his superb victory over Atalik at Iraklion 1993, playing the black side of the King's Indian Defence, selected as one of the 100 best games of all time in an authoritative collection by Soltis and MacFarlane.
He was never afraid to speak his mind and no-one was immune to being on the receiving end of his acerbic wit when he felt it was called for.
Unsurprisingly, opinion on him amongst his peers was divided. The Soviet players were particularly irritated by his failure to accord them the due respect which they demanded at the time from Western players.
When a Russian journalist, no doubt expecting to conduct a serious interview, asked him what his favourite hobby was, he replied 'sleeping'. Wherever he went, controversy would follow him. At Tilburg 1984, a back injury looked to have put paid to his chances of competing, as he could not sit in a chair without being in considerable pain.
Instead of pulling out however, he persuaded the tournament director to allow him to play on a bed, much to the annoyance of opponents who found the sight of Miles playing moves from a bed disconcerting to say the least! He went on to share first place in the tournament with the great Viktor Korchnoi, in a field of world-class players.
He could be blunt and irreverent in equal measure. His review of one chess book came down to two words: 'Utter crap'. He could however also be a witty and engaging writer.
He possessed a gentle, teasing sense of humour. Mike Fox enjoyed telling the story of how he once taught a blind gentleman to play chess. Upon being told of this, as quick as a flash, Tony replied, with a wicked glint in his eye, 'Aha, the blind leading the blind!'
In the wider chess world, Miles is perhaps best remembered for his defeat of the then-World Champion Anatoly Karpov in 1980. Playing with the black pieces, Miles bamboozled his legendary opponent with an eccentric choice of opening, 1.e4 a6(!); an opening that would have provoked incredulity if it was played in a local league match, let alone at the stratosphere of chess!
Karpov is said to have later referred to it as the 'incorrect opening'. The result sent shockwaves through the Soviet Chess Establishment. Not only had a Soviet World Champion suffered defeat at the hands of a Western player, but the manner in which he had lost was considered the ultimate humiliation.
Soviet chess magazines failed to mention that it ever took place and the game remained a taboo subject for some time afterwards. For his part, Miles revelled in his moment of glory, mocking those who excoriated his impudent choice of opening by labelling it the 'Birmingham Defence' after his home city!
Against Garry Kasparov, Miles had less luck however. In a 1986 match, the Boy from Baku proved to be more like the Beast from Baku. The result was an emphatic 5.5-0.5 wipe-out in favour of Kasparov. It was undoubtedly a huge disappointment for Miles.
Karpov-Miles, Skara, European Team Championship 1980, after 1…a6. One can imagine the shock and bewilderment that Karpov must have felt after Miles' first move!
I was fortunate enough to see the other side of Miles; Good-natured, friendly and completely unpretentious. One of my abiding memories is of him patiently demonstrating a basic tactic to a young player at Checkmates who couldn't have been more than seven years old.
He took a keen interest in nurturing young chess talent and coached many of Warwickshire's leading juniors. At one point, nearly the entire Warwickshire under 18 team could boast of England representation, in no small part thanks to Tony.
Mike Fox would organise weekly tournaments for children at Checkmates, held in a local community centre, with Tony often at hand to oversee play and to award prizes of chocolate bars and sweets to the winners at the end.
It was sometimes all too easy to forget who he actually was! Tony's greatness emanated from his ability to be ordinary.
One day at Checkmates I saw Tony sitting by a board, and, with some trepidation, I challenged him to a game, which he readily accepted with a smile on his face. Inevitably, I lost, but Tony was still very helpful, offering praise for my play during the game and explaining to me where I had gone wrong.
Behind his carefree and irreverent persona, there was also a sad side to Miles' life. He suffered serious bouts of mental illness, particularly in the late 80s after Nigel Short had surpassed him as Britain's leading player, and this obviously affected his play over the board.
This turbulent period was exacerbated by high-profile disputes with other players, notably fellow British GM Raymond Keene. At one point Miles was arrested behaving erratically in Downing Street and was hospitalised for two months.
His diabetes also remained a constant source of concern, and would eventually contribute to his premature death from heart failure. Nevertheless, to the very end, he remained a strong grandmaster and a dangerous opponent for anyone.
In his later years he gained a reputation as a globetrotter, travelling widely to play international chess tournaments and having his fair share of success. One of his most memorable latter day triumphs was at the Intel World Grand Prix, London 1995, playing against a young Vladimir Kramnik.
The younger Kramnik was not yet World Champion, but still a world's top-ten player and the clear favourite to win. True to form, in the first game, Miles chose a less than orthodox opening, the pseudo-Trompowsky (1.d4 d5 2.Bg5), but turned in a fine performance, making a positional knight sacrifice and later a queen sacrifice which forced Kramnik's resignation.
However, Kramnik levelled in the second game, resulting in a blitz play-off in which Miles needed to hold the draw as Black to go through to the next round, but in which he had only four minutes on the clock to Kramnik's five.
Miles made 25 moves alone in the first minute and in the time-scramble held on for the draw to go through, upon which he stood up and punched the air in delight like a football player to the cheers of an ecstatic audience.
Miles' death at his home in Birmingham in 2001 came as a shock to the chess world and to his close friends. In his last few weeks he had been happy and active, free from the mental illness that had plagued him in his earlier years.
His death occurred during the European Chess Championship, and a minute's silence was held in his memory before the start of the next round.
It is impossible to overstate Tony Miles' achievements and the enduring mark he left on chess, both in the UK and worldwide. Although he will probably forever be remembered as the man who beat Karpov with 1…a6, his real legacy is that from being the UK's only GM, he paved the way for a new generation of British chess players.
Like Fischer before him, he contributed to breaking the Soviet stranglehold on chess-power. His inimitable personality and style of play inspired, provoked, and entertained audiences and readers in equal measure, offering us some of the most memorable moments in chess history.
From a personal perspective, Tony Miles was hugely influential on me and other young chess-players who were the recipient of his coaching and advice. In spite of his reputation as a maverick, it was his warmth and humility that made the strongest impression.
Despite his premature death, his legacy will be sure to survive him for many years to come.
PUZZLE
It is fitting that we should conclude this week's column with a puzzle from one of Miles' games. The following victory against GM Alexander Baburin won him the 4NCL (Four Nations Chess League, the UK national chess league) game of the season award.
Typically, Miles chooses an unorthodox opening; the English Defence, which soon transposes into the Hippopotamus, and goes on to sacrifice a pawn for queenside pressure, resulting in the follow position. How did he continue?
Baburin-Miles, 4NCL, 2000, Black to play, 27th move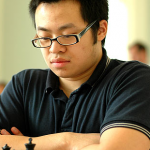 Paul Lam, a law graduate, is an internationally rated chess-player. He was one of England's leading junior players, representing the national team in Estonia and the Czech Republic. His column on chess will be appearing every other Thursday
3 Comments
Leave a Reply