Ideas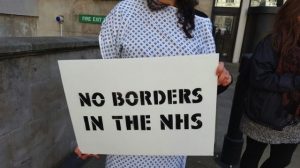 New NHS regulations regarding charging migrants for health care have recently come into force. Beyond the headlines about cracking down on health tourism, denial of treatment and the imposition of debts are making vulnerable migrants lives a misery.
How was it possible for our institutional and collective reactions to Hillsborough to be drowned-out so easily, and for so long, by victim-blaming? A report released this week on the lessons of the disaster offers a timely reminder of the damaging effects of place-based stigma and stereotypes, writes Alice Butler.

Today's brutal crackdown on the Catalan separatist movement by the Spanish government is a turning point in an ongoing confrontation that threatens to destabilise Spanish democracy and bring darker forces from Spain's history back onto the stage, writes Matt Carr.

In the second essay in our three-part #StopDSEI series, Safa Al-Shamy gives her perspective on the motivations for the Saudi attack on her country, Yemen, the humanitarian crisis it has caused, and the UK's role in supporting it.

In the first essay in our three-part #StopDSEI series, Tom Anderson reviews the roots of the crisis in Yemen, where the civilian population has been enduring a brutal bombing campaign by a Saudi-led coalition, supported by the UK, since 2015.

Last week's publication of a report entitled 'The Missing Muslims' highlights the need to revise our national conversation on extremism, argues Dilly Hussain.

Yesterday, the Palestine Solidarity Campaign won a historic court case against the UK Government's attempts to prevent local councils from taking part in ethical boycotts. This is an immense victory, writes PSC director Ben Jamal, one that shows that BDS is here to stay until we see human rights and justice for the Palestinian people.

From the murder of Jo Cox to London Bridge to last night's attack on Finsbury Park mosque, the rise of political violence on Britain's streets is a symptom of a failed political system that has created a toxic breeding ground for racism, xenophobia and extremism, argues Katy Sian.

In 1945, the UK, a country that had been at war for the best part of thirty years, found a way to build a better society for its citizens. Today, it is at a crossroad. This year will be the one in which the welfare state and National Health Service will be fully dismantled by a Conservative government opposed to any sense of solidarity or collectivity. This is a national betrayal, argues Neal Curtis.

Can a Freudian reading of the Le Pen family be a key to understanding tomorrow's French election? Jen Izaakson asks.
More Ideas
More In Politics
More In Features
More In Profiles
More In Arts & Culture