Ideas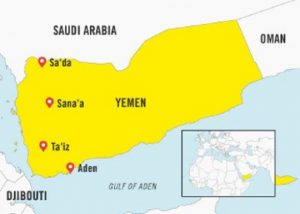 In the first essay in our three-part #StopDSEI series, Tom Anderson reviews the roots of the crisis in Yemen, where the civilian population has been enduring a brutal bombing campaign by a Saudi-led coalition, supported by the UK, since 2015.
Last week's publication of a report entitled 'The Missing Muslims' highlights the need to revise our national conversation on extremism, argues Dilly Hussain.

Yesterday, the Palestine Solidarity Campaign won a historic court case against the UK Government's attempts to prevent local councils from taking part in ethical boycotts. This is an immense victory, writes PSC director Ben Jamal, one that shows that BDS is here to stay until we see human rights and justice for the Palestinian people.

From the murder of Jo Cox to London Bridge to last night's attack on Finsbury Park mosque, the rise of political violence on Britain's streets is a symptom of a failed political system that has created a toxic breeding ground for racism, xenophobia and extremism, argues Katy Sian.

In 1945, the UK, a country that had been at war for the best part of thirty years, found a way to build a better society for its citizens. Today, it is at a crossroad. This year will be the one in which the welfare state and National Health Service will be fully dismantled by a Conservative government opposed to any sense of solidarity or collectivity. This is a national betrayal, argues Neal Curtis.

Can a Freudian reading of the Le Pen family be a key to understanding tomorrow's French election? Jen Izaakson asks.

From Game of Thrones to Guantanamo Bay, the purpose of torture is not only to destroy an individual's sense of autonomy and self-worth, but to reconstitute them into whatever image the torturer desires.

Donald Trump's rise to power has seen a normalising of fascist and neo-Nazi beliefs. We should all be concerned: The Trump Presidency will probably fail, but the movement he represents will not have so far to go next time for the full flowering of fascism to succeed.

The UK government's failed counter-extremism strategy has wrongly targeted thousands of innocent people, including hundreds of children. If the Government truly wants to fight extremism, it must listen to the victims of its failures, argues Moazzam Begg.

The Brexit debate has shown us that the progressive struggle against class and race-based oppression must start with fighting the rhetoric - and reality - of immigration controls, writes Luke de Noronha.
More Ideas
More In Politics
More In Features
More In Profiles
More In Arts & Culture