Books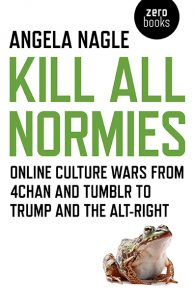 If the left is to have the same degree of success in translating online cultures into political movements, then it needs to understand both the online world and its own history. Kill All Normies helps with neither of those things, and is unlikely to win support beyond those already convinced of its central, conservative, thesis, writes Josh Davies.
"It falls to the epigram to remind us of our higher selves and larger allegiances to one another". American-Egyptian poet and author Yahia Lababidi introduces an exclusive selection from 'Where Epics Fail', his forthcoming collection of aphorisms.

How was a committed socialist on the fringes of Westminster politics able to win one of the strongest leadership mandates in British political history? Tom Mills reviews Richard Seymour's new book, 'Corbyn: the strange rebirth of radical politics' and finds an astute analysis of the socio-political conditions which have given rise to Corbynism, its future prospects and the substantial obstacles it will inevitably face.

Robin Yassin-Kassab and Leila Al-Shami's new book is a timely and searing account of Syria's recent history and the people who shaped it, argues Wassim Al-Adel.

Social Anthropologist Dr Alice Wilson reviews Settled Wanderers: the poetry of Western Sahara, by Sam Berkson and Mohamed Sulaiman, a recent volume of poems written from within or about the liberation movement from Western Sahara.

While recent years have seen a renewed interest in anarchistic thought and theory, it is refreshing and exciting to see a new volume bringing an explicitly anarchist lens to bear on English literature, argues Tom Malleson in his review of 'Unmaking Merlin: Anarchist Tendencies in English Literature' by Elliot Murphy.

In the aftermath of events in Ferguson, Missouri, a newly released edition of a key text of the black liberation canon, 'Assata: An Autobiography', is a necessary reminder of how potently the echoes of the civil rights era remain with us today, argues Terence Elliott-Cooper.

Despite its heavily eurocentric outlook, Thomas Piketty's much heralded volume of the moment is an epic and groundbreaking study of national inequalities that deserves to be read by everyone, argues Rohail Ahmad.

'Until the Rulers Obey', a newly published volume edited by Clifton Ross and Marcy Rein, provides an invaluable panorama of Latin America in movement, and should be required reading for all scholars and activists with an interest in the birth of another world in the region, argues Puneet Dhaliwal.

Author Kiese Laymon talks to Ceasefire's Hana Riaz and Rukayah Sarumi about his novel 'Long Divison' and using language as a tool of resistance and affirmation.