Books The last chance salon: why Ilan Pappe left Israel
Ilan Pappe, one of Israel's most prominent historians, started out as a leftist Zionist until, faced with the full reality of the facts he had uncovered about the Nakbah, he turned to anti-Zionism. Ceasefire contributor Asa Winstanley reviews his autobiography, 'Out of the frame'.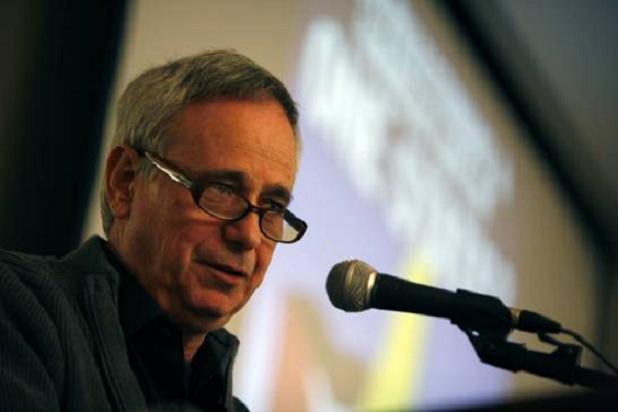 "Out of the Frame"
Ilan Pappe
Pluto Press, 2010

By Asa Winstanley
Of the small group of Israeli academics known as the "new historians" Ilan Pappe has been the most vocally critical of the founding ideology of Israel. Beginning in the late 1980s, professors such as Pappe, Benny Morris and Avi Shlaim examined newly-released Israeli archives and came to the conclusion that decades of Israeli history on the 1948 war was mostly propaganda, and that the Palestinian narrative was essentially correct.
The Palestinians did not "leave their homes" because of the orders of Arab governments as the standard Israeli line had had it. They were in fact driven out at gunpoint by Zionist militia groups such as Haganah, Irgun and Lehi (aka Stern Gang). Many of the 800,000 Palestinian refugees fled from fear of the many massacres the Zionists carried out, possibly the most notorious being at the village of Deir Yassin.
Thus these new historians documented the reality of the Palestinian Nakbah (Catastrophe) from Israel's own internal sources. The basic facts no longer being under any serious dispute, Benny Morris eventually took another approach. In a now-infamous 2004 interview with Israeli broadsheet Ha'aretz, Morris clarified his commitment to Zionism, stating that yes, Israel had carried out ethnic cleansing, massacres (and even rapes) but that there are "circumstances in history that justify ethnic cleansing… A Jewish state would not have come into being without the uprooting of 700,000 Palestinians. Therefore it was necessary to uproot them."
Although, like Morris, Pappe started out as a leftist Zionist, the full reality of the facts he had uncovered about the Nakbah in his research started a chain of event that led towards anti-Zionism. In Out of the Frame, Pappe narrates this story for the first time.
In 1980 he began his work on 1948 as an Oxford PhD student, studying under renowned Arab historian Albert Hourani. It was Hourani that steered Pappe towards the archives, though he was "unsure of what I would find" (p. 16). The result was a revisionist thesis on the key British role in helping the Zionist movement establish a state through ethnic cleansing. A few years later, Morris published his influential book The Birth of the Palestinian Refugee Problem, which detailed this from archival sources (Morris claims it was an unplanned "necessity of war"). When he returned from Oxford, he was faced with what he calls "the [Israeli] phenomenon of Nakbah denial" (p. 22).
Even back in the more hopeful Oslo years, Pappe began to feel a sense of creeping McCarthyism in the Israeli academy. His approach to the history of Palestine-Israel was denounced by Professor Yoav Gelber of Haifa university as "tantamount to treason on the battlefield" (p. 24).
For a while, Pappe was still considered to be within the pale. Arnon Sofer (the leading Israeli demographer who later devised Israel's West Bank apartheid wall) told him: "Between you and me, within four closed walls, you are one of us. But it is good that you are beautifying Israel's image abroad" (p. 30). In other words, Pappe was Haifa university's token radical.
This period of relative openness in the Israeli academy was short-lived. With the outbreak of the second major Palestinian popular uprising in September 2000 (the second intifada), the entire Zionist "left" rallied around the state. "There, at the heart of the Israeli polity, the lost sons were embraced in a process of erasing any ideological differences between left and right in the Jewish state… the very narrow limits of the genuine Jewish peace camp were exposed." (p. 61, 63).
Pappe recounts the 2000-2001 Katz affair. This was a stage on the road to semi-voluntary exile in Britain. A mature student at Haifa university called Teddy Katz wrote his MA on the 1948 expulsion of Palestinians from villages in the vicinity of Haifa. "From the evidence he collected," Pappe explains, "Katz concluded that during the conquest of Tantura [village] by Jewish forces in late May 1948 a large number of individuals had been killed, possibly up to 225" (p. 73). Most of these deaths happened after the village had been captured and disarmed, he wrote. His thesis was based on several years' worth of research: mainly interviews with surviving witnesses.
Katz's thesis got a 97 percent grade, but in January 2000 it was picked up by the press. The Israeli army brigade involved eventually took Katz to court during the politically charged atmosphere of December 2000 (the second intifada had began at the end of September). Katz was vilified for a few minor errors even though "none of them challenged the main finding that massive killings of innocent farmers had taken place" (p. 77). Katz was prevented from graduating.
Pappe (who understands Arabic) spent three consecutive days going through 60 hours of Katz's taped interviews. Pappe's defence of Katz and his thesis ultimately led to isolation within his own university from 2001-2002 onwards. In open letters, director of the history school Yoav Gelber compared Pappe to a Nazi collaborator. Pappe's signing on to a 2002 boycott of Israeli universities led to a disciplinary hearing in which he was accused of "defamation". After a massive influx of international support for Pappe, the university suspended the case, but it was left technically open until he left Israel in 2007.
Pappe's final internal offensive against Nakbah denial started in his own living room: a last chance salon. He started a home school in which he invited neighbours to look with him at government documents detailing the deliberate Zionist destruction of the Palestinian villages on which their town was built. This ran for a few years, but met its limit in 2006: "The final meeting in my house took place after two Israeli soldiers were captured by Hezbollah… The receptive mood to listen was changed into a jingoism of the worst kind… This was followed by Israel's genocidal policies in Gaza, and if I needed additional evidence that there was very little hope for change within my society… this bloodshed was that final proof" (pp. 141-2).
On top of this and his isolation within the Israeli academy, there were also death threats to him and his family: "Russian Jews spoke quietly [on the phone,] presenting themselves as members of a local mafia that had received contracts to kill me." He was even invited onto a live TV chat show to simulate his own court martial – the moderator shouted at him "you are a traitor". He used the air time to call on viewers to join a Tel Aviv demonstration against the war. "I never appeared on Israeli TV again," Pappe says (p. 161). In the summer of 2006 he accepted a chair in Exeter University's history department, where he remains today.
Some sloppy editing mistakes throughout this book mar the experience, and the last couple of chapters just seem to be analysis of the Israel 2008-2009 Gaza massacre and the current situation in Palestine-Israel, rather than anything original about Pappe (maybe he got bored writing about himself). There is little to take particular exception to, but these last two chapters seem unoriginal, almost like filler material. But overall, Out of the Frame is a great read, with some really telling insights.
Pappe emphasises that we should have no illusions that change will come from within Israeli society, as his own bitter dissenter's experience has shown. He instead emphasises the importance of the boycott, divestment and sanctions movement against Israel.
Asa Winstanley is an independent journalist based in London who has lived in and reported from occupied Palestine. He has a book about the Russell Tribunal on Palestine coming out on Pluto Press in 2011. His website is www.winstanleys.org.
6 Comments
Leave a Reply