Special Report | Bloody Sunday in Afghanistan
Ceasefire's Sebastião Martins reports on the events and aftermath of Sunday's deadly attack by a US soldier that resulted in the death of sixteen Afghan civilians.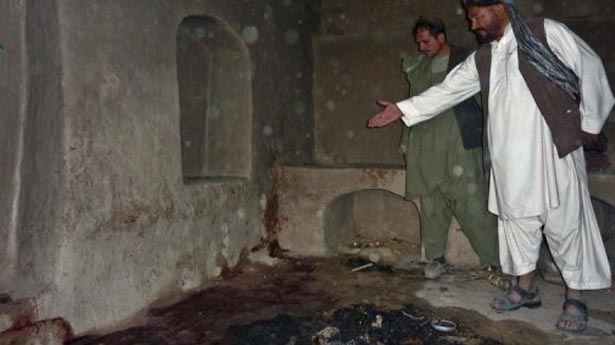 Rogue U.S. attack, at least sixteen Afghan civilians dead
Washington-Kabul relations were dealt a series of blows this week, beginning with the emergence of reports Sunday that a "rogue" U.S. staff sergeant shot dead up to sixteen Afghan civilians near a U.S. base in Southern Afghanistan.
The deadly rampage took place at approximately 3 am in a village of Kandahar's Panjwayi district, where the soldier, named today as Army Staff Sgt. Robert Bales, is said to have entered three houses and opened fire on residents, killing eleven in one of them.
A relative of the victims, Haji Samad said: 'I saw that all eleven of my relatives were killed, including my children and grandchildren'.
Most of the dead were women (three) and children (nine), according to figures from the Karzai administration, while five other Afghans were injured.
A spokesman from NATO's International Security Assistance Force (ISAF) said the U.S. soldier was off-duty and 'walked back to the base' where he turned himself over to U.S. custody.
However, eye witnesses stated the incident was the work of multiple US soldiers who they described as 'drunk', 'laughing' and 'shooting all over the place,' although these claims have been dismissed by US officials.
'We believe one U.S. service member acted alone, not a group of U.S. soldiers,' a senior U.S. defence official in Washington told Reuters.
Hamid Karzai said in a statement the actions amounted to an 'unforgivable' act of 'murder and terror' and demanded explanations from Washington, which has been moving quickly in an attempt to contain the damage.
U.S. President Barack Obama phoned Karzai to offer his condolences, calling the killings 'tragic and shocking', while U.S. Defense Secretary Leon Panetta promised a 'full investigation' and that those responsible would be brought to justice.
Despite calls by the lower house of the Afghan Parliament for a 'public trial before the people of Afghanistan' to 'punish the culprits', the U.S. soldier was whisked Wednesday to a 'pre-trial confinement facility' in Kuwait, U.S. officials said.
His attorney John Henry Browne said he is expected to arrive today at a U.S. military prison in Fort Leavenworth, Kansas.
In a meeting with relatives of the victims and tribal elders on Friday, Hamid Karzai said high-profile officials from the Afghan government, including the minister of defence, had been denied access to the suspect after the shooting.
One tribal elder said: 'I don't want any compensation. I don't want money, I don't want a trip to Hajj [pilgrimage], I don't want a house. I want nothing but the punishment of the Americans. This is my demand, my demand, my demand and my demand.'
In a statement Monday, Afghanistan's Taliban vowed to 'take revenge' for the killings, describing U.S. forces as 'sick-minded American savages'.
The incident came three weeks after reports of NATO forces burning copies of the Quran ignited hundreds of Afghans to stage protests in Kabul (41 protesters were killed), and has raised questions about Washington's ability to stand firm in its withdrawal timeline scheduled for 2014.
Tensions between the country and the US-led coalition have been heating up of late, in a decade-long conflict marked by severe loss of civilians.
A UN report released February estimated Afghan civilian casualties per year have been increasing, reaching a record high of 3,021 in 2011, in a total of 11,864 deaths since 2007.
Pre-dawn massacre prompts series of backlashes
In a statement, the U.S. embassy in Kabul said there was 'a risk of anti-American feelings and protests in coming days'. U.S. troops were placed on high alert.
Afghanistan witnessed its first major response to Sunday's incidents on Tuesday, as hundreds of students organised peaceful protests to mourn the victims.
During a visit to the site of the murders, an Afghan government delegation which included two of Hamid Karzai's brothers was attacked by militants, with one Afghan soldier reported killed.
Trying to ease tensions, U.S. Defense Secretary Leon Panetta flew to Kabul Wednesday to meet with Hamid Karzai and local leaders.
Amid his arrival at a British airbase, an Afghan man drove a pickup truck stolen from a coalition member onto a runway, setting the vehicle on fire. A Pentagon spokesman said the Defence chief was never at risk.
No explosives were found in the truck, and the driver was moved to a hospital where he died of his injuries.
Another incident involved a motorcycle bomb blast in the city of Kandahar. An Afghan intelligence soldier was reported dead, while two others and a civilian were wounded.
In southern Helmand province, where Panetta began his two-day visit by addressing NATO forces at two bases, a roadside bomb left eight civilians dead.
Panetta told soldiers at a major U.S. Marine base that Sunday's incident and its reprisals should not 'deter us from the mission that we must achieve'.
In another setback for Washington, after meeting with Leon Panetta Thursday Afghan President Hamid Karzai demanded foreign troops pull out of villages and move back to major bases.
Karzai also stressed the need for 'completing the transition of security responsibilities to Afghan forces in 2013,' one year short of the scheduled withdrawal.
A U.S. defense official told Reuters Karzai 'did not ask for any change in the current schedule [at the meeting]'.
Also on Thursday, the Afghan Taliban decided to pull out of peace talks with the U.S., after announcing the opening of a political office in Qatar in January, which was regarded as a positive turning point towards reaching a solution to the decade-long conflict.
The U.S. government expected the Qatar negotiations to lead to talks between the Taliban and the Afghan government, but the Taliban accuse the latter of repeatedly changing the terms of the negotiations and of not delivering on their promise to release five high-value prisoners from Guantanamo Bay.
Obama says withdrawal unchanged
At a joint press conference with British Prime Minister David Cameron at the White House on Wednesday, U.S. President Barack Obama said the 'tragic events of recent days are a reminder that this continues to be a very difficult mission'.
Despite the blowback in Afghanistan in recent days amid intensified calls for the withdrawal of foreign troops and a withering support for the war at home, Obama maintained his commitment to the 2014 withdrawal deadline set down by the Pentagon.
'We're going to complete this mission and we're going to do it responsibly. And NATO will maintain an enduring commitment so that Afghanistan never again becomes a haven for Al Qaeda to attack our countries,' he said.
'This includes shifting to a support role next year in 2013 in advance of Afghans taking full responsibility for security in 2014.'
'We have already taken out 10,000 of our troops. We're slated to draw down an additional 23,000 by this summer,' Obama stated, adding that further details and decisions on troop numbers will be announced after a NATO summit in Chicago scheduled for May this year.
Obama's firmness follows calls by several U.S. senators, including John McCain (R-AZ), for an unconditional rejection of Karzai's demand for a more rapid withdrawal.
It is also a strong card against Republican presidential candidates who, ahead of the 2012 election, have criticised him for not being more aggressive towards Iran, which they claim weakens the U.S.' position.
However, in a decade-long conflict which has so far cost the U.S. US$510bi and the lives of 1,900 army personnel, there is little doubt Washington is trailing farther and farther away from winning the hearts and minds of Afghans.
It remains to be seen whether the White House and its allied coalition in Afghanistan will be able to return to "business as usual" after Sunday's massacre.
For Waheed Omer, former spokesperson for President Karzai, the survival of an increasingly frail U.S. credibility in the country depends on bringing those responsible for the killings to justice in order to appease the Afghan population.
'The anger this time is exceptional, this is a very exceptional incident. […] There has to be some action that gives the Afghan people some comfort that this incident was dealt with and that the US government is actually a responsible government.'
Leave a Reply