Jennifer Izaakson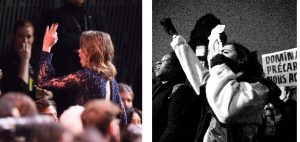 Last week, Harvey Weinstein and Roman Polanski faced different, though not totally dissimilar, public consequences for their long histories of sexual violence against women. These are significant victories for #MeToo, but the fightback must go on, Jennifer Izaakson writes.
Hugh Hefner made his millions through commodifying women's bodies, all the while pretending women he'd turned into commodities enjoyed their subjugation. We will never be able to fully gage the damage he did, writes Jen Izaakson.

Can a Freudian reading of the Le Pen family be a key to understanding tomorrow's French election? Jen Izaakson asks.

The surprise box office hit of the year, 'Get Out' is as an artistic and political tour-de-force that is as much informed by the Rachel Dolezal saga as it is by Black Lives Matter. Jennifer Izaakson reviews.

Two days ago, Tom Stranger was no-platformed at the South Bank Centre in London. If rapists like Stranger truly seek forgiveness, they must accept to give up power and control over the narrative. There is no redemption without loss.

Tower Hamlets Mayor Lutfur Rahman was today found guilty of election offences by the High Court. The judgment, read this morning at the Royal Courts of Justice, followed the longest election trial since the Second World War. Jennifer Izaakson reports for Ceasefire.

This week evidence has emerged of a LibDem parliamentary candidate sexually assaulting a lap dancer. The indifference of the culprit, his party, and the political class at large to this behaviour epitomises the establishment's toxic attitude towards women and sexual abuse, argues Jennifer Izaakson.

A court case against Lutfur Rahman, Britain's first elected Muslim Mayor, concluded last week, with a verdict expected in early April. A defeat for Rahman would represent a huge blow against a genuine proponent of progressive change and a victory for the forces of reaction and anti-Muslim bigotry, argues Jennifer Izaakson.