Analysis Libya: what price victory?
In a new analysis piece for Ceasefire, Akkas Al-Ali considers the dawn of a post-Gaddafi Libya, and the course of the Arab Spring so far.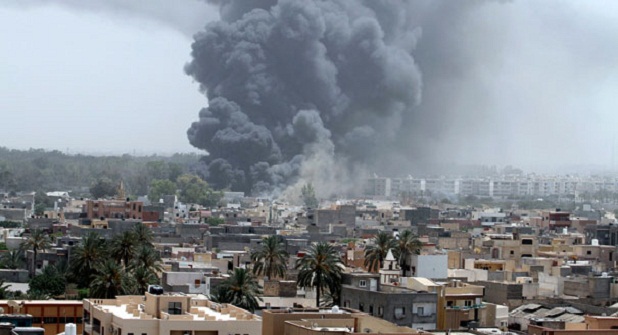 By Akkas Al-Ali
After 42 years of repressive rule and a revolution that has been six months in the making, the death rattle has sounded for Africa's King of Kings. The united forces of the National Transitional Council – an alliance created out of necessity – have taken Tripoli and delivered an historic coup de grâce to the Green Revolution.
But before we join in with the chorus of victory, we would do well to remember that regime change has been the objective from the start: before the UN had even established a no-fly zone over Libya back in March – ostensibly to protect civilian life – the opposition had already been officially recognised by France's Nicolas Sarkozy.
Although the unrelenting progress of the Arab Spring is welcome, not least for its unravelling of autocratic dictatorships hitherto propped up and supported by Western governments – Egypt, for example, had been for over three decades one of America's strongest allies in the region and the recipient of a $2bn annual stipend – Libya has been the beneficiary of a different kind of Western intervention.
Dubbed by Ronald Reagan as the 'mad dog of the Middle East', Gaddafi faced UN sanctions and international ostracism on the one hand and Tony Blair's blood-soaked hand of friendship on the other. Still, more welcome would have been the Brother Leader's downfall at the hands of his own people and not through Nato.
The Arab Spring, now turning into the Arab Autumn, represents a crisis of global capitalism which has magnified the problems and contradictions of a region crippled by decades of Western intervention. The spread of the free market problematises the notion that states – particularly those in the developing world – are able to enjoy economic and political sovereignty on their own terms; something that is left for the White House and its European allies to determine.
What the Arab Spring has shown us is how brilliant our Western leaders are at dealing with the crisis, skillfully adapting their approach to suit their needs: euphoric one minute, apprehensive the next. With its long-time adversary, the West's reaction towards Libya was immediate: the establishment of a no-fly zone, as well as military intervention and humanitarian aid. By contrast, its neighbours Tunisia and Egypt – two pro-West autocracies – benefited from the diplomatic approach: citizenship rights and the freedom to protest were championed at the beginning, while outright condemnations of the regimes' violent suppression and crackdown were reserved until the very end.
In Bahrain's case, the West adopted an even softer approach. Timidly, our leaders urged the country's Western-leaning monarch to "listen to his people" – calls that were routinely ignored in Manama. When Saudi forces entered the tiny Gulf kingdom in mid-March to brutally suppress the protests and to 'restore order', Washington and London stood idly by and just watched – with not a single word of condemnation. A few days earlier, when protesters had gathered outside the US embassy in Manama, carrying placards reading 'Stop supporting dictators', an embassy official emerged from the building to hand out doughnuts to the crowd.
In the case of Yemen, a country the US is unable to envisage without President Ali Abdullah Saleh at its helm, there have been repeated calls from the West for the country's opposition to engage in political dialogue to end the impasse. Nevermind that Saleh's true legacy to Yemen has been a litany of broken promises and lies stretching over three decades.
Most outrageously, until only this week Syria received understatement, two-faced platitudes but not a single expression of condemnation from Washington. Back in March, Hillary Clinton stated that it was unlikely the US would intervene in Syria since Congress still viewed Bashar al-Assad as a reformer. Al-Assad is probably guilty of killing at least as many people as Gaddafi yet it has taken eight months for Western leaders to come to this realisation.
Wherever he might be right now, the Colonel must be feeling a little betrayed. The toppling of his regime – despite his recent attempts to appease the West; despite accepting Blair's hand of friendship; despite the fact that he signed away billions of dollars worth of Libyan oil to Western corporations – will have taught him at least one lesson: to sit on a sea of oil and other natural resources is akin to sitting on a political timebomb, its fate predicated upon economic conditions and political interests in the West.
And before us lies what Churchill might have called 'the end of the beginning'. It would be too commonplace to suggest that Libya must learn from the lessons of Iraq. David Cameron, just returned from his fifth holiday this year, has been the chief advocate of this Nato mission with only Sarkozy for company. Whereas Tunisian and Egyptians can rightly be proud that their revolutions were autonomous, Libya may find itself dependent on Britain for further aid and assistance, including the possibility of the deployment of more troops to "maintain stability" and keep the old guard at bay.
Yet this responsibility – for if he wishes to take credit for Gaddafi's ouster he must also accept this aspect of it – will strip the new regime of legitimacy and strength; the constant paradox lying at the heart of liberal interventionism. If Libya were to become a proxy state, and nothing more than an outpost of Western interests, it will descend into the same chaos that we have seen, over the past decade, in Iraq and Afghanistan.
This neo-imperial dogoodery may have been tactically easy but it shows the extent to which the West has entangled itself in the developing world. Intervention brought civil war to Iraq – not the democracy that was promised. Likewise, it blasted an already impoverished Afghanistan back into the Stone Age.
We want freedom and security for Libyans, as we did for Tunisians and Egyptians and just as we continue to do for the people of Syria and Bahrain and Yemen. But these can only be achieved by the people alone; otherwise, their liberation will be less robust, less secure and less legitimate.
Akkas Al-Ali is a playwright living in London. He writes on politics and Muslim affairs at www.the-platform.org.uk and tweets from @akkasistan.
5 Comments
Leave a Reply