October, 2017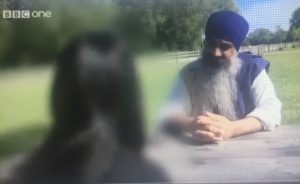 Katy Sian reflects on being the target of online abuse after calling out the Islamophobic and patriarchal tendencies within British Sikh activist circles.
The new production of 'My Name is Rachel Corrie' offers not only compelling theatre but a searingly humane portrait of an extraordinary life, writes Hicham Yezza.

Rachida Lamri reviews the 'Pop Art From North Africa' exhibition, currently running at the P21 gallery in London. Walking among the engagingly parodic displays feels like a stroll into the psyches not of individual artists but of collective identities and narratives, she writes.

Today's brutal crackdown on the Catalan separatist movement by the Spanish government is a turning point in an ongoing confrontation that threatens to destabilise Spanish democracy and bring darker forces from Spain's history back onto the stage, writes Matt Carr.
More Ideas
More In Politics
More In Features
More In Profiles
More In Arts & Culture