Arts & Culture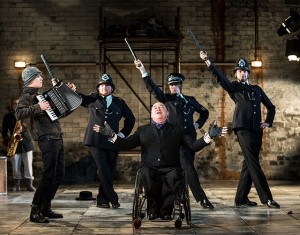 Richard Pilgrim reviews a new production of a great classic of German pre-war theatre, Bertolt Brecht's 'The Threepenny Opera'.
'My Judy Garland Life', the new play by acclaimed writer Amanda Whittington, brilliantly combines glitzy escapism with thought-provoking drama on the vagaries of ambition and fame, argues Richard Pilgrim.

Amber Murrey pays tribute to the legacy of Walter Rodney, whose book 'How Europe Underdeveloped Africa' transformed the modern debate on slavery and colonisation.

Around the world, U2 lead singer Bono is seen as the archetypal celebrity philanthropist, jetting across the globe campaigning against hunger and injustice in Africa and elsewhere. Harry Browne's new book, The Frontman, unmasks a very different picture.

Elliot Murphy reviews a compelling and often disturbing account of how class identification and cultural tags shape people's self-image and their image of others.

On Sunday afternoon, friends and fans gathered in London for a memorial service in honour of Lou Reed, Legendary frontman of the Velvet Underground, who passed away last week.

To mark the publication of Patrice Lumumba, a new collection of the African independence leader's speeches in their original French, we publish an exclusive translation of Georges Nzongola-Ntalaja's introduction to the volume.

A new production by the London Algerian Ballet, premièring this Friday at the Tabernacle, offers a modern take on traditional Algerian music and dance.

Amidst a dearth of politically judicious and penetrating analyses of contemporary popular mobilisations, a new book, 'Marxism and Social Movements', represents a timely and refreshing contribution to social movement studies. Puneet Dhaliwal reviews.

In his latest column, Roger Bromley pays tribute to Stuart Hall, one of Britain's greatest living public intellectuals, on the occasion of the release of 'The Unfinished Conversation', an exhibition celebrating the enormous, enduring influence of Hall's work.