Theatre review: Earthquakes in London/The Prince of Homburg
In this week's theatre, Gareth King reviews 'Earthquakes in London' at the National, and 'The Prince of Homburg' at the Donmar. The two productions might be equal in their ambitions but only one clearly delivers on its promise.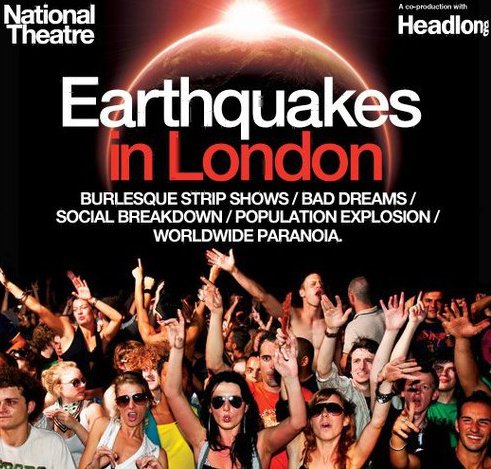 – Earthquakes in London Cottesloe, London – The Prince of Homburg Donmar Warehouse
By Gareth King
Maybe I've just been picking the wrong shows, but whenever I've been to The National before I've never had the most exciting of times. In fact of the plays I've seen there over the past few years, I don't think there was a single one which didn't at some point feature the sound of an elderly audience member snoring. During Phedre one man managed a good eight (we counted) hearty snores before his partner managed to bring him round. However Earthquakes in London is different – it's absolutely exhilarating. There's big dance routines, apocalyptic visions, biting satire, time travel, and various other fun things that I shan't spoil for you here.
Playwright Mike Bartlett is better known for smaller plays such as last year's Cock, but here he goes as far in the other direction as possible, writing a mad array of parts for the twenty strong cast, and taking us all around London – via Scotland – between the years 1960 and 2525. Earthquakes is primarily about global warming, and how Bartlett believes past generations have ballsed everything up for future ones – a point he gets across in a fabulously sick way before the interval. Such epic scope could easily lead it to become a sprawling mess, but the focus is wisely placed on three sisters, played perfectly by Jessica Raine, Anna Madeley and Lia Williams (not that there's a weak link in the entire cast). It could be argued that the characters lack emotional depth, and that the eventual ending is a bit of a let down, but here for once I don't think it matters. The cast do wonders with what they've got, the dialogue crackles, and the plot moves along at a fair old pace even when at first there doesn't even appear to be a plot.
It's a visual feast too, thanks to the work of both Director and Designer du Jours Rupert Goold and Miriam Buether. Together they've transformed the Cottesloe into a sort of nightclub, with two stages at either end and a catwalk/bar snaking through the middle of the audience. You can either sit on barstools either side of this, stand in special pits (I'd recommend either), or there's more regular gallery seating for people who want to be a bit further away from things. Wherever you sit it's likely to be clear that there's nothing else like Earthquakes on at the moment, and that everyone involved has shedloads of talent to both follow and be proud of.
Sleeping audience members could well have been found at the Donmar Warehouse over the past month, where The Prince of Homburg has been playing. I generally love the Donmar, and there's a great cast here, but they struggle with a turgid script and direction that at times feels pretty flat. The central plot is about a young Prince (Charlie Cox) who disobeys the orders of the Elector (Ian McDiarmid) in battle, and then everybody just stands around talking about it. I didn't get all thar bored, but not once did I care about what was happening on stage. The life of the Prince is actually at stake in the whole of the second act, but any sort of urgency you might expect from a life or death scenario is totally lacking. The likes of Cox, Harry Hadden-Paton and the usually magnificent Siobhan Redmond fail to make us care, although I think this was more the fault of the material they had to work with. In fact the only actor who disappointed me was McDiarmid, who at some points seemed to be about as into proceedings as I was.
Homburg was originally written by Heinrik Von Kleist in 1809, but appears here in a new translation by Dennis Kelly. According to folk who know the original play, Kelly has made a few changes and has actually altered the ending in a rather drastic way. It therefore seems a little unfair to write off Kleist's play as a whole, instead I hope that the next revival is of the better play that you can sometimes glimpse this one had the potential to be.
Earthquakes in London is at the National's Cottesloe theatre until September 22. The Prince of Homburg is at the Donmar until September 4.
Gareth King, a writing student and theatre fan, graduated from the MA Scriptwriting Course at Goldsmiths.
1 Comment
Leave a Reply