violence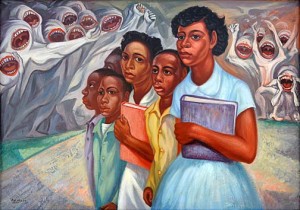 In a political environment in which many forms of violence are roundly condemned, Hana Riaz discusses the less visible forms of violence woven into the fabric of our society, which are equally as destructive.
For the past few days, protests held by Brussels' Congolese community against last week's DRC presidential election results have met with a heavy-handed police crackdown, leaving many injuries and arrests. Emily Macintosh reports.

Ceasefire correspondent Malte Ringer, who was present at the Millbank protest last week, reports on the event and its aftermath. In particular, he debunks media reports describing the protest as 'terrifying violence and bloodshed' by a 'baying mob'.