race politics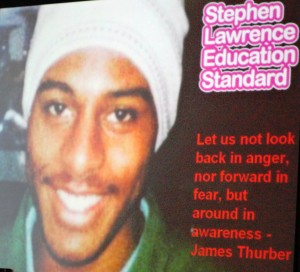 As the long-standing suspects of Stephen Lawrence's murder are put on trial, Adam Elliott-Cooper argues that only by understanding the context of institutional racism, and the overarching power structures that give rise to it, can we fully address these crimes and seek justice for their victims.
With dawn raids, arrests and stops of young people a daily occurrence in London, community organisers are standing up for their communities as well as working towards building critical conciousness. Adam Elliott-Cooper reports from Tottenham and speaks, in a series of video interviews, to radical youth organisers and educators about the riots, the aftermath and generating youth-led activism.

Every year for the past quarter century, Black History month in Britain manifests itself in our key institutions as "thirty-one days of PR for British colonialism and the Transatlantic Slave Trade". In an new essay, cultural critic Nichole Black revisits the BHM debate.

One of the greatest achievements of the civil rights movement was the spread of political conciousness. Adam Elliott-Cooper looks at what we can learn about the organising methods it used, and how they can help us overcome apathy in today's Britain.