Photo Essay – Kashmir: Bullets for Stones
More than 60 years after the partition, Kashmir continues to be a long-running yet hidden tragedy. In a powerful new photo essay, Ceasefire contributor Josh Strauss writes about the voices of resistance and defiance against Indian authority. The piece features first-hand accounts from the front line as well as remarkable photography by Imran Ali, Ashish Sharma and Sajad Raja.

By Josh Strauss
Photography by Imran Ali, Ashish Sharma and Sajad Raja
[warning: many of the images contain graphic depictions of violence/injury]
Teenage voices echo in the depths of a deathly silence
Interspersed throughout this article are the thoughts and feelings of Kashmiri boys and girls aged thirteen to sixteen. These are extracts taken from correspondence with their former teacher, Sanaa Alimia, who now resides in the UK. All quotes are written by the young people themselves and dated from the start of June to the 5th of August 2010. Names have been omitted so as not to endanger their lives any further.
"In the 52 days of unrest 43 are dead… among the 43 dead, seven are women and five are aged below ten."
"I wish we were free from Indian Rule."
Protesters pelting stone at a CRPF vehicle after a demonstration against the killing of a youth in Srinagar. KT Photo:Imran Ali
The killing of young Kashmiris at the hands of Indian security forces shows no sign of abating as the death of another 10 year old boy sparks further protests in the capital Srinagar.
Tuesday 31st August saw hundreds of Kashmiri men, women and children defy the government-imposed curfew; taking to the streets in protest at the killing of Irshad Ahmad Parray, after he had been fatally injured during a police operation in the southern town of Anantnag.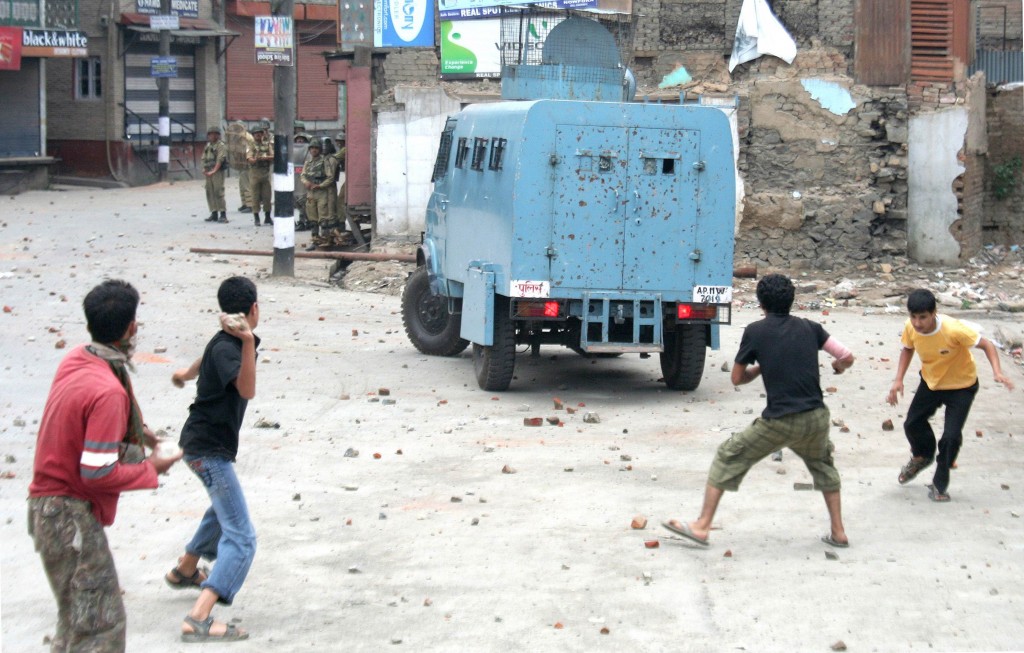 Protesters pelting a CRPF vehicle with stones . KT Photo:Imran Ali
The Jammu and Kashmir Police released the following statement: "A huge mob pelted stones on the Sherbagh police post. The police used tear smoke shells to disperse the stone throwers… the protesters did not relent and the police fired rubber pellets in self-defense. Ten-year-old Irshad Ahmad Parray of Old Iddgah Janglat Mandi got injured. He was declared dead at the Sheri Maharaja Hari Singh hospital in Srinagar."
The leader of the Communist Party of India, Brinda Karat, spoke out against the killings, demanding an all-party delegation to be sent to the region to investigate the disproportionate deaths of young people.
"Stone pelting cannot be met with firing" she said. "How many more children have to be killed?"
"Four people were killed today in Srinagar.
It hurts.
In Kashmir we get bullets for stones"
Angry protesters torch a Police vehicle after the killing of two youths and dozens of injuries by Police in Pampore, on the outskirts of Srinagar City. KT Photo:Sajad Raja
Photo: Ashish sharma
Young Kashmiris today grow up against a backdrop of fear, persecution and loss. Many young men have picked up stones in protest against the Indian Security Forces' repeated violations against Kashmiris; expressing desires of recourse for this generation and the next. But tragically, these stones are answered with bullets and the latest inflammation of protest has seen the blood of young teenage boys spilt in gratuitous fashion.
"In recent killings three kids died. First Tajamul, a 17 year old, the second was a 9 year old kid, and the third a 10 year old kid.
The situation in Kashmir is worsening…"
Calls for azaadi (freedom) have cost Kashmir immeasurably. This beautiful Himalayan valley has bared silent witness to the slaughter of countless generations. Between 47,000 to 100,000 lives have been lost amidst a political and military impasse that has smouldered and flared since the 1980s. Exact figures are not known or have been purposefully hidden. Thousands upon thousands are "missing". Thousands have been tortured.
Kashmir has long been a site of fierce contestation. Since the partition of the former British Indian Empire into the Union of India and the Dominion of Pakistan in 1947, there have been three Indo-Pakistani cross border wars contesting the territory of Kashmir; not to mention the perpetuation of internal conflict between armed Kashmiri liberation movements and occupying Indian Security forces.
"Day by day they are ruining Kashmir. The situation is getting worse.
Yesterday four civilians, innocent teenagers, one was a girl, were killed by the cops.
The Chief Minister has ordered the army to enter Kashmir. Trouble is everywhere here."
The probing eyes of the international community have largely regarded the 'problem' of Kashmir simply as a matter of geopolitical concern. Moreover, since 9/11 the debate has been increasingly addressed through an all encompassing prism of 'Islamic militarism'. This misrepresentative approach has obscured and distorted the human tragedy that continues to haunt the people of Kashmir. Their voices are rendered silent, because they remain unheard.
"A curfew is in place by the army here. Cops are beating everyone they find on road.
Terrifying situations…"
Since the most recent demonstrations began towards the end of May, more than 300 people have been injured, including 22 security personnel, in what Amnesty International has described as some of the worst violent clashes between protesters and security forces in recent years. The past month has seen reports of "thousands of youths" pelting security forces with rocks, as well as attacks on a railway station and three police stations. In response, soldiers have shot dead more than 60 protesters, most of them teenagers.
"The government just messes up. The politicians are fighting with each other…
Dozens of people [have been] injured and stone pelting [has] started after the killing of innocents."
Sanaa Alimia, a former school teacher from Kashmir, says that the protests and stone throwing have nothing to do with 'terrorism'; but rather they are "the expressions by students, teenage boys, professionals, teachers and mothers – ordinary Kashmiris – against the killings, violations, rapes and injuries which are repeatedly committed against Kashmiris".
In these modern times of rapid information dissemination, young Kashmiris have utilised the broadcasting potential of social networking sites and shattered the growing silence through the ubiquitous power of the internet. Hundreds of updates and debates have been posted on Facebook concerning protests, killings and human rights violations. Videos and pictures, snapped quickly from mobile phones have also been uploaded to Youtube, documenting stone-throwing, shootings, funerals, and the bodies of those injured, dying and dead.
How will young Kashmiris remember these traumatic events? Their voices must be heard, for they are the future agents of change.
Their teacher, Sanaa Alimia, demands that the Indian authorities cease their "oppressive and iron–fisted policies in Kashmir", coupled with an end to Pakistani interference in the region. She implores the Kashmiri political leadership to listen to the voices of the people rather than "bowing to Delhi's demands". Finally, she asks that "serious international pressure" is brought to bear on the Indian government. We must put an end to India's disproportionately brutal security measures, which continue to inflict pain, suffering and death upon hundreds of Kashmiris.
The Kashmiri journalist Basharat Peer has echoed the words of the late polish Nobel Lauriet, Czeslaw Milosz, in his recent letter to the Indian general public.
You can kill one,
but another is born.
The words are written down,
the deed, the date.
Irfan, a kashmiri stone thrower. Photo: Ashish Sharma
Like many Kashmiris, Basharat Peer has committed to memory, the deed, the date. "The faces of the murdered boys, the colour of their shirts, their grieving fathers". He says that while these details might disappear from the headlines, "they have already found their place in our collective memory… we remember. Even when we don't know we are remembering, we remember."
Josh Strauss is a freelance journalist/camera operator living and working in London. Issues of conflict and forced migration have for a long time been of great interest and concern to him. Through a readjusted lens, he wishes to expose the much more complex and conflicted environments and situations that those living on the 'periphery' of our society experience every day.
Imran Ali, Ashish Sharma and Sajad Raja are professional photographers based in Kashmir.
14 Comments
Leave a Reply