Oslo Attacks: "Analyst" realises his prediction was wrong. Predicts again.
Did you publish the wrong "expert" prediction about the Oslo attacks being acts of "Islamic Terrorism"? Not to worry, the mainstream media has the solution: just delete your prediction and make a new one.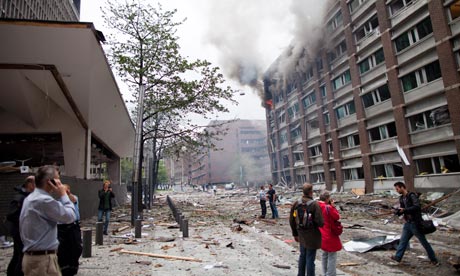 By Hicham Yezza
Did you make the wrong "expert" prediction about the Oslo attacks being acts of "Islamic Terrorism"? Not to worry, the mainstream media has the solution: just delete your prediction and make a new one.
Take Saturday's Guardian, which carries an interesting "analysis" piece by Peter Beaumont, foreign editor at the Guardian's sister paper, The Obsever, in which he attempts to explain what the possible reasons and culprits behind the attacks could be.
In a key passage, Beaumont confidently asserts:
"This suggests the attack might have been the work of an individual or individuals closer in outlook to the Oklahoma City bomber Timothy McVeigh driven by their own ideology, a theory backed up by a Norwegian police official who told the Associated Press the man suspected of the attacks does not appear to be linked to Islamist terrorism. He went on to say that the attacks probably have more in common with the 1995 attack on a US federal building in Oklahoma City than the September 11 2001 attacks."
He then confides:
"The official was speaking on condition of anonymity because that information had not yet been released by Norway's police."
In short, an expert analyst doing his expert analyst thing, assured of the facts and the background, knowing all the right people, making the right call.
Curiously, the piece in its current incarnation (updated at 7am this morning) is quite different from its original shape (published at midnight). In fact, with news from Norway over the past 12 hours confirming the right-wing terrorism (yes, terrorism) hypothesis, a good eight paragraphs (half the original word count) have now gone missing.
What nuggets of wisdom did they contain? And why are they surplus to requirements now?
Let us inspect the now-defunct passages:
"What has been known for some time is that al-Qaida and other related "franchises" – including the most active groups in Yemen – has been trying to develop operations [in Norway]. Which leads to a second question: why Norway?"
The Answer is threefold: in the first instance, with increased levels of security and surveillance in the UK, the US and some European capitals, Norway might have been seen as a softer target.
A detailed explanation of Norway's problems with al-Qaida was supplied a year ago by Atlantic magazine in an article by Thomas Hegghammer, a senior fellow at the Norwegian Defence Research Establishment in Oslo, and Dominic Tierney.
The article followed the arrest of three men in Norway and Germany for allegedly plotting a terrorist attack involving peroxide explosives. All were Muslim immigrants to Norway.
"The first explanation," the article stated, is Afghanistan. Norway has been part of the International Security Assistance Force (Isaf)in Afghanistan from its foundation in late 2001… in late 2007, for example, Ayman al-Zawahiri, then al-Qaida's second-in-command and now its leader, said the group had previously threatened Norway because it participated in the war against Muslims."
A second possible factor behind the attack is a Norwegian newspaper's reprinting in 2006 of a series of Danish cartoons depicting the prophet Muhammad, which prompted threats.
A third potential explanation is the decision last week by a Norwegian prosecutor to file terror charges against an Iraqi-born cleric for threatening to kill Norweigian politicans if he is deported.
The indictment centred on statements that Mullah Krekar, founder of Kurdish Islamist group Ansar al-Islam, made to media."
In other words, Beaumont wrote a piece about how this was likely to be a "Jihadi" attack, confidently explained why and, once his hypothesis turned out to be bunkum, decided to simply remove it and write a different, correct "analysis". There is no indication in the piece itself about what the changes to it were (simply that a change had been made) and so readers could be forgiven for thinking Beaumont had been shown to be remarkably prescient.
Of course, one can imagine the readers' outrage and scorn if a pundit had tried to do the same for a serious topic, say football, changing "Barcelona will be thumped by United" to "United will be thumped by Barcelona" three quarters of the way into the Champions League final. Luckily, this is only politics.
On a side note, Beaumont has an interesting (probably due to his super-expertise) way of dividing possible scenarios into either "Islamist terrorism" or "political agenda". It would be tempting at this stage to point out that violence aimed at furthering a political agenda is, literally, the textbook definition of terrorism. However, since this would entail correcting an expert, the confusion is probably all ours.
Hicham Yezza is editor-in-chief of Ceasefire.
4 Comments
Leave a Reply