Opera A Midsummer Night's Dream (ENO)
Ceasefire's opera critic, Paul Guest, reviews a decidedly underwhelming production of 'A Midsummer Night's Dream'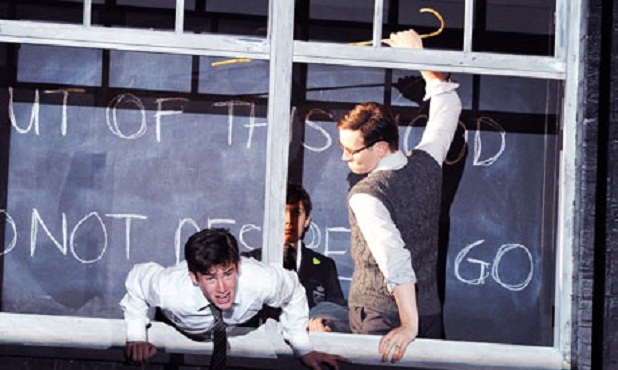 By Paul Guest
A Midsummer Night's Dream, English National Opera
Benjamin Britten
Conducted by Leo Hussain
Directed by Christopher Alden

Britten's A Midsummer Night's Dream turned into a bad nightmare at the Coliseum last Thursday. To be perfectly honest I'm confused. Visually it was dull, grey and Victorian – but that was the point. I assume the narrative was meant to bring the set of a Victorian style boys' school to life: It didn't.
Admittedly this is the first time I'd ever seen a production of A Midsummer Night's Dream, although I do know the score very well so this possibly wasn't the best production to start on. I got very lost and very distracted- The stage had five levels and every two or three minutes I had to survey it in its entirety to make sure I wasn't missing anything, which became incredibly frustrating.
I wasn't fully convinced by the adaptation; although I understood the clever updated Shakespearean references (A cigarette represented the magical flower and the sword represents a penis) it did strike me that, especially in the first two acts, the libretto didn't actually fit the staging, by which I mean it didn't make sense. By the interval I had decided that the production was like a bad episode of Waterloo Road. A humorous third act followed the interval and gave something back to the production, which frankly I hated.
But all was not lost: the music was superb. Leo Hussain excellently commanded Britten's score: From his gestures to his interpretation he was spot on. My first experience of Britten's music was when I conducted the Hymn to Saint Cecilia. Since then I have been completely obsessed with Britten's sense of harmony; it is so exotic.
Britten too, is so backward, which creates something entirely contemporary; I described his composition as "Handel remixed"- His decorative vocal lines, plus his writing for harp and harpsichord mixed in with his writing for percussion and exotic harmony create perfectly contemporary compositions. The singing was also wonderful as is usually the case at the ENO especially William Towers, the counter-tenor who sang off stage for the ill Iestyn Davies and the bass-baritone Sir Willard White who with this production celebrates his 35th anniversary of his ENO debut both sang with might and clarity.
A Midsummer Night's Dream at the London Coliseum runs for 8 more performances: 28 May & 3, 17, 23, 30 June at 7:30pm & 21 May, 11, 25 June at 6:30pm. To book tickets call the box office on 0871 911 9200 or book online at www.eno.org.

Paul Guest is Ceasefire's Opera critic. He also writes for Classical Music Magazine, Gramophone and is the resident interviewer at Opera Britannia.
Photo credit: Tristom Kenton
1 Comment
Leave a Reply