Opera Macbeth (ROH)
Ceasefire's opera critic, Paul Guest, reviews the Royal Opera's current production of Verdi's Macbeth. Although the production was nothing spectacular the singing, he writes, was "glorious".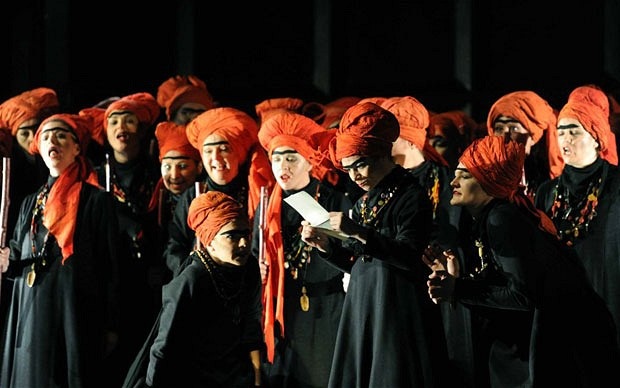 By Paul Guest
Macbeth, Royal Opera (Second revival)
Giuseppe Verdi
Conducted by Antonio Pappano
Directed by Harry Fehr
Simon Keenlyside, Liudmyla Monastryska, Raymond Aceto, Dimitri Pittas, Elisabeth Meister, Steven Ebel and Lukas Jakobski.

I really disliked the set designed by Anthony Ward from the 2002 production, originally directed by Phyllisa Lloyd- it made me hungry because it looked like a chocolate bar- ok, I'm being unfair: the set was dull and remained so for the entire production except for when the golden cage emerged as the stage was exposed- a symbol of defeat and death throughout.
In contrast with the two previous productions at the English National Opera this opera was not about staging; it was about the music. Pappano excels in the pit. He is a master of Verdi and can channel his compositions exquisitely; the orchestra of the Royal Opera packed many punches creating thunderous, grand and fulfilling music that leapt from the pit into the auditorium.
Simon Keenlyside shines as the power-hungry Macbeth and, alongside him, the blood thirsty Lady Macbeth is sang gloriously by the Ukrainian soprano Liudmyla Monastryska who makes her role debut with power and a hearty portrayal. Covent Garden debutant Dimitri Pittas sings a convincing Macduff and the young soprano Elisabeth Meister sings a wonderfully innocent Lady-in-waiting. Young artist Steven Ebel sings Malcolm to not much effect; his voice seems much too weak to be singing alongside the might of Keenlyside and Monastryka.
The production didn't impress me much but the singing was glorious- the whole company impressed as Verdi's music filled the auditorium. You go in with your socks on and come out with them blown off.
The remaining performances are on 27, 30 May, 3, 6, 10, 13 June at 7:30pm and 18 June at 7pm. Macbeth will be broadcast by BBC Radio 3 on Saturday 18 June at 6pm. On the 13 June at 7:30pm Macbeth will be broadcast live into 450 cinemas around the world.

Paul Guest is Ceasefire's Opera critic. He also writes for Classical Music Magazine, Gramophone and is the resident interviewer at Opera Britannia.
Photo credits: Alastair Muir
Leave a Reply