Opera Cendrillon (ROH)
In his latest review, Ceasefire's opera critic, Paul Guest, gives his verdict on a production of Cendrillon at the Royal Opera House, Covent Garden.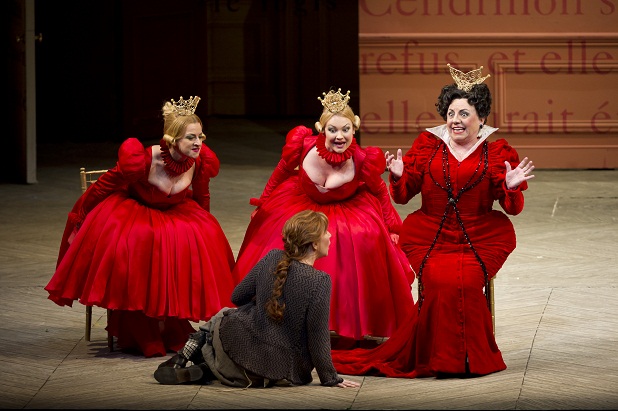 By Paul Guest
Cendrillon, Royal Opera, Covent Garden.
Jules Massenet
Laurent Pelly, director.
Betrand Le Billy, conductor.
Joyce DiDonato, Alice Coote, Eglise Gutierrez, Ewa Podles, Jean-Phillippe Lafont.
Orchestra and Chorus of the Royal Opera House.

Thank god for Laurent Pelly for saving what has been a most abysmal season at the Royal Opera. I think there was a sense of relief, that we were all in for a treat, when he brought this classic pantomime tale to Covent Garden, but this was no pantomime.
Everything, from set to singer, was just so French and so brilliant. I personally had high hopes after the stunning production of Donizetti's 'La fille du regiment' and again Laurent Pelly impresses.
Betrand le Billy is everything you want from a conductor and, as a music director, his interpretation has always been the essence of grandeur. His lively musical ethic permeates the orchestral forces in the pit and also to the singers on stage. He firmly had Massenet's score in his bones, seeping through to all of us in the auditorium.
Le Billy's sense of clarity and detail in every note is somewhat astounding, especially in fortissimo glory moments. Massenet's score provides individuality in the orchestra, shining a soloist's light on some of the orchestra's key musicians; elegant cellist action in act one and some gorgeous legato phrases from the oboe and flute in act three, along with some wonderful violin melodies. All of which made for delightful listening.
I love Massenet's almost Wagnerian style music in the more sombre moments of the libretto. I have never heard the Orchestra of Royal Opera House sound so good- they packed punches and brought out decadence, power and a definitive orchestral force to be reckoned with.
Betrand de Billy's superb musical direction combined with the directorial master of French opera, Laurent Pelly, make for compelling opera. His direction is perfection; his comic gimmicks never cheapened the opera but instead enhanced the grandeur French-ness of it all.
It became frivolous, fun and frantically fantastical viewing, true to an era and true to its libretto. I admire how Pelly presents French classism in such a lively and humorous way; the production just screamed life, it had wings and it took off– French opera has never been in safer hands.
Barbara de Limburg's pop-up book style set designs are also wonderful; I love her metaphorical commitment to the physical page; words invade the set with the ideology of the opera being within the text or indeed within a book.
Further to these splendid visuals there was also splendid vocality in the form of a marvellous cast. Joyce DiDonato, opera's answer to Stephen Fry, sang the title role, I thought the vocal line really tested her vocal ability and range; Massenet's high pianissimos took its toll (which was disappointing) and she didn't shine as I thought she would. However, she came into her own in act three where a more sensuous, legato melody was embraced wholeheartedly, and sang to great effect.
Eglise Gutierrez, coloratura fairy godmother (La Fee), is magnificent and boy can this gal decorate! Staccati and trills dominate her vocal line. Our Prince Charmant, Alice Coote, sings with heartfelt passion and emotional presence. Jean-Philippe Lafont makes a tremendous Covent Garden debut as Pandolfe (Cinderella's father) while his all-powerful and ball-busting wife, sang by Ewa Podles, provided all the comedy you could want with her exceptional hips and Queen of hearts hairstyle.
This is certainly a wonderful end to an unimpressive season at Covent Garden.
The production is performed on various dates until the 16th July. BP Summer Big Screens will screen 'Cendrillon' in squares up and down the country on the 13th of July, beginning at 7.30pm, for more information visit the ROH website. Radio 3 will also broadcast a live performance on the 9th July at 7pm.
Paul Guest is Ceasefire's Opera critic. He also writes for Classical Music Magazine, Gramophone and is the resident interviewer at Opera Britannia.
Photo Credits: (BACK) MADELEINE PIERARD AS NOÉMIE, KAI RÜÜTEL AS DOROTHÉE, EWA PODLEŚ AS MADAME DE LA HALTIÈRE, (FRONT) JOYCE DIDONATO AS CENDRILLON © THE ROYAL OPERA / BILL COOPER 2011
Leave a Reply