Opera La bohème (Village Underground)
In his latest review, Ceasefire's classical music and opera critic, Paul Guest, gives his verdict on a production of Puccini's La bohème at the Village Underground, Shoreditch.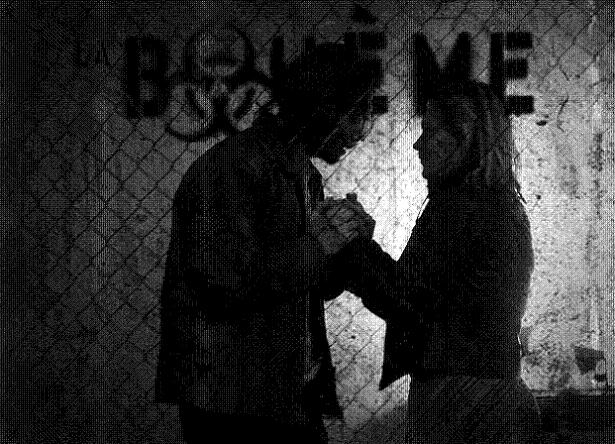 By Paul Guest
La bohème, Village Underground, Shoreditch.
Vignette Productions.
Andy Staples, director.
Steven Moore, conductor.

What have you done with my Bohème? I entered the Shoreditch rave venue feeling apprehensive, having been given a fake blood test in a white tent beforehand, then into the warehouse that is the Village Underground. A reduced orchestra (with orchestrations by Jonathan Dove,) young singers and a massive high ceiling: what was I to think? Plus there was added confusion in the plot, where exactly had they taken Bohème?
Although it's not often I go into a venue and feel unsafe, it seems somehow apt to mention here that Health and Safety is no issue here. Sure, there was a certain eeriness to the proceedings that one sensed; but it felt more like an operatic theme park.
There was an odd prologue of Piaf's 'Non, je ne regrette' that led into "Questo mar rosso" which still makes no sense to me at all. But I quickly learnt that there were many aspects of the production that don't actually make sense, since the cast boast the opera's original Italian libretto.
Alastair Digges, singing Rodolfo, never hits the mark throughout; he was lazy with his diction and let that control the sound, although dramatically he couldn't be faulted. The voice needs some work.
Conductor Steven Moore too, is not your ideal conductor, awkward and stiff, he wasn't as tight as one would have hoped but, considering the space and the difficulty of keeping everyone together, orchestra and singer, he let slip on occasions and ultimately didn't do a bad job. However there were many orchestral imperfections, notably in the string playing.
Ilona Domnich is truly divine singing the role of Mimi, she is wonderfully clear and full of beauty in colour and tone, from falling in love to dying she covered Mimi's emotion roller-coaster ride with total perfection; one to watch. Notable performances too from Matthew Sprange and Keri Fuge, both sang with dramatic force and vocal splendour.
Act 2 is frivolous fun and frolics, with the dominatrix Musetta strutting round the venue. Jealously stirs in Act 3 but also conjures delightful vocals from the principal foursome. Act 4 spirals into a reality none of us wish to face but the dramatic death of Mimi performed to its full extent.
I won't pretend that there aren't problems with this production, there is. However, that said, this is, by far, the best fringe opera production I have ever seen. Vignette productions takes fringe opera to a new level that actually makes it desirable, professional and, ultimately, they honour the music, which is where the drama resonates, and that is opera.
The production doesn't get in the way of performing Puccini's wholehearted score but instead enhances it, and that is the magic of opera. May I add that it was the opera singer, Andrew Staples, who directed this marvel? see it.
The production has one more London performance at the Village Underground on the 28th July and then goes on tour, visit www.vignetteproductions.co.uk for more information.

Paul Guest is Ceasefire's Classical Music and Opera critic. He also contributes to The Guardian, WIRED, Classical Music Magazine, and is the resident interviewer at Opera Britannia.
1 Comment
Leave a Reply