Comment | "Only newsworthy when behind a gun, not in front of it": On media coverage of #ChapelHillShooting
Western media reactions to the murder of three Muslim-Americans earlier this week have, once again, reflected and highlighted deep-rooted and systemic issues in mainstream representations of Muslims in the West, argues Ali M Latifi.
By Ali M Latifi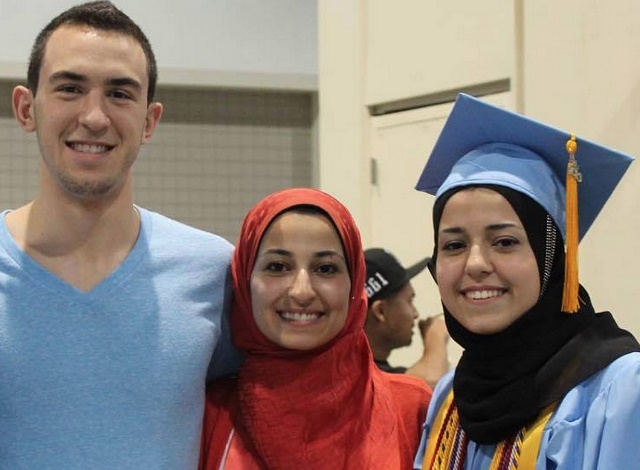 Kabul – Three young people — a newly-married couple and the sister of the bride — were killed "execution style" in their North Carolina home Tuesday evening, but you likely didn't read or hear about how there was "a bullet in every head" until well into the next day.
If you did hear about the deaths of Deah Shaddy Barakat, 23, his wife Yusor Mohammad Abu-Salha, 21, and her sister, Razan Mohammad Abu-Salha, 19, it was probably not on a mainstream evening news bulletin but online through social media. If you were on Twitter and Facebook in the early hours of Wednesday you also likely heard of the three students' volunteer work with Syrian refugees in Turkey and the homeless community in their hometown of Raleigh.
Of course, under any other circumstances, social media coverage of the shooting of three young students would have been held up as an example of the power of citizen journalism. The online reports had not only been there first, but also surpassed mainstream coverage in terms of depth and scope.
When the traditional media did finally catch up, however, mentions of social media discussions, posts and updates took on an unexpectedly odd light. The depth of information and the veracity of the discussions were ignored entirely. In their place, we were treated to rhetoric that seemed to recall Newsweek's infamous "Muslim Rage" cover.
The outpouring of grief and remembrances across the world was transformed into yet another display of anger by Muslim masses over "a parking dispute". As one publication put it: "Pictures of the three, all Muslim …  went viral in the United States and the Mideast where many people reacted angrily to the violence."
In the UK, a tweet by The Independent said the: "'Execution style' #ChapelHillShooting shooting of three young Muslims [was] met with fury."
Such rhetoric only serves to bring to mind clichéd images of angry Muslim hordes burning effigies and flags, rather than thousands of fellow humans trying to figure out how to cope with what would otherwise have been considered a national tragedy.
The Muslim response to unprovoked murder, to believe such portrayals, featured no tributes to the deceased,remembrances of better times with lost friends, or calls for support to humanitarian causes important to three North Carolina youth. All the empathy was washed away; in its place, only fury and indignation.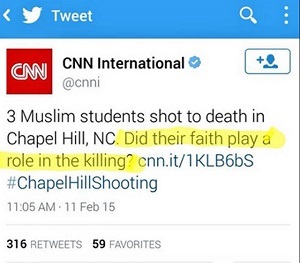 When they finally acknowledged the murders, CNN took a somewhat less measured approach. "3 Muslim students shot to death in Chapel Hill, NC. Did their faith play a role in the killing?" pondered a tweet by the network's international channel. This, one Twitter user pointed out, looked an awful lot like victim blaming.
But it didn't end there.
In their initial report, the Associated Press referred to the three dead Muslim-Americans blandly as "people." The first mention of their faith came four paragraphs in.
The tone of the coverage (or lack thereof) of three young Muslim-Americans murdered by a self-professed atheist becomes all the more questionable when contrasted with the media cycle of the preceding 24 hours. Only a day prior, the global media was filled with a constant flow of details on the capture and recent death of Kayla Mueller – the US aid worker killed by Islamic State (ISIS). For days, global media outlets had voraciously chronicled Mueller's humanitarian work. President Obama lauded the 26-year-old Arizona native as someone who "stands in contrast with the barbaric organization that held her captive."
Meanwhile, initial mainstream media reports of the North Carolina murders seemed to completely ignore the good works and accomplishments of the victims, despite their humanitarian endeavours, both in Turkey and the United States, having been copiously documented on social media for hours.
Whereas Mueller's captivity and murder saw everyone, from Obama to Joe Biden to John McCain, rush out immediate statements of condemnation, It took the president until yesterday evening to acknoweedlge the North Carolina murders, releasing a public statement of condolences and condemnation, having been roundly criticised for his silence over the preceding five days.
Such stark disparities in how the western political and media mainstream responded to the loss of life of american citizens raise numerous questions. For a start, they alert us to the telling choice of who is humanised in media coverage, and who is not. "Obama's silence on the #ChapelHillShooting has only served to further marginalize the Arab and Muslim communities. Made us feel irrelevant", tweeted Nadeem Muaddi, a news editor at Al Jazeera America.
In 2011, when US staff sergeant Robert Bales murdered sixteen civilians, including nine children, in Kandahar, Afghanistan, his name, details of his four tours of duty in Iraq and Afghanistan, accounts of his battles with PTSD and even the status of his finances all became integral parts of the Western media coverage of the murders.
In contrast, not even the names of the 16 Kandaharis brutally murdered in their Panjwai district homes were deemed worthy of mention by the quasi-totality of Western media outlets. This was echoed in initial headlines about the killings of Barakat and the Abu-Salha siblings, which did not feature their names but referred to them simply as "three people."
The most glaring case of dehumanising three, educated young Muslim-Americans came from CBS's popular news magazine programme, Inside Edition.
During its February 11 episode, rather than seeing the tragedy as an opportunity to discuss important, pressing issues such as Islamophobia or gun control, host Deborah Norville and her producers used speculations that the murders were provoked by a "parking dispute" to segue into a segment on … the difficulty of finding parking at the mall. "Now, finding a parking space is one of those things that can push some people over the edge. But there is always a way to find a spot at the mall", she intoned merrily. The murders had not only been ignored, they were treated as comedic fodder.
Norville wasn't alone, however. Noted British author and atheist Richard Dawkins also went to great lengths to highlight the parking theory angle, ignoring any possibility this might have been an Islamophobic hate crime committed by a self-professed atheist. In a series of tweets, Dawkins highlighted headlines from The Wall Street Journal, The San Jose Mercury News, The Huffington Post and Voice of America, all of whom had referred to the murders as a "parking dispute."
It seems, as Roqayah Chamseddine, a columnist for al-Akhbar English, put itthat "it's always on Muslims to prove their humanity … Muslims can never be Muslim when they're victims because Islam disappears from our identities when we face violence at the hands of bigots."
Rather than showcasing 'Muslim rage', the vast wave of social media reactions to the killings has reflected Muslim disappointment. For many, our fears and suspicions that Muslim lives do not matter had been starkly and depressingly confirmed.
It seems that in death, a Muslim can expect, at best, to be dehumanised, and at worst, to be ignored completely.
As Abdullah Azada Khenjani, an Afghan journalist, put it: "Muslims are only newsworthy when behind a gun, not in front of it."
Leave a Reply