North African Dispatches Morocco: the "tranquil" kingdom?
In this week's North African Dispatches, Kateb Salim looks at the tense status-quo in Morocco where King Mohammed VI's regime is keeping a close eye on a restless population.
Moroccans demonstrate in Rabat on February 20, 2011
By Kateb Salim
Far from the tumult sweeping the region, Morocco has sought to define itself as the region's exception, a tranquil kingdom in a chaotic North Africa. And yet, despite its well calculated efforts, tens of thousands of Moroccans marched on February the 20th in anti-government protests throughout the country. Even as violence broke out in the country's defiant Northern regions, the marches remained largely peaceful in the major cities. Protesters marched against corruption, nepotism, growing poverty and inequality but also for thorough institutional reforms.
One of these is the establishment of a constitutional/parliamentary monarchy where the King, like in the United Kingdom, is relegated to the role of a ceremonial monarch/head of state thus breaking one of the nation's chief taboos. Thus far, the Kings of Morocco and their families have all wielded endless power over the country's political, economic and even religious institutions.
Even though Mohamed VI is more popular amongst his people than his feared father Hassan II, recent events show that there are more and more eyebrows being raised as to whether or not he has actually brought change. Unlike most of his neighbours, he is revered above other political figures in the country. M6 as he is called by Moroccans did initially bring a greater leniency and modernity to the handling of state affairs and yet he has done so without touching some fundamental pillars of his father's reign which perpetuate political and social exclusion.
Political freedoms do exist so long as they are not aimed at the monarchy. Despite his willingness to appear the citizen-monarch domestically, the current king has not hesitated to imprison anyone or close any paper whose analysis might connect his own person to the country's flaws. Additionally, several months ago, in the occupied Western Sahara, he fiercely repressed a population when it questioned his sovereignty.
Regardless of the praise heaped by the West on Morocco, socio-economic indicators paint a bleak picture. The country ranks 114th in the world in human development and its low levels of societal education and rampant poverty continue to drag it further down in the rankings. According to the UNDP, whilst the human development index has increased since the 1980s, Morocco continues to trend below the level of its Arab neighbours.
As the economy flourishes, continuing to attract significant foreign investment for its vibrant tourism industry, it does so at the expense of the poorest in the country. With the country's wealth concentrated in the hands of a handful of powerful families, most Moroccans, above all in the slums of Casablanca and Marrakesh, have begun to doubt of the Monarchy's readiness to fight the 'Makhzen'.
This century old expression- synonymous of corruption- defines the complex matrix of well-connected barons that continue to monopolize the Moroccan economic and political scenes. M6, like his father, has relied on the 'Makhzen' to assert his own economic and political control.
Through it, he insures he is feared and respected by an elite entirely dependent on his decisions. For example, Wikileaks reports show the current monarch institutionalized bribery and coercion at the start of his reign to ensure his family's businesses gain the upper hand over local and international competitors.
Following the protests, Mohamed VI announced in a televised speech, a wide set of reforms. He nonetheless added that he would carry them out of his own initiative and not as a result for coercion or 'demagoguery'. It is still too early to understand what these promises mean and how they will take shape. What is however certain is that effectiveness and speed in carrying out these reforms will prove decisive over whether or not the Moroccan street will keep the Kingdom tranquil or demand more.
Meanwhile, in the occupied Western Sahara, yesterday marked the 35year anniversary of the Saharawi Arab Democratic Republic (SADR). This anniversary was however tainted by bloodshed and intimidation. Hoping to benefit from international coverage of a local music festival several days ago, hundreds of Saharawis had protested against Moroccan occupation and chanted pro-independence slogans.
By Friday and Saturday, dozens of Moroccan settler groups went on a rampage against what they identified as Saharawi nationalists in the occupied cities of Dakhla, Laayoune and Smara. When the Moroccan state's police and armed forces are too busy to deal with dissent in the north, it hires local thugs to deal with the 'southerners'.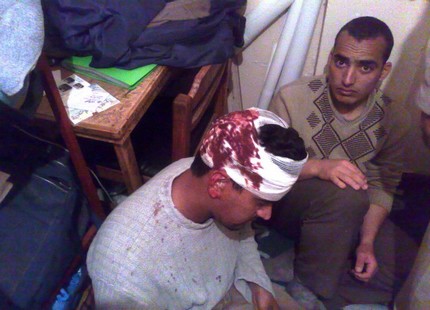 In this climate of outright vendetta and targeted intimidation, cars were burnt, shops destroyed. Local sources and various Spanish journalists on the ground confirmed that widespread kidnappings had taken place over the past few days.
The long list of families with activist members and affected by such kidnappings is absolutely heart-wrenching.
After being beaten and tortured for an entire night, Saharawi nationalists were left in atrocious states in front of their homes.
The two pictures above illustrate how the Moroccan settlers helped one Saharawi shopkeepers in Dakhla come to terms with their own understanding of modernity, freedom of expression and Moroccan citizenship.
With the world's attention geared towards the massacre in Libya, protests in Bahrain, Yemen and now Oman, who will now stand up for the defenseless Saharawis? Thus far they have shown great resilience and bravery in the face of such repression despite the deafening silence from major European capitals ,happy to overlook these grave human rights violations.
In their own land, they are forced to face daily humiliation, intimidation or flee to the outskirts of their own towns and cities to seek refuge in a desert they have come to know too well.
Kateb Salim writes weekly on African and Maghreb affairs for Ceasefire. His interests include politics, current affairs and Real Madrid FC.
1 Comment
Leave a Reply