Blog | Wave of Protests over Palestine Solidarity Flytilla ban and Hunger Strike
Activists call for a protest on Sunday as an initiative to fly 1,500 people into Tel Aviv Airport, a solidarity 'Flytilla', is blocked at Manchester airport.
By Omayr Ghani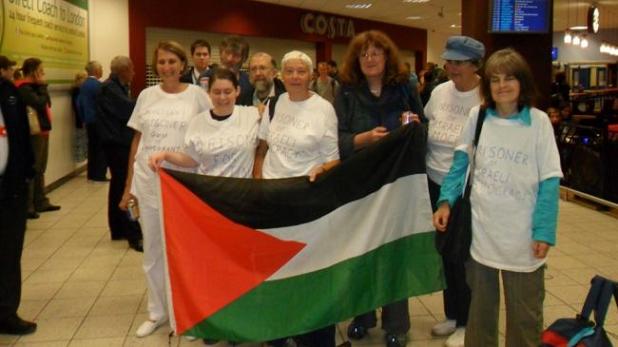 A Palestine Solidarity Campaign initiative to fly 1,500 people into Tel Aviv Airport to demand the right to visit friends in the occupied West Bank – A move intended to highlight the restriction of movement in the occupied territories – has resulted in a violation of the freedom to travel much closer to home.
Following Pressure from the Israeli government Jet Two Airlines have refused to allow passengers who had paid for and received their boarding passes to board their planes to Tel Aviv on Sunday 15 April, and have even refused to reimburse them, citing "circumstances beyond" their control. The same policy has been followed by other airlines across Europe whose passengers planned to fly into Tel Aviv on that day.
Israeli Pubic Security Minister, Yitzhak Ahranovitch has said that Israel will identify what he termed "the provocateurs" who do manage fly into the country. Once they land, he warned, they will be detained and deported.
In response, the Palestinian Solidarity Campaign called on supporters to come to Manchester Airport at 8.00 am- Terminal 1, at the Jet2.com check in, on Sunday April 15th 2012 to demand the right of their passengers to board flights to Tel Aviv
The passengers who had been refused by Jet2 staged a demonstration supported by 50-60. Jet2 staff tore up their boarding passes in front of their eyes (hopefully on camera) but the police refused Jet2's request to evict all protestors who were subsequently successful in getting their money back but still not able to board.
As similar protests occurred in Belgium and France banned passengers were informed that their names were on an unspecified "list" of Israel's that prohibited them from flying. Meanwhile those who escaped the ban are on the plane and landed in Tel Aviv at 3.15pm  and were immediately arrested by the Israeli authorities.
Whilst one activist Michael Rabb was immediately returned. Paveen Yaquub, a Palestinian rights activist who was on the Mavi Marmara when it was attacked by Israeli commandos, remains detained with 50 other flytilla activists who have all gone on hunger strike in solidarity with Palestinian prisoners who have done the same.
Today 2,400 Palestinian prisoners also joined the hunger strike and BBC Scotland's head office was taken over by protesters over its apparent refusal to cover the hunger strike or the four Scottish detainees who have since joined it. Senior BBC Scotland officials met with activists over their poor coverage of the hunger strikes and denied being influenced by BBC in London or UK foreign policy yet claimed they serve a 'certain demographic' and admitted there could have been coverage of Scottish solidarity actions.
Leave a Reply