Comment | After Khashoggi: This toxic UK-Saudi relationship cannot continue
For decades, successive UK governments have fuelled, armed and enabled a terrible regime to continue its authoritarian rule over Saudi Arabia. It shouldn't take the disappearance and death of a journalist for UK politicians to realise this must end, writes Andrew Smith.
By Andrew Smith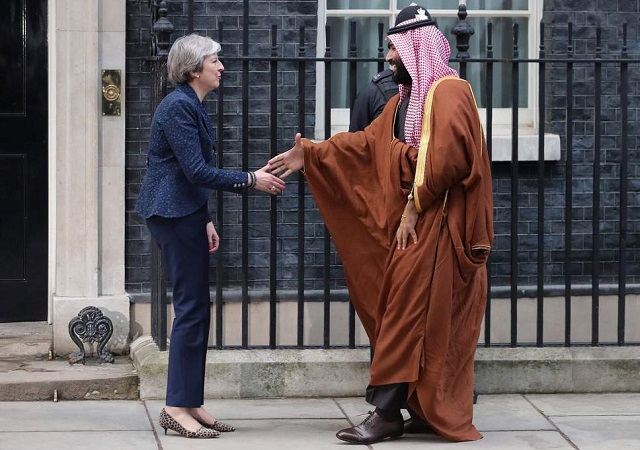 Some Tweets can be so self-unware that one is genuinely astounded to read them. Jeremy Hunt showed that this week when commenting on the humanitarian catastrophe in Yemen. "Amongst other news raging" he wrote "we must not forget the heart-breaking famine in Yemen – the UK has a special responsibility as Yemen pen-holder on the security council."
He's definitely right about the UK holding a "special responsibility" for the suffering in Yemen, though perhaps not in the way he intended. The famine in Yemen is not a natural disaster, it is a man-made tragedy that has been caused by a terrible Saudi-led bombing campaign that Hunt and his colleagues in the UK Government have armed and supported every step of the way from the very beginning.
At the same time Hunt wrote his astonishingly poorly judged message, UK fighter jets were being flown over Yemen by UK-trained military personnel. UK bombs and missiles were being fired from the sky. In the last three and a half years, Yemen has endured over 18,000 air strikes, one third of which are estimated to have hit civilian targets.
More than 10,000 Yemeni civilians have been killed as a direct result of the bombing, and while this is horrifying in itself, it only tells part of the appalling story of this war. Many more Yemenis have died in the resulting humanitarian catastrophe, which UN agencies have called "the worst humanitarian crisis in the world". If things continue as they are, the situation is only going to get worse.
This week, the UN warned that Yemen is on the verge of the world's worst famine for over 100 years. Millions of lives are at risk. This grim prediction is shared by Save the Children, whose research shows that already 130 children in Yemen are dying every day from preventable causes.
And yet, no matter how bad the humanitarian crisis in Yemen got, Saudi forces have been able to rely on the uncritical support of Theresa May, Jeremy Hunt and their colleagues. Since the war began, the UK has licensed almost £5 billion worth of arms to the Saudi military.
The escalation of the war in Yemen has been matched by an intensification of the repression of Saudi campaigners and human rights defenders. Over recent months, Saudi authorities have targeted prominent women's rights campaigners and activists, including Israa al-Ghomgham, who has been sentenced to death for her involvement in protests.
When the new Saudi Crown Prince, Mohammed bin Salman, visited London this February he was given the reddest of red carpet treatments. His three days in the UK included lunch with the Queen, dinner with Prince William and photos on the steps of Downing Street.
The celebratory images were seen all over the world. The message they sent to the Saudi Royal family was one of total support. However, for those suffering in Saudi Arabia, or those being bombed in Yemen, it was a stark reminder that the UK government will always prioritise arms sales over their human rights.
The glad-handing and photo opportunities were supported by a major advertising campaign and acres of sycophantic, grovelling rhetoric about the Crown Prince's supposedly progressive vision for Saudi Arabia.
Of course there is nothing new in this. This toxic relationship is one that has endured for many years. MPs and Cabinet Ministers from all parties have done all they can to build it, regardless of the consequences. Tony Blair, for example, was just as pro arms-sales and pro-tyrant as any of his Tory predecessors.
Things have changed over the last few years. Since the election of Jeremy Corbyn, the Labour Party has taken a consistently strong and critical approach to UK relations with the Kingdom.
Both Corbyn and the Shadow Foreign Secretary, Emily Thornberry, have called for an end to arms sales and a re-evaluation of UK relations with the Saudi dictatorship. Likewise, the SNP, Liberal Democrats and Greens have all taken an equally strong line, with all three parties supporting an arms embargo.
This opposition is shared by the public, with poll after poll having shown that the overwhelming majority of people in the UK oppose arms sales to Saudi Arabia and other repressive regimes. One poll, published only last month showed that two thirds of the UK are against these sales, including a majority of Tory voters.
The last few weeks have seen even more pressure on the UK government. This follows the international backlash against what increasingly looks like the murder of journalist Jamal Khashoggi inside the Saudi Arabian Consulate in Turkey. It's still too early to know exactly what happened, but even President Trump has accepted that the Saudi authorities have hard questions to answer.
It's too early to say if and how Khashoggi's disappearance will impact on UK relations with Riyadh, but what is clear is that it should never have come to this.
For decades now, successive UK governments have fuelled, armed and enabled a terrible regime to continue its authoritarian rule over Saudi Arabia. It shouldn't take the disappearance of a journalist for politicians to realise that this is wrong.
Leave a Reply