Arts & Culture | Jack Smith: A Feast for Open Eyes
Jack Smith, whose endlessly controversial film 'Flaming Creatures' gave him a reputation as the "only true underground filmmaker", was the subject of a recent revival at London's ICA which made the claim that we should take Smith much more seriously. Did it work? Janine DeFeo reviews the exhibition.
By Janine DeFeo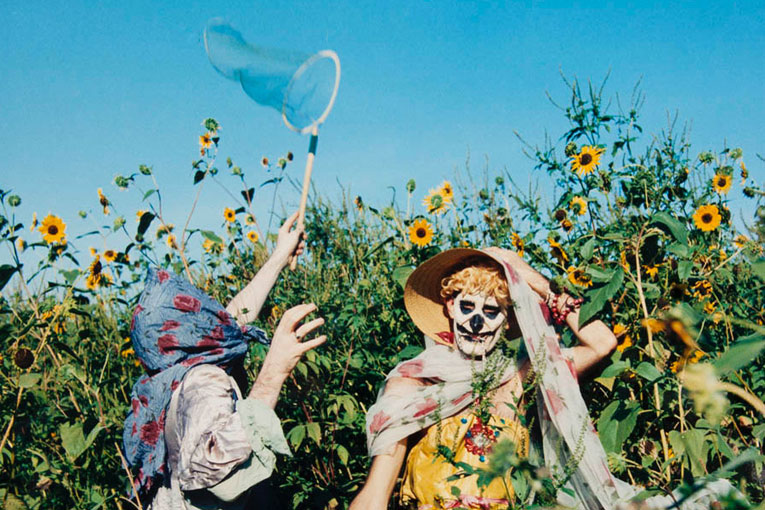 Jack Smith was a filmmaker, visual artist, performance artist and actor so difficult and innovative that John Waters has said – as the ICA website proudly trumpets – that he was 'The only true underground filmmaker.'
Smith really only ever finished one film as such, Flaming Creatures (1963), which even today is never discussed without adjectives like 'notorious' and 'controversial' attached. This is a film, made and shown (albeit not for very long) in early 1960s America, that contains a scene titled 'Rape-Earthquake-Orgy.'
It was, predictably, banned; it is still technically banned in New York, where the Gladstone Gallery showed it this past summer. Smith continued to make art in New York until his death in 1989, but he did so from a self-imposed underground position. His constant modification, cutting and re-cutting of his subsequent films indicates his disregard for – or inability to abide by – conventional conceptions of 'finished' art production. He wouldn't let the critics get their hands on anything else he had created.
Smith never forgot or forgave the reception of Flaming Creatures. He claimed in a 1978 Semiotext(e) interview that his intentions were made irrelevant by the controversy around his film; 'I started making a comedy about everything that I thought was funny. And it was funny. The first audiences were laughing from the beginning all the way through. But then that writing started ̶ and it became a sex thing.'
Dutifully bowing to the postmodern mood, he said later in the same interview, 'the meaning has to come out in what is done with the art…The way my movie was used; that was the meaning of the movie.' The recent institutional attention to Smith's work suggests that his sense of being misunderstood and creatively appropriated by fans and critics alike was not pure paranoia; it is also probably an unavoidable part of the process of art making and reception. In the case of Jack Smith, it has been actively, explicitly encouraged.
London's Institute of Contemporary Arts (ICA) recently presented 'Jack Smith: A Feast for Open Eyes' (7 September – 18 September), a retrospective that aimed at examining the full breadth of Smith's practice. The ICA retrospective came after 'Thanks for Explaining Me' at the Gladstone Gallery in New York City (6 May – 16 June), which worked toward a similar mission by displaying some of Smith's drawings, collage work and photographs in addition to twelve of his restored films.
An interesting element of the Gladstone Gallery's show was its inclusion of three specially-commissioned pieces of video art by contemporary artists Ryan McNamara, A.L. Steiner and T.J. Wilcox, who were given access to 'unseen' footage recorded by Smith and encouraged to use it in their tributes. Some of the newly-commissioned video art was included in the ICA retrospective, along with commissions from 2009's 'LIVE FILM! JACK SMITH! Five Flaming Days in a Rented World Festival' at Berlin's Arsenal Institute for Film and Video Art.
By the end of the ICA retrospective, it seemed clear that Jack Smith's own work is still much more interesting than what everyone has to say about him. When we strip his work down to identity politics and shock value, we lose both the humour and the beauty of his aesthetic vision. We're left with something like Guy Maddin's The Little White Cloud That Cried (2009), which manages to be boring despite featuring a transvestite getting slapped repeatedly in the face with an erect penis.
Smith was not afraid of mining sexuality for art, but I don't think his primary interest was about offending sensibilities. No doubt that was what he did, especially in his own time, but his reception is arguably the least interesting element of his artistic practice. It is certainly the least surprising.
Susan Sontag first published 'Notes on Camp' in 1964, when the relative obscenity of Flaming Creatures was still a live issue, an issue that Sontag herself weighed in on (you can read both 'Notes on Camp' and 'Jack Smith's Flaming Creatures' in her 1966 collection Against Interpretation). Smith was in many ways the perfect embodiment of Sontag's conception of 'camp', that is, camp as an aesthetic that was related to, but was nevertheless 'much more than homosexual taste'.
Queerness in Smith's film and performance work was not aggressive or political so much as personal. The performativity of life and sexuality could be a source of obvious excitement and fun for Smith: in the rare short film I Was A Male Yvonne DeCarlo (1967-70s) screened at ICA, Smith juxtaposes the sounds of a recorded learn-to-tango lesson for a man with smoky images of cars in motion, then costumed bodies in motion, and then Smith himself posing as filmmaker-as-celebrity. No one on screen does a tango but they are all dancing all the time.
Another short film shown at ICA, Reefers of Technicolor Island (1967), brilliantly demonstrates the all-too-easily forgotten fact that Smith's work is compelling because it was and is beautiful. The ICA's exhibition title, 'A Feast for Open Eyes' is a welcome reminder to just look, the way that it seems Smith looked. Smith loved the movies but he cared little for narrative. What resulted was a very contemporary sense of the possibility for the moving image to be essentialised, to become 'just' an image free from story.
Smith's aesthetic was baroque; he was all about visual texture, the layering of imagery, the use of the camera to unsettle the viewer's perspective. Reefers of Technicolor Island features the famous drag personality and Warhol superstar Mario Montez, but the human body in a Smith film becomes a decorative element, part of the fantastical visual landscape and as much subject to modification as the costumes and the set.
Some of the contemporary video art on display in London did show an appreciation of these innovations (Oliver Husain's 2009 Purfled Promises deserves special mention for its appropriate mixture of wit and aesthetic interest), but by far the strongest parts of the programme were those that simply let Smith's work, brilliantly restored, stand on its own, for viewers open-eyed enough to discover it.
A sample: http://www.gladstonegallery.com/smith.asp?id=2393 and http://www.ubu.com/film/smith_jack.html

2 Comments
Leave a Reply