In Theory Precariatans of all countries, unite!
Over the past thirty years, workers have been weakened and deprived of their ability to be, and act, united. In his latest 'In Theory' column, political theorist Andy Robinson takes a look at the concept of Precarity and the Precariat.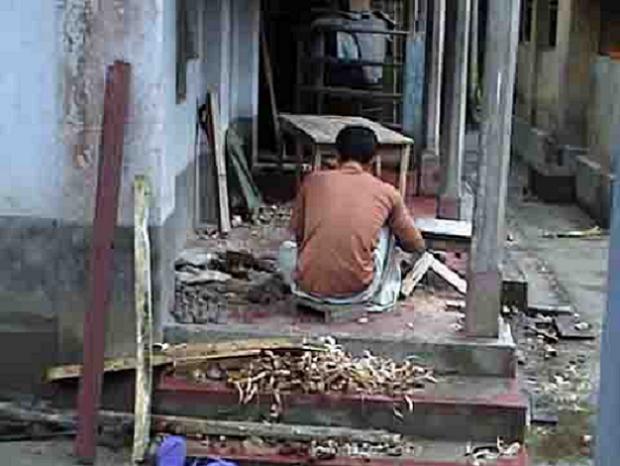 By Andrew Robinson
The concept of precarity has been developed by theorists emerging from the autonomist tradition as a way to think about changes in capitalism since the 1970s (when the tradition first took shape).
'Precarity' refers to the current economy, deeming it to be characterised by precarious labour, in which the availability and conditions of work are unstable and welfare provision is unreliable. It is contrasted to the Fordist and Keynesian order which preceded it. The 'precariat', a combination of precarity and proletariat, is taken to be the new revolutionary subject in this situation. It is distinguished from the proletariat, which is unified by its labour conditions, in that it is fragmented and molecular. It encompasses a range of subjects of revolt, from higher-educated casual workers in the media and culture industries, to undocumented migrants and sex workers.
This vocabulary first emerged roundabout 2005 in Italian and later European social movements, before spreading into academic discussions. The terms are used both in terms of the imposed precariousness of labour conditions and the possibility of new forms of resistance. The precariat exists between a state of anxiety and insecurity, and a state of being frightening to the dominant order.
As a negative phenomenon, precarity involves insecurity in terms of basic needs. It functions to make life contingent on capital and its constant movements and shifting demands. The absence of guarantees means bosses can use fear to dominate workers. Workers increasingly sell their time in discrete packages, as freelancers or casual workers, rather than being hired into a permanent job. As a result, the wage no longer covers the cost of workers' economic needs. Workers experience a sense of being constantly on call, subordinate to another's timeframe. In addition, what is known as the 'social wage' – the welfare services and additional incomes available through redistribution – has been reduced.
Precarity can also be viewed in terms of 'self-precarisation', in which workers voluntarily seek to escape rigid forms of labour organisation. The rise of precarity is seen as a recuperation of the previous wave of revolt, in which 'exodus' and networks emerged as forms of resistance – people escaped from the confines of 'stable' factories and families and thus ended up outside capitalist control. This was known as the 'refusal of work', and took forms varying from workplace sabotage to the 'slacker' or 'dropout'. Precarity brings the escaped people back inside the system by colonising the spaces they've created and imitating the ways in which they resisted.
Effects of precarity
Social effects of precarity include a disintegration of the sense of belonging to a national collective, because labour relations have been disconnected from citizenship. Birthrates go down because people become unwilling to have children when their social situation is insecure. People become psychologically over-aroused and find it difficult to relax because of the constant demands on attention. Surveys have also found that people are often miserable, despite it being a public secret: people feel it is taboo to discuss it. Precarious workers often undergo a breakdown of the ability to distinguish life from work.
Perhaps the biggest problem for precarity organising is the hopelessness which often accompanies marginality. People are often caught-up in the goal of creating a less-bad life, instead of overcoming precarious capitalism. Furthermore, the endlessness and misery of precarious labour can create a sense of despair which extends to politics. In losing track of time as days roll into one another, flexible workers can lose a sense of a distinct future which may be different from the present.
Precarity is talked about in different ways by different groups. It is still seen as aberrant in dominant narratives, with periodic moral panics about 'neets' (youths not in education or training). The precariat are portrayed as self-excluded, and demonised as a threat to social cohesion. Young people who find themselves in precarious jobs often see themselves as unsuccessful, or are seen as underperforming by parents who expected them to find lifelong careers. It is often overlooked that the change involved is structural, and precarious jobs are now perfectly normal. From a longer-term perspective, precarity has been the norm in capitalist history, and Fordism the exception, both historically and geographically.
Neoliberals tend to celebrate a certain type of freelance, educated precarian as the 'creative class' of the 'New Economy', in a way which contrasts with precarian workers' actual work-conditions. Some autonomists reconstruct the precariat as a revolutionary subject in a way which risks simply inverting the neoliberal narrative. In practice, neoliberalism benefits from the denial of social rights to precarious workers.
The traditional left has generally tried to oppose precarity and restore Fordism, viewing precarity as a threat to working conditions. Its discourse overlaps dangerously with reactionary framings of the precariat as a social problem.
The precarity movement
In addition to being a theoretical concept, precarity has been a focus for political organising by social movements in Europe, such as Chainworkers, Intermittents du Spectacle and Precarias a la Deriva. These groups have organised a range of often attention-grabbing protests and actions, with their major mobilisation being the Euromayday movement. In Italy, they have created their own patron saint, "San Precario", whose icons turn up on protests.
The idea of the precarity movement was to draw on the powers of resistance which remain operative among precarian workers. People are believed to create their own forms of living and social relationships, and precarity is also viewed as a basis for critiques of traditional assumptions, such as gender roles.
The concept is viewed as able to handle diverse perspectives. Sarrantonio uses the metaphor of a cracked looking-glass, with precarity describing the glass as a whole. It is also deemed to create space for thinking about alternative futures. Tsianos and Papadopoulos argue that the embodied experience of precarity produces new subjectivities which drift constantly away from their social determinants. They argue, however, that the precariat only poses a challenge to capital when it shows its frightening side, rather than its anxious side.
It is often observed that traditional organisational forms such as the party and trade union are inappropriate for the precariat, partly because of the problems of people 'not having the time' or not being able to commit to regular participation alongside irregular jobs. In practice, movements of precarians tend to operate through affinity-networks, social centres and e-lists rather than organisations.
The precarity movement was strongest in countries such as Italy where the stable job conditions of core workers were being corroded in the mid-2000s. It was criticised for the centrality assigned to young, non-migrant men with higher education, who were the new group affected by precarity – the people who had not expected it. It was argued by feminists and anti-racists that precarity had always been the norm for other groups of workers. In addition, the movement did not seem to spread to countries like Britain, where generalised precarity was a longer-term condition.
There have been periodic debates over whether knowledge-workers or migrants are the typical figure of precarity. Such debates are sometimes criticised for reproducing divide-and-rule strategies used by those in power to create divisions. It has also been argued, however, that precarity may cover too diverse a range of experiences to be useful as a concept. This difficulty is addressed to some degree by viewing precarity mobilisations in terms of translation and the creation of a new space, rather than in terms of a common reference-point. In some cases, the act of coming together is taken to combat fragmentation without undermining particular struggles.
The precariat tends to be theorised in a rather open way, with a strong emphasis on singularity, diversity, networks and translation. This does not entirely offset concerns that the concept subordinates difference to sameness, since the concept still assumes a certain degree of commonality, even if this commonality is loose or aspirational.
The precarity movement has, over time, changed the political meanings of precarity from purely negative connotations of insecurity to ideas of new rights such as 'flexicurity' (welfare security for precarious workers). Precarity is linked to issues such as free culture and knowledge (the abolition of copyright) and cheap housing and travel. The slogan of 'stop precarity' has gradually been replaced by positive connotations of the term.
In addition to the precarity movement itself, mobilisations such as the American migrant rights movement, 'flash' protests such as the Melbourne taxi drivers' campaign and the rise of rave culture are sometimes discussed in terms of precarity. Rave culture for instance is taken to push the scripts of precarious labour to excess, producing exodus. Hardt and Negri think of the newest movements in terms of the 'snake' replacing the 'mole' – instant strikes replacing underground organising. Nielson and Rossiter, however, suggest that a pool of invisible discontent provides the basis for the snake-like flash protests. Precarity issues often intersect with migrant issues, and slogans around free movement and free communication are often combined.
Attention is also drawn to the feminisation of precarious labour. Many precarious jobs have appeared in sectors which substitute for previous functions of the nuclear family, for instance in fast food and childcare. Fordism was based on a dual labour market in which women were assigned to the subordinate sectors. As a result, precarity is not entirely negative. The Italian feminist group [email protected] did research which found that many young women do not seek a return to Fordist security, which carried along with it the imposition of unremunerated reproductive labour and subordination within the family. They were found to prefer creativity and autonomy to security.
Precarity movements commonly focus on the demand for a basic income or 'flexicurity'. This demand is connected to the views, firstly that precarious workers' social reproduction costs are not being met at present, and secondly that people are constantly doing unpaid productive activity which should count as labour (for instance, housework).
The realisation of such a demand would be a huge step forward, but its limits have also been criticised. Firstly, it is incompatible with the very regime to which it responds: the use of insecurity to frighten workers. It is debated whether it can be achieved within capitalism, since it disconnects income from work. Secondly, it tends to reinforce state power, at a time when the state's stance as protector of 'security' is associated with insidious authoritarian discourses. Thirdly, it reforms capitalism, rather than moving beyond it. It seems to suggest an anxious precariat needing protection, rather than a precariat which is a threat to capitalism. Indeed, certain basic-income-like measures restricted to low-waged workers (such as Working Tax Credit) already exist.
The other alternative coming out of precarity movements returns to the approach of constructing autonomous spaces. These spaces will now have to be open and diffuse, to make allowances for people's constant mobility. It is sometimes suggested that people can distance themselves from high-speed flows in small autonomous communities, or use the gaps in their work schedules to 'tarry with time' and question the primacy of work. The reconstruction of autonomous time, outside the constant availability to work or necessity to keep oneself ready for work, is now arguably as important as the construction of autonomous space.
Meanwhile, autonomous spaces continue to pop up in areas 'left fallow' by changes in capitalism, which have moved power and jobs towards 'global cities' such as London. The current configuration of power makes such 'liberation' of marginal spaces potentially easier than before, provided it is done away from the major centres of accumulation. One can imagine the centres being gradually besieged by a web of autonomous zones constructed around them, in the zones they leave empty. The construction of autonomous spaces may overlap with the revival of a subsistence perspective, as an overlapping alternative to precarious capitalism which provides ways of meeting basic needs outside of market dependence.
The transformation of everyday life is crucial to challenging the current composition of capitalism. Before the Fordist phase, and still today in much of the South, everyday networks and self-provision by marginal communities met many of the needs which are now the source of dependency in precarious capitalism. The restoration of such forms of provision, across fields ranging from food production to education, may be the key to recomposing a marginal counter-power, addressing the anxiety of the precariat in such a way as to bring its 'frightening' potential to the fore.
Andrew Robinson is a political theorist and activist based in the UK. His book Power, Resistance and Conflict in the Contemporary World: Social Movements, Networks and Hierarchies (co-authored with Athina Karatzogianni) was published in Sep 2009 by Routledge. His 'In Theory' column appears every other Friday.
Further reading
Aufheben (1999), 'Dole Autonomy versus the Re-Imposition of Work: Analysis of the Current Tendency to Workfare in the UK'.
Available from: http://libcom.org/library/dole-autonomy-aufheben
Bove, A., E. Empson, G. Lovink, F. Schneider and S. Zehle (2003), Makeworlds Paper 3.
Available from: http://www.makeworlds.org/node/2
Fantone, L. (2006), 'A Different Precarity: Gender and Generational Conflicts in Contemporary Italy'.
Available from: http://precariousunderstanding.blogsome.com/2007/01/05/a-different-precarity/
Federici, S. (2006), 'Precarious Labor: A Feminist Viewpoint'.
Available from: http://inthemiddleofthewhirlwind.wordpress.com/precarious-labor-a-feminist-viewpoint/
Foti, A. (2004), 'Mayday! Mayday! Euro Flex Workers, Time to get a Move On!'
Available from: http://www.republicart.net/disc/precariat/foti01_en.htm
Frassanito Network (2005), 'Precarious, Precarization, Precariat?'.
Available from: http://precariousunderstanding.blogsome.com/2007/01/05/precarious-precarization-precariat/
Gulli, B. (2010), 'Immanent Singularities: An Interview with Bruno Gulli'.
http://www.minorcompositions.info/gulli.html
Holmes, B. (2004), 'The Spaces of a Cultural Question'.
Available from: http://www.republicart.net/disc/precariat/holmes-osten01_en.htm
Lazzarato, M. (1996), 'Immaterial Labour'.
Available from: http://www.generation-online.org/c/fcimmateriallabour3.htm
Lorey, I. (2010), 'Becoming Common: Precarization as Political Constituting'.
Available from: http://www.e-flux.com/journal/view/148
Mezzadra, S. (2007), 'Living in Transition: Toward a Heterolingual Theory of the Multitude'.
Available from: http://roundtable.kein.org/node/653
Midnight Notes Collective (2010), 'Promissory Notes: From Crisis to Capitalism'.
Available from: http://www.midnightnotes.org/Promissory%20Notes.pdf
Mitropoulos, A. (2005), 'Precari-Us?', Mute 29, pp. 88-92.
Available from: http://www.metamute.org/en/Precari-us
Neilson, B. and N. Rossiter (n.d.), 'From Precarity to Precariousness and Back Again: Labour, Life and Unstable Networks'.
Available from: http://publication.nodel.org/From-Precarity-to-Precariousness
Neundlinger, K. (2004), 'Fuzzy Production Logics: Experience and Reflection in the Laboratory of Insecurity'.
Available from: http://republicart.net/disc/precariat/neundlinger01_en.htm
Nowotny, S. (2004), 'Precarious Residence: The Universal Embassy as a Site of Social Production'. Available from: http://www.republicart.net/disc/precariat/nowotny04_en.htm
Paoli, G. (2004), 'Demotivational Training: Anecdote on the Drop in Economic Optimism'.
Available from: http://eipcp.net/transversal/0704/paoli/en
Precarias a la Deriva (2004), 'Adrift through the Circuits of Feminized Precarious Work'.
Available from: http://www.republicart.net/disc/precariat/precarias01_en.htm
Raunig, G. (2004), 'La Insecuridad Vencera: Anti-Precariousness Activism and Mayday Parades'. Available from: http://www.republicart.net/disc/precariat/raunig06_es.htm
Raunig, G. (2007), 'The Monster Precariat'.
Available from: http://translate.eipcp.net/strands/02/raunig-strands02en#redir
Sarrantonio, T. (2008), 'Cracking the Looking-Glass: Perception, Precarity, and Everyday Resistance'.
Available from: http://platypus1917.org/2008/04/01/cracking-the-looking-glass-perception-precarity-and-everyday-resistance/
Shukaitis, S. (2006), 'Whose Precarity is it Anyway?', Fifth Estate 41 no. 3.
Available from: http://www.myspace.com/haduhi/blog/207475893
Tari, M. and I. Vanni (2005), 'On The Life and Deeds of San Precario, Patron Saint of Precarious Workers and Lives', Fibreculture Journal 5.
Available from: http://journal.fibreculture.org/issue5/vanni_tari.html
Tsianos, V. and D. Papadopoulos (2006), 'Precarity: A Savage Journey to the Heart of Embodied Capitalism'.
Available from: http://eipcp.net/transversal/1106/tsianospapadopoulos/en
van Veen, T.C. (2010), 'Technics, Precarity and Exodus in Rave Culture', Dancecult 1 no. 2.
Available from: http://dj.dancecult.net/index.php/journal/article/view/9
Vishmidt, M. (2005), 'Precarious Straits', Mute 29, pp. 93-5.
Available from: http://www.metamute.org/en/Precarious-Straits
Weber, B. (2004), 'Everyday Crisis in the Empire'.
Available from: http://republicart.net/disc/precariat/weber01_en.htm
12 Comments
Leave a Reply