Music 'I, Culture' Orchestra: can music change politics?
The 'I, Culture' orchestra, a nascent collective of musicians from Europe's eastern neighbourhood, has this week embarked on its first European tour. Ceasefire's classical and opera critic, Paul Guest, speaks to its artistic director Pavel Kotla, about the political and artistic vision of the project.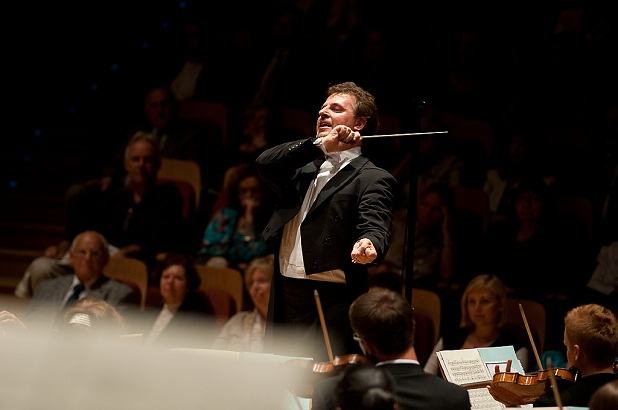 By Paul Guest
Poland's international cultural body, the Adam Mickiewicz Institute, recently announced the launch of a new orchestra of "young professionals" formed of instrumentalists from the fringes of Eastern Europe.
Inspired by Daniel Barenboim's West-Eastern Divan Orchestra, the I, Culture orchestra is a new project seeking to forge stronger partnerships with Europe's eastern neighbours (Belarus, Ukraine, Moldova, Georgia, Armenia and Azerbaijan) whose countries are progressing following a turbulent transition to democracy, periods of political and military unrest and historic differences.
It seems it is now music's turn to forge these greater ties across the region; The I, Culture Orchestra, under the leadership of its Artistic director Pavel Kotla, attempt this brave and powerful political message by unleashing their orchestral forces on tour around European concert halls with the help of their appointed honorary conductor and British maestro Sir Neville Marriner.
Pavel Kotla is no stranger to the next generation of musicians, he spent much time with the London Symphony Orchestra directing their UBS: Soundscapes: Pioneer's series where he championed works by new young composers. A fine conductor too, Kotla has worked with the London Symphony Orchestra and CBSO as well as distinguished conductors Sir Colin Davis, Valery Gergiev and Sir Neville Marriner.
Approaching this concept and project with intrigue I caught up with the man in the know himself:
"This is an entirely unique project" Kolta began, explaining the idea of the I Culture Orchestra. "The idea was that Poland wanted to do something unique and cultural to celebrate the Polish presidency. The Adam Mickiewicz came up with many ideas and one idea was to build a youth orchestra of polish classical musicians, but then we tweaked the idea to use musicians in Eastern Europe as part of the presidency is to promote the EU Eastern partnership and basically that's how it began."
"After the initial preparation we realised that the project was so unique as we would be taking these musicians from Eastern Europe to play in some of Europe's greatest concert halls and also a realisation that this was the only organisation and project that could really unite these countries; all of eastern Europe are at different levels of progression, politically and economically, but this unification is much easier if you add culture."
It's a clear political message that is assisted by this slice of artistic goodness, Kotla is clearly honoured to be the project's artistic director, "I never thought a cultural project could be so closely connected with political and social idea, so it works quite well."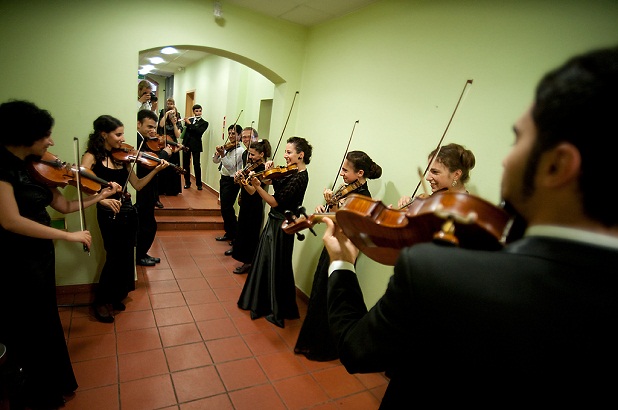 Kotla is clued up on the political manifesto the orchestra is representing but I needed assurance of its artistic integrity, "We auditioned all our instrumentalists and invited tutors from the best orchestras in the west; London Symphony Orchestra, The Metropolitan Opera orchestra, London Philharmonic, Opera de Lyon etc. Of course we want to achieve our aims, politically and socially and at the end of the day the orchestra will be judged artistically." Eastern Europe has a surprising wealth of musical institutions, Kotla auditioned musicians "…from 5 conservatories in Poland and then a further 6 in Eastern Europe" He continued, "We were positively surprised by how many talented musicians we were able to find in the east for all sections of the orchestra."
Travel is always an insightful path to education but it seems that Kotla's aims were fully explained when he was able to witness the politics firsthand, "When I was travelling, auditioning these musicians, I was able to determine and examine not only the musical backgrounds of these countries but also where the project lay in terms of its politics" and what did you find? "I found that all these countries they have very international aspirations, for them it's so important for them to be apart of the international community, culturally as well, and one of things I also discovered is that there is a long sophisticated history which we don't know very much about in western Europe."
There is a huge variety of person and nationality in this orchestra, "With the countries we have invited into the orchestra, there is seven different alphabets, with problems with visas due to political differences. In fact, two the countries we have invited are in a state of war at the moment, Armenia and Azerbaijan."
I sat, wishing the project well, but worried that some might be reluctant to join this project because of politics, I question also whether "music is music and politics is politics". In other words, is there ever a healthy combination or the two? "We have had a very positive reception in the east; in every single country we have a fantastic response, they appreciate that we are trying to do something important. We are in an advantageous situation that Poland has been on both sides of politics, we are lucky to be in the exclusive western club but we do also remember the political unrest, tanks in the street, martial law, communism and of course the second world war, so we can understand their social situation, background and history."
"I'm hoping the involvement of Sir Neville Marriner's 70 years in music will bring our message to the attention of the people in the west" – Indeed it does attract our attention, but will we listen if it is not first class music and will the political message get lost in the maze of Marriner's anniversary? "I'm hoping that somewhere between Pop Idol and X Factor that people will realise something very important is happening and we completely underestimate how important these countries are."
There must be apprehension, no? "Politically I have no fear, and the apprehension lies in the artistic standard."
I think if there was anything that Kotla and I spoke about during the interview, nothing proves the hypothesis of the project quite like the tale of four nations having a drink, "During our short residency in Poland for our wind and brass players, there is a remarkable picture that one of our players put on our Facebook page where four players were enjoying themselves and having a drink and these players are from Belarus and Poland, who have a difficult diplomatic relationship and also Armenia and Azerbaijan, who are at war, this is the magic of this project and it does prove music is an effective platform for change"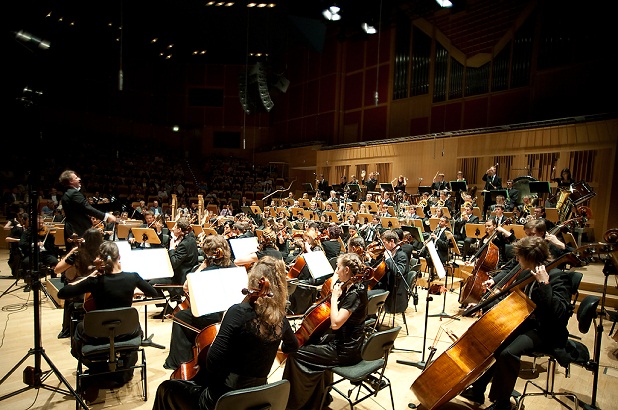 The artistic excellence of this orchestra will determine the success of the project and so how did Kotla come up with a programme to reflect their message both artistically and politically? "We had to invent a programme of famous composers for our audiences in the west. Firstly I wanted to choose a piece that would bring all those countries together and I think that is what Prokofiev's Scythian Suite does and then we will perform Shostakovich, which represents all the oppression over the 20th century and especially the 5th symphony which we will be performing was written after the heartless oppression that he encountered during the communist regime and then Szymanowski presents the sophistication of the musical culture in the east of Europe. Sir Marriner chose Tchaikovsky's Symphony No. 4 as he said that this best represents the orchestra."
In excitement, Pavel Kotla said, "This is one of the best projects I could have ever hoped for." For Kotla, this is a chance to influence a movement for political change as well as taking a slightly naïve and inexperienced group of talented musicians under his experienced wing and introducing them to the border-transcending power of artistic excellence.
Paul Guest is Ceasefire's Classical Music and Opera critic. He also contributes to The Guardian, WIRED, Classical Music Magazine, and is the resident interviewer at Opera Britannia.
The tour begins on the 4th September 2011 at the Berwaldhallen in Stolkholm conducted by Kotla and then travels through Kiev, Berlin on the 2nd November, Brussels, then reaching the Royal Festival Hall in London on the 6th November, going on to Madrid and ending in the projects origin country of Poland at the Phiharmonic Hall in Warsaw.
Photo credits: Adam Mickiewicz Institute
Leave a Reply