Comment | This humiliation must end: stop deporting people like me to our deaths
Currently threatened with deportation to Nigeria, campaigner Luqman Onikosi is chronically ill and needs to remain in the UK to receive life-saving treatment. That migrants like him are forced to prove their right to life, he writes, is humiliating and inhumane.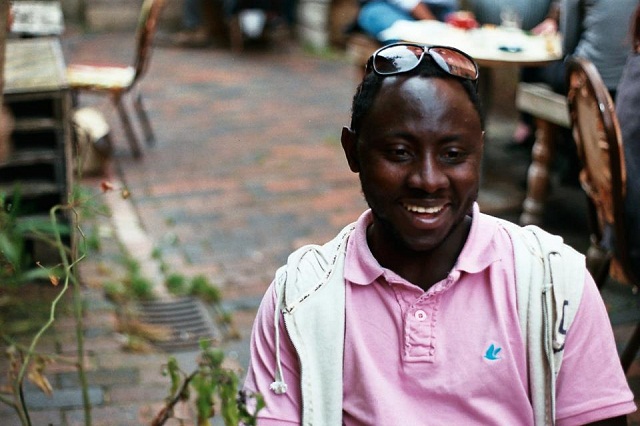 When an unforeseen circumstance occurs in a migrant's life, we have to justify ourselves in order to be given the chance to stay alive. How do we do this? In a system that decides who lives and dies on the basis of economics and race, our chances of proving ourselves worthy are slim.
Despite suffering from a chronic liver condition brought on by Hepatitis B, I am currently facing the prospect of deportation from the UK. My battle to stay in the UK on medical grounds, in other words, is a fight to stay alive. In October last year, and then March this year, my brothers in Nigeria, Kolade Onikosi and Hanuna Onikosi, died of complications brought on by the same illness. I believe it is barbaric to send a third member of my family – me – to my death.
As migrants, we have to justify why we deserve the right to life, why we should stay alive, by illustrating the value we add to the economy. Of course having to prove our economic value is inevitable in a capitalist, racist system, where one life is worth saving and the other is worthless. As a former international student in the UK, like other international students, we are wrongly accused of 'milking the system'. The truth is very different: we are treated as 'cash cows' by most education institutions. We continue to add 'value' to the UK economy through its international education system, worth up to £40 billion.
I am frustrated by the institutional commodification of international students, desperately competed for by universities and colleges. In lieu of being viewed as equal humans, seeking knowledge for the common good of humanity, we are often perceived as less than human, and treated as mere sources of income.
The UK government, irrespective of what party is in power, encourages a covert parasitic attitude towards international students. This goes some way to explaining my and other people's experience of being used and then discarded after completing our studies.
I have followed the recent debates around euthanasia and I can see an analogy between the right to life and the right to be legally and medically permitted to die. Many resident British citizens have faced the painful process of fighting for the right to die and yet are denied this on the basis of moral arguments regarding the worth of life as such.
Yet there are women such as Ama Sumani, a Ghanaian widow living in the UK, who judicially battled for the right to life, to stay alive for her children, but her case was dismissed by the Home Office simply because she had not updated her contact information after moving.
Ama was deported whilst undergoing treatment for terminal cancer at the University Hospital of Wales in Cardiff, and died just three months later in Ghana. The medical journal the Lancet described her removal from hospital by immigration officials as "atrocious barbarism".
There are too many other cases similar to mine, such as Roseline Akhalu, a kidney transplant patient, whose battle to remain in the UK is subject to an on-going judicial review. Together our struggles illustrate how 'racially' driven most of the statutory policies are, and how racist the operations of the UK Border Agency are in practice, even as the agency attempts to mask this by using the language of 'nation', quotas and 'genuine' refugees.
I find it very dehumanising and humiliating that I have to justify and defend my existence as an equal human being. I have to fight for my right to life, by discussing the death of my two brothers from the same chronic liver condition, just to highlight how serious the situation is.
There are many people out there with chronic health conditions who are in similar legal situations, but they are not as brave as Roseline Akhalu, because they are intimidated by the notion that coming out will make their case worse.
The UK Border Agency must review its rules for FLR (O) applications made on medical grounds, which set an abstract, high threshold, particularly for vulnerable migrants who have a medical condition. Migration has not just greatly contributed economically to the UK – migrants themselves have also socially contributed to the system and our respective communities. We must stop this pattern of humiliation. Please stop deporting people like me to our deaths.
Act now- support Luqman to stay – don't let this injustice happen!
1. Sign the petition. Forward it to two of your contacts:
http://www.gopetition.com/petitions/grant-luqman-onikosi-leave-to-remain-in-the-uk.html
2. Write a letter or an email of protest to the Home Secretary, Theresa May.
• We have a great template for you in the 'Files' section of the FB group, if you're struggling to write the letter in your own words.
• Please quote Luqman's home office reference number: O1103504
Theresa May, MP
Secretary of State for the Home Office
2 Marsham Street
London
SW1 4DF
[email protected]
[email protected]
[email protected]
[email protected]
Fax
020 7035 4745 (00 44 20 7035 4745 if you are faxing from outside UK)
EMAIL: Please cc us in at campaignforluqman@gmail.com and forward to us any response you receive.
LETTER OR FAX: Remember to print, sign and date.
3. Write to your local MP
• Request that your local MP show their support for Luqman's case. Write your own or use the great template provided ('Files' section on menu bar in Facebook Group or email us)
• To find out the name and contact details of your local MP, click here – http://findyourmp.parliament.uk/
• Please send the letter to the MP for the area in which you live. An MP will only take up an issue which effects or is a concern of the people living in their constituency.
LETTER OR FAX: Remember to print, sign and date
Please let us know when you send the letter, and if you receive any response from the Home Office, by emailing us at campaignforluqman@gmail.com.
EMAIL: Please cc us in at campaignforluqman@gmail.com and forward to us any response you receive.
17 Comments
Leave a Reply