Deserter's Songs A Funny Bird That Never Lands
In this week's Deserter's Songs column, David Bell revisits the album which gave his column its name: Mercury Rev's 1998 masterpiece 'Deserter's Songs', and explains how knowing the album for nine years has been like the "wonderful early stage of a relationship".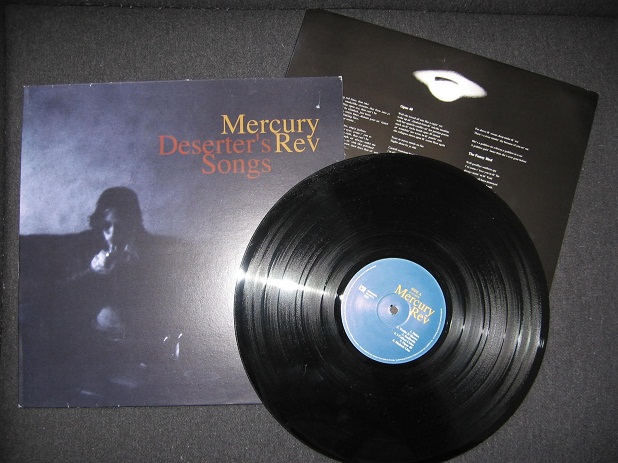 By David Bell
I realise that despite writing this column for a while I have not yet written about the album which gave it its name: Mercury Rev's 1998 masterpiece Deserter's Songs.
It's hovered there as a big other these past few weeks- I've been aware that one day I'd have to tackle it, but have repeatedly put it off in the hope that an 'angle' from which to tackle it will reveal itself. Though I've listened to it at least once a week since (as I have done since I bought almost nine years ago to the day), it stubbornly refuses to comply, keeping its secrets to itself.
That is, undoubtedly, why I'm so drawn by it. I know its every note, its every syllable, its every silence. But I couldn't possibly say I understand it, or even that I know it fully. On each listen I remain utterly enthralled as if I'm hearing it for the first time. The nine years I've known the album have been like that wonderful early stage of a relationship when you're getting to know your partner and can't possibly imagine ever tiring of them.
Their beauty fascinates you, their sadness makes them even more mysterious and their wonder seems infinite. They create their own world, draw you in you never want to leave. Like 'a funny bird that never lands', as 'Rev singer Jonathan Donahue sings on 'The Funny Bird'.
And it certainly is a funny bird, Deserter's Songs. Funny peculiar, and perhaps a little funny ha-ha. There are bowed saws, wurlitzer strings, dreamy sopranos, castanets, some of the weirdest guitar sounds you'll ever hear, as well as apparently nonsensical lyrics like 'Holes/Dug by little moles'. People I've listened to it with have laughed, and I don't think that's an unfair reaction.
Of course John Cage once said that he preferred laughter to tears, but that binary's not quite applicable here, because this is an album that has the power to devastate as well. As if to emphasise precisely this point Donahue sings that these holes 'make me laugh and always make me cry' a few lines later, the richness of his trademark, cracking falsetto captured in full by the 35mm magnetic tape the album is recorded on.
The holes that Donahue sings of aren't nonsensical, though.To this listener at least, they must be seen as memories from the band's troubled past. In the seven years between the release of their (fantastic) debut album Yerself Is Steam and the release of Deserter's Songs Mercury Rev's trajectory had taken in the chaos of alcoholism, drug abuse, onstage fights, broken relationships, family deaths and border arrests for possessing firearms.
After 1995's See You on the Other Side bombed, Donahue had a nervous breakdown whilst guitarist Grasshopper retired to a Jesuit monastery for six months to escape the madness.
When Deserter's Songs appeared three years later, most people assumed the band were done for. In an interview with NME shortly after the release, Donahue said that even their record label V2 (who picked them up from the wilderness) thought they were 'a bunch of mountain fuck-ups' and would only release money to them in small chunks because they were worried if they sent a big advance they'd blow it.
But by the time the listener gets to the end of 'Holes' (the opening track) and hears closing words 'bands/those funny little plans/that never were quite right', it's apparent that V2's semi-faith has paid off, because something quite staggering has just taken place. Over the 5 minutes and 55 seconds the song lasts, Mercury Rev unfold a piece of music that is utterly timeless; a level they maintain for the rest of the album.
If pushed, I'd tell you that there's something of the majesty of 60s Broadway (which Donahue grew up with), an element of the earthy Americana of The Band (two of whom guest on a couple of tracks) and perhaps something of the lush paranoia of Gene Glark's No Other, but there's no way Deserter's Songs can be reduced to an a+b+c equation, even if you add in one of those 'on drugs, on Mars' flourishes on the end. Perhaps Gene Clark's onetime Byrds bandmate Gram Parsons said it best when he spoke of a 'cosmic American music'.
On 'Holes' itself (which would without a doubt be my Desert Island Disc), every element that enters adds a new dimension to the song. The production of bassist Dave Fridmann is stunning: each instrument is given space to breathe, swell and soar. As a consequence it's a piece which continually transcends itself, folding in layer after layer of incomparable beauty.
There's Donahue's voice on 22 seconds; the strumming of Grasshopper's acoustic guitar on 35 seconds; the mellotron on 49 seconds; the bowed saw and drums on 1:44….And as for the trumpet on 4:12! Let's just say that sometimes, the plans do work out right.
Other songs are just as beautifully constructed. The quite beautiful 'Tonite it Shows' sees Donahue fantasise about rescuing a woman seemingly suffering poor mental health and is probably the lyrical highlight of the album. 'The Funny Bird' takes Neil Young's 'Like A Hurricane' and significantly ups the paranoia levels: Grasshopper wrestling great squalls of unholy terror from his instrument, which seems to dissolve in on itself by the song's climax.
The more upbeat 'Hudson Line', meanwhile, imagines trainhopping on the Hudson Line railroad north out of New York City towards the Catskill Mountains (from where Mercury Rev hail) and skips along on the drums of Levon Helm of The Band (who're also from upstate New York), with colour coming in the form of wonderful organ and saxophone flourishes from Helm's former Band-mate Garth Hudson.
The happy co-habitation of Hudsons in this song neatly underlines the importance of geography to the album: whilst it's undoubtedly born out of loss, pain and regret, it's an ultimately redemptive work which sees Mercury Rev finding solace in returning to the place they call home: a place of dramatic scenery and friendship; a place of 'mansions and buried dreams', as they sing on Opus 40 (itself named after another piece of great Catskill art).
Deserter's Songs is also notable for a number of wonderfully constructed instrumental vignettes. So many bands do this, and they're inevitably little more than filler. There's no danger of that here though: these are every bit as evocative of loss, sorrow and beauty as the more conventional songs. 'Happy End (the drunk room)' is one of the most bizarre pieces of music I know, and the way its harshly jarring piano chords are echoed in the opening of the following song 'Goddess on a Hiway' never fails to make me feel glad to be alive.
The album's most well-known track, 'Goddess on a Hiway' is- being an anthemic piano ballad- one of those songs that could so easily go wrong. But it's quite safe in Mercury Rev's hands: the chorus of 'And I know/it aint gonna last' perhaps putting it up there with The Flaming Lips' 'Do You Realize??' in the existential pop stakes, although the verses, which speak of driving along highways with a lover suggest that perhaps it's not just a relationship that could break at any moment but our entire planet: the claim that 'far above the ocean/deep under the sea/there's a river running dry/cos of you and me' could just as much be about the threats our planet faces from automobile pollution as it could be about the power of love.
This strange mix of danger, loss and beauty finds its ultimate expression in what is one of the oddest love couplets ever committed to tape: 'when I see your eyes arrive/they explode like two bugs on glass'.
Danger, loss and beauty: there you have it. Or at least, you have my take of it. NME must've seen something it in too, giving it a beautifully written, glowing review and making it their album of the year. But Its something of a forgotten classic now: its ten year anniversary passed without so much as a peep, let alone the once-mooted anniversary edition; second hand record shops always seem to have a few unloved copies, and it genuinely saddens me that I've never met anyone else who loves the album as I do.
But nine years after I first heard Deserter's Songs it remains full of secrets I can't begin to fathom, and depths I haven't even begun to explore. Something tells me it'll be good for another nine years and then some. The funny bird still refuses to come to earth.
David Bell is a doctoral candidate in the Department of Politics and International Relations at the University of Nottingham. His work seeks to rethink utopianism through the work of Gilles Deleuze and anarchist thought. He is currently writing a book on the politics of improvising music for Zer0 Books. Deserter's Song, his column on music, is published every Saturday.
1 Comment
Leave a Reply