CounterSpin Why is the press unable to report protests accurately?
"Most of those who attended the tuition fee protest last Thursday and witnessed the subsequent news coverage need little convincing that there are serious structural problems with the reporting of important events in Britain," writes Ceasefire's Deputy Editor Musab Younis, in a major analysis of the press coverage of the protest.
Musab Younis
Early in life I had noticed that no event is ever correctly reported in a newspaper.
George Orwell
On the evening of the student protest on Thursday 9 December, the BBC published an article explaining that while "police tactics" that were used "when violent clashes broke out" are likely to be criticised over "the coming days", policing protests is "no easy job" because "protesters are young, fit and intelligent and the officers are desperately trying to allow them to protest."
The article, obviously originating in a Metropolitan police PR effort designed to preempt criticism, is based on two interviews: one with Peter Power, "a former senior Metropolitan police officer"; the other with Hamish Brown, "a retired detective inspector" who "defends the police tactics". Three days later, the BBC published another article, stating that the police had "released images of 14 people" who "may have taken part in violent disorder." Two people are quoted in the article. The first is Det Ch Supt Matthew Horne from the Metropolitan Police. The second is David Cameron.
The BBC's editorial guidelines state: "When necessary, all the relevant facts and information should also be weighed to get at the truth." But in these articles – which are typical examples – "all the relevant facts and information" are obtained from one organisation.
This organisation had played a direct role in the events being referred to. It also has a clear vested interest in putting across its own version of events, has a PR budget of almost £7 million, and is responsive to the government against which the protests were taking place. It has a track record of systematically and openly lying to the press, withholding evidence to protect its members from facing prosecution, and consistently ignoring complaints. It has been described by an official government inquiry as "institutionally racist". Its members have been known to say things like: "If you say one more fucking word, I'll smash your fucking Arab face in."
We can learn a great deal about the BBC, and the way it understands the notions of objectivity and fairness, by the fact that it considers the Metropolitan police such a reliable source for articles that opposing points of view become unnecessary.
The Royal "scandal"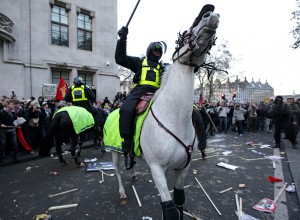 On the morning on 10 December, one image dominated the front pages: that of Prince Charles and the Duchess of Cornwall in a car surrounded by protesters. This was not simply the focus of the right-wing press. The Times, The Guardian, The Sun, The Daily Mail, The Daily Express, The London Evening Standard, as well as the mainstream online news sources (including the BBC), all used essentially the same image.
Other events had taken place on the 9 December. A mass demonstration of up to 35,000 people had marched on Parliament Square to protest against the passing of a new bill that is not supported by a majority of the British population. The bill is only being passed with the support of a party that had pledged, as one of its central manifesto commitments, to oppose it. (Moreover, almost all of those who are directly affected by the new law were not permitted to vote.) The police kettled the protesters in an open-air prison, periodically charging them with batons, shields, and police horses. They left one protester in hospital requiring emergency brain surgery; another young disabled man – Jody McIntyre – was pulled out of his wheelchair and dragged across the street. Hundreds more were injured.
Would an objective observer of these events decide that the most important and pressing element to report – so crucial that it must dominate every single newspaper front page – is a small-scale protest around a car that left no-one injured?
Reflecting on the press coverage, Jody McIntyre said in a BBC television interview: "The real victims are the students, like Alfie Meadows, who was in hospital within an inch of life, after a policeman struck him on the head, and he needed emergency brain surgery. Now imagine if it was Prince Charles, or Camilla, or a police officer, who had been within an inch of their lives."
The question is not simply a hypothetical thought experiment. If the press consider the comfort of two people who happen by accident of birth to belong to a family considered important to outweigh the lives of others who belong to families considered less important, they are demonstrating a particular ideological position. One might ask whether this is a reason the overwhelming majority of the British public state in opinion polls that they do not trust the press.
"[They] didn't show any mercy": two stories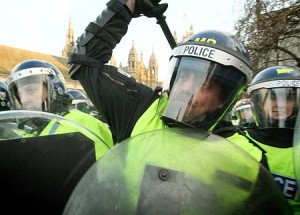 The acres of press inches on the protest provide an interesting means for comparison. Which stories made it onto the front pages, and which were relegated to the sidelines?
Consider the BBC the day after the protest. Their headline story – "Student protests: Met launches criminal investigation" – was dominated by statements from the Metropolitan Police insisting that a "significant number" of protesters had been "intent on violence"; "Mounted police" had been used "to control crowds" and "Hundreds were contained on Westminster Bridge for a time by officers." "Protesters threw flares, sticks, snooker balls and paint balls", and "After nightfall, riot police forced back protesters who were smashing windows at the Treasury and the Supreme Court" – yet were unable to stop the mobs, who then "launched an attack on the royal couple's car". Towards the end of the article, there are 45 words dedicated to "Students" who "have criticised police tactics".
On the very same website, the BBC provided an alternative account of the protest – this time on the much smaller local "Sheffield & South Yorkshire" page. It consists of an account by a 17-year-old girl who had been on the protest. "Still shaken up, with tremors in her voice," she described "angry clashes" with her and her friends "caught between the violence and police"; with no escape route, trapped in the kettle, they were pushed towards the police, who "saw us coming towards them, these teenage girls who wanted to go home." The police "didn't show any mercy whatsoever" but "threw around my friends who were just 17 year old slim girls", "beating" them "with batons"; "They didn't show any sympathy in their voice and I didn't see anything in their eyes."
Her mother, who spoke to her on the phone at this point, said: "She was crying down the phone, I could hear girls screaming and crying in the background. It was the most horrible, scary thing I've heard." She called the Metropolitan Police who advised that the girls should go to the front line again and ask to be let out; the girls proceeded to do this, but "after begging in tears to be let out" they were "halted by another" police line; by this point "traumatised" and "crying" – "We were begging to, please, just let us go home" – they were "pushed forward a second time", pleading with the police "'please don't hurt us, just don't hurt us, we want to go home", when she "was pushed into a ditch by a police officer" and "turned around to see a group of my friends on the floor getting beaten by police officers"; another friend "who didn't manage to escape" "was thrown to the floor by the neck" and "beaten on the floor by three police officers until he was throwing up blood" at which point "they just threw him aside", "didn't give him any medical attention" and "moved on" to the next protester.
It seems unnecessary to comment further. We should inform the girl "with tremors in her voice" that protesters were "intent on violence" and that therefore her "screaming" and "crying", "traumatised" friends who were "beaten", while "begging" to leave, one "throwing up blood", are merely distracting attention from the major news story, which is that the royal couple were almost discomforted.
The Metropolitan Police, we are told later by the Home Secretary, will "decide whether there are any lessons that need to be learned" – over royal security, that is. There are no lessons to be learned from the "17 year old slim girls" from Sheffield who were beaten by armoured men, except perhaps that they should understand that politics involves rich and important men in London, and that they should not concern themselves with it.
"This is the police's role"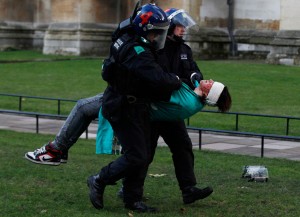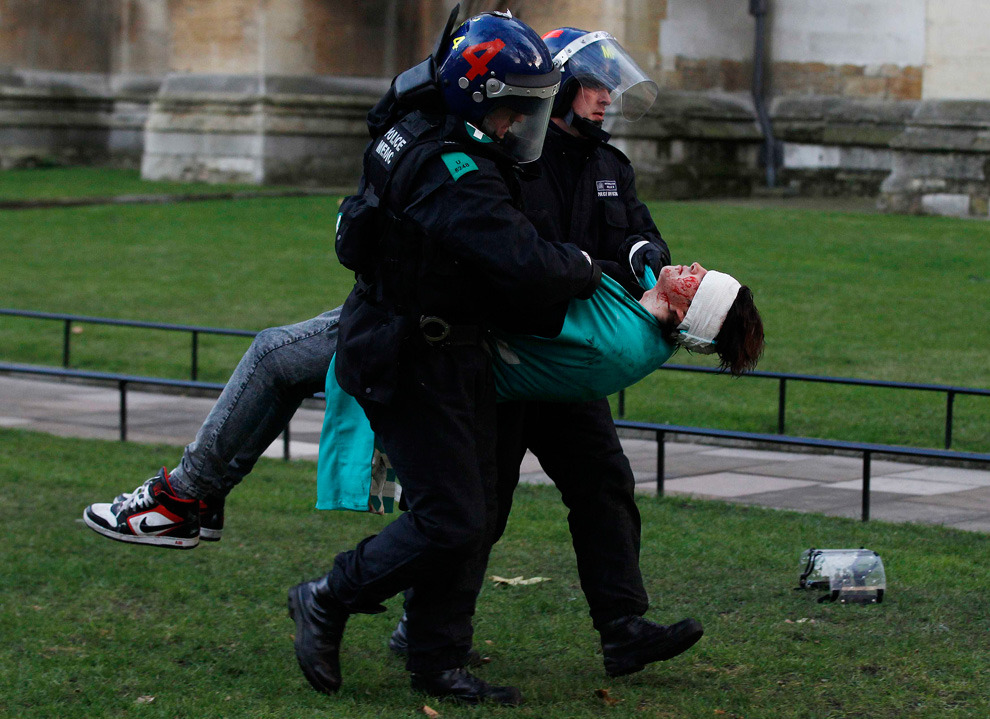 Much more was excised from the press than the experiences of these young women, and thousands of others like them. The press has effectively barred discussion of alternatives to the public sector cuts, but nevertheless a full 45 percent of the public in a recent poll said they were opposed to the Browne review (substantially more than were in favour); a separate poll saw just 29 percent of the population supporting higher tuition fees. An Ipsos MORI poll earlier this year stated that "even the lowest level increase in tuition fees … would greatly reduce the numbers who think they'll progress into higher education".
In the frenzy over the royal car and damage to a statue, it is difficult to find even a single mention in the press of the fact that there are clear alternatives, worked out by economists and social movements, to the public sector cuts: this issue, we are to understand, doesn't merit our attention. And as the "baying rabble of masked and hooded troublemakers" whose "physical victims" were "the police" are so debased that it would be worthless to ask any of them to articulate their reasons for protesting, we should be grateful to the press for sparing us their ravings, and instead treating us to photographs of a Christmas tree that was almost set alight.
While protesters, who have been imprisoned outdoors for years while being beaten and, in some cases, killed, did fight back at this protest – eliciting a chorus of barely-contained fury across the press – there was barely a sentence of discussion on police violence, particularly in the context of the police provoking and encouraging violence in order to justify a response. Jody McIntyre told the BBC: "This is the police's role at demonstrations: to incite and provoke violence. They've done it in the past, and they will continue to do it now." (His point was, of course, ignored, as he was attacked for being a "revolutionary" who had "provoked" the armoured police from his wheelchair, which he is unable to operate himself.) It is indicative that this observation is considered so outlandish that it barely merits a hint of debate even in the liberal and left-wing press.
Meanwhile, David Cameron's assertion that "There were quite a lot of people" at the protest "who were hellbent on violence" is immediately understood by everyone to refer to the students, and not to the heavily-armoured men wielding weapons. And all this is, of course, to set aside the central issue of state violence that is by now openly targeting the poor, destroying a public sector which has taken centuries of social struggle to build, and to further ignore the possibility that the protesters may not only be justified in taking direct action, but actually restrained in their conduct. There is perhaps a single sentence in the mainstream press which dares to express this: writing in the Times Higher Education today, Professor Peter Hallward suggests that "given the calamity that confronts us, protesters have acted with remarkable discipline and restraint". His article gives us a glimpse of the arguments that have been completely prevented, presumably for the safety of the public, from entering the media discourse.
"A prevailing orthodoxy"
In 1945, in an unpublished introduction to Animal Farm, George Orwell noted: "Unpopular ideas can be silenced, and inconvenient facts kept dark, without the need for any official ban." For one thing, "The British press is extremely centralised, and most of it is owned by wealthy men who have every motive to be dishonest on certain important topics." But there is also at "any given moment" a prevailing "orthodoxy", "a body of ideas which it is assumed that all right-thinking people will accept without question." "Anyone who challenges the prevailing orthodoxy," noted Orwell, "finds himself silenced with surprising effectiveness."
Most of those who attended the protest last Thursday and witnessed the subsequent news coverage need little convincing that there are serious structural problems with the reporting of important events in Britain – the "orthodoxy" referred to by Orwell continues to be adhered to, often with truly fundamentalist rigidity.
But if we are concerned by this, the BBC reassures us with two "eyewitness accounts" from the protest. The first suggests: "The royals need to increase their intelligence and information" – surely a central concern to everyone – while the second explains that the protest "was utterly pointless and gives students a bad name"; it was "irrelevant" because "the bill was always going to go through anyway."
But at least one department is likely to be spared in the public sector cuts. This year, it was revealed that the Metropolitan Police public affairs budget has increased by 20 percent over the past three years.
Musab Younis is Ceasefire's Deputy Editor and a postgraduate student at the University of Oxford.
42 Comments
Leave a Reply