Blogs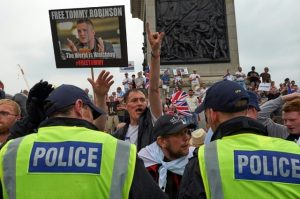 On Saturday, thousands gathered in London's Trafalgar Square to express support for far right figure Tommy Robinson. The range and breadth of the #FreeTommy movement suggests it may be making serious inroads towards the mainstream, warns Matt Carr.
On Tuesday 15th May, Palestinians and solidarity activists around the world will mark Nakba Day. From the Balfour centenary to Israel's violent repression of peaceful protesters in Gaza, the past 12 months have presented acute reminders of the enduring nature of the Palestinian struggle for justice.

Although Labour did not win the June 2017 general election, its result was astonishing. How and why did this happen? Alex Nunns, author of "The Candidate: Jeremy Corbyn's Improbable Path to Power," reflects on one of the most remarkable moments in UK political history.

Despite Israel's systemic, brutal attempts to repress it, the Great March of Return in Gaza, entering its fourth week today, marks a significant moment in the history of Palestinian resistance, and has re-centered the Right of Return at the heart of the Palestinian struggle for freedom and justice, writes Mohammed Sulaiman.

In the latest essay of his series on Hakim Bey, Andrew Robinson examines Bey's theory of capitalism, his critique of 'cop culture' and his comments on American global hegemony; and provides an analysis of Bey's view of the dominant system.

A. Sivanandan, who passed away last month, was one of Britain's foremost and most influential thinkers on race, class and power. Virou Srilangarajah pays tribute to a remarkable life, and a towering intellectual and political legacy.

Late on Wednesday evening, a charter flight took off, under cover of darkness, from an unknown location in the south of England, heading for Nigeria and Ghana. This did not make the news, but it transformed the lives of hundreds of people forever. Luke De Noronha — whose friend was on the plane — shares his personal reflections.

Donald Trump's decision to move the US embassy to Jerusalem signals a key shift in US Mid-East policy — from decades of rhetorical pretense to full and explicit alignment with the Netanyahu agenda.

Two weeks ago, Israel announced a plan to demolish 20 buildings in the West Bank village of Susiya, a fifth of the village. Today, the villagers were handed a document and map showing almost half their village is set to be demolished. If enacted, this demolition will constitute a violation of the most basic human rights of the people of Susiya as well as their most basic humanitarian needs for shelter.

Shocking new evidence has emerged of GCHQ's attempts to avoid independent scrutiny of its deeply intrusive surveillance activities. Once again, it has embarrassed itself publicly in trying to avoid public embarrassment, writes Privacy International's Millie Graham Wood.