Analysis The 'Big Society' Riots
In a thought-provoking analysis, author and academic Neal Curtis, argues that the UK riots should be understood in the context of David Cameron's 'Big Society' project, whose ideological roots, Curtis shows, can be traced back to Margaret H Thatcher and Ayn Rand.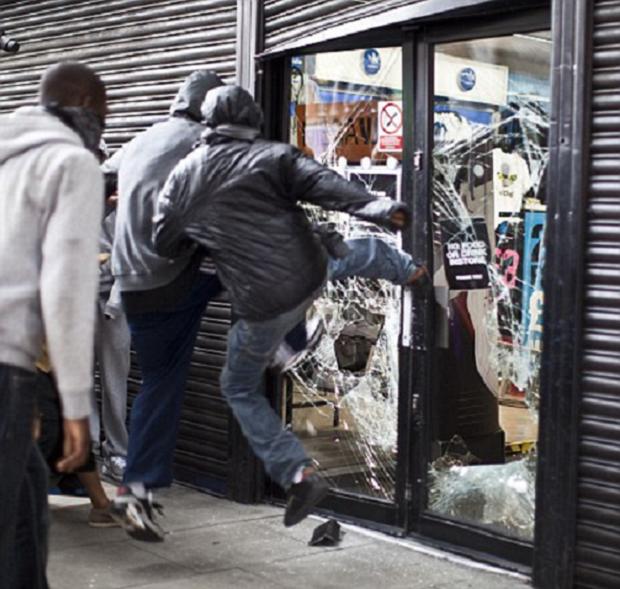 By Neal Curtis
While the English riots emerged out of progressive and genuinely political concerns regarding discrimination, exclusion and poverty the abiding image was of groups of youths looting brand name stores for trainers, TVs and games consoles. What was peculiar about the riots was how this supposedly anti-establishment expression of anger nevertheless rigidly conformed to the ideology of consumer culture that stipulates our ultimate goal should be the accumulation of commodities.
For many commentators this manifestation of the 'get what you can' mentality validated David Cameron's Big Society agenda, which, despite being rather vague and nebulous, has come to frame the policies of the coalition government in its privileging of initiative and responsibility over entitlement and rights. However, if we trace the genealogy of this idea we will find that it emerged out of a philosophy of ruthless self-interest and continues to promote such a stance. Despite being dressed up in the garb of middle class morality it is a philosophy of naked competition and self-regard.
Although there is little detail as to what the 'Big Society' is, its primary function was to appeal to the post-Thatcherite social democratic turn. In doing so, it was designed to resonate with Labour supporters, while remaining critical of supposedly big government and public intervention, thus remaining true to central conservative values.
In truth, though, the Big Society only pays lip service to society. It remains allergic to any notion of the collectivity which society necessarily implies. 'Collectivity' here need not assume a unity of purpose. However, society is a set of relationships that precedes each and every individual and requires a strong sense of our being joined for it to be meaningful. It is, then, anti-state rather than pro-society in any genuine sense: opposed to doing things for others, who it purports should be doing things for themselves.
The Big Society recognises some element of connectivity, but only understands it as a loose and rather shallow network of individuals. Despite the rhetoric, the individual remains the absolute foundation of this thinking, and in its antagonism to the state it is an ideology that promotes further rounds of privatization, sanctifying the use of markets in all areas. In response to the riots, then, what is named a 'social fightback' is firmly articulated as the responsibility of individuals and their families, rather than that of society.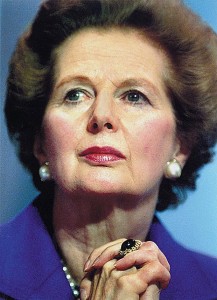 It continues to surprise me that, in the acres of commentary on the riots, little has been made of the fact that just over 20 years ago Margaret Thatcher refused to countenance the very idea that society existed. In her famous interview for Woman's Own magazine in 1987 she stated that there is no such thing as society, only individuals and their families.
It seems, then, that Cameron has done a Lazarus: not only is society back, it's BIG. But, as you'd expect, this reanimation is all done with smoke and mirrors. We can make the jump from there being no society to it being BIG only because the Big Society is a euphemism behind which is hidden the fact that it continues to privilege the private over the public, the individual over the state.
Thatcher's denouncement of society came at the height of a political, social and cultural revolution in which well-being was determined by material wealth alone. It also introduced the dogma that if the market can't support something, i.e. it can't turn a profit, it is illegitimate. The two primary motors of Thatcher's revolution were greed and avarice. With it came a massive increase in the division between rich and poor, a burgeoning consumer culture, and a credit-fuelled boom that supposedly pulled Western capitalism out of stagnation.
In the end though it only led to the economic disaster that has seen more money pulled out of public projects that were doing something to placate the worst effects of the increased social exclusion and relative poverty that the market revolution brought about.
The riots certainly have social causes. They cannot be addressed without some focus on the lack of prospects for many of England's youth (one in five is unemployed), as well as persistent racial and ethnic tensions, and the ways those tensions are policed. But they also need to be assessed in relation to a society that is totally in thrall to a philosophy of privatised self-interest. In this sense, the riots, especially those that followed the events in Tottenham, were the naked expression of the dominant ideology, stripped of the veneer of middle class civility.
However, tracing David Cameron's Big Society back to Thatcher's argument that society doesn't exist is only part of it. To understand the lineage of the riots we need to trace the ideology of privatised self-interest back to its origin in the writings of Ayn Rand which were a significant influence on Thatcher. Indeed, Thatcher's aphorism can be traced to an essay by Rand entitled 'The Objectivist Ethics', collected in her book The Virtue of Selfishness.
That title alone gives a sense as to where this leads, but let me set it out in a little more detail. In the essay, published in 1961, Rand wrote: 'there is no such entity as "society", since society is only a number of individual men'. She then goes on to declare why the individual should be privileged: 'An organism's life is its standard of value: that which furthers its life is the good, that which threatens it is evil'.
In other words, the fact of his existence and the need for survival determines what he ought to do: 'his own life' is 'the ethical purpose of every individual man'. Rand goes on to claim that looters and thieves are parasites and animals because they do not obey the human need for productive work in the furtherance of life. But the addition of productive work is a very fragile moral regulator when your philosophy posits the individual as his/her own ethical purpose.
For Rand, looting is destructive of the productive work of others, but such an argument is possible only if she ignores the destruction that takes place under the guise of productive work within a capitalist regime of accumulation: the stripping of natural, social and human resources, the externalizing of costs, the break-up of no-longer-feasible productive communities, all of which can be said to have made their own contributions to the recent unrest in English cities.
In the introduction to The Virtue of Selfishness, her position is stated even more starkly: 'concern with his own interests is the essence of a moral existence', and 'man must be the beneficiary of his own moral actions'. What is more, altruism leaves man 'without moral guidance', and in so far as it counters a life centred on an individual's own interests, it counters the ultimate good, and must in turn be understood as evil. Indeed altruism is taken by Rand to be the moral corrupter of the age.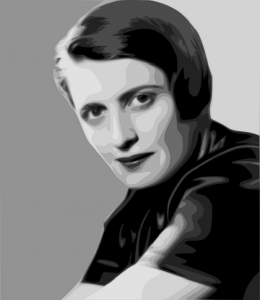 Altruism, or putting others before oneself, was responsible for every form of 20th century totalitarianism where man is reduced to a sacrificial animal on the altar of the collective. In her book Capitalism: The Unknown Ideal she writes: 'altruism is not a doctrine of love, but of hatred for man'. In the assault on all things public that was signalled by the ascendency of Thatcherism this philosophy of self-interest has gradually invalidated any meaningful understanding of society as a condition of mutual dependency, collective production and joint responsibility. Society has not broken down through the erosion of individual discipline; society was actively dismantled by promotion of the disciplined individual ruthlessly pursuing his or her own interests.
No matter how BIG the rhetoric claims society to be, unless it genuinely returns our association with others and our mutual dependency to the centre of the political agenda nothing will change.
Society is not a group of largely white people with new brooms momentarily sweeping their streets. It is the recognition that we are all responsible for what happened on those three nights because in the pursuit of what is best for 'me' we have forgotten what is best for others.
One of the responses to the violence has been a renewed call for citizenship studies but this would be little more than a programme of passification. In these times, when an alliance of corporate bosses, financiers, politicians and media moguls manage society for their own interests—dividing and conquering through the cult of the individual—citizenship studies should compel everyone onto the streets to demand our society back and reject the empty platitudes of the plutocrats that govern us.
Neal Curtis is a Senior Lecturer in the Department of Film, Television and Media Studies at the University of Auckland. He is the author of War and Social Theory: World, Value, Identity (2006), Against Autonomy: Lyotard, Action and Judgement (2001) and editor of The Pictorial Turn (2010). His latest book, Idiotism: Capitalism and the Privatisation of Life was published by Pluto Press in November 2012.
4 Comments
Leave a Reply