Special Report | American Hunger Strikes
For the past few weeks, prisoners have been on hunger strike against indefinite detention at Guantánamo Bay and against prolonged solitary confinement in California. Yet their peaceful protests have been met with repression and at least one possible fatality. Now is the time for international solidarity.
By Aisha Maniar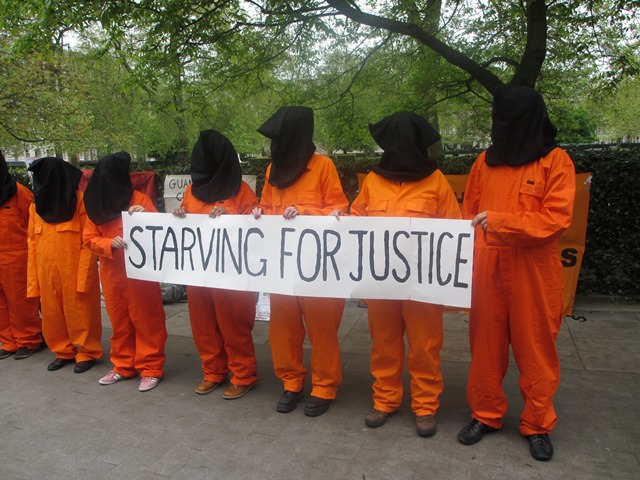 The current ongoing hunger strike at Guantanamo Bay has reminded the world of the existence of its remaining 166 prisoners. The mass protest, involving almost all the remaining prisoners, began on 6 February in response to alleged prisoner abuse and worsening conditions of detention, as well as perpetual indefinite detention without charge or trial.
Over the past six months, rather than attempt in any way to address the prisoners' lawful demands, the situation has escalated, with the use of plastic bullets and violent assault against prisoners debilitated by the hunger strike, solitary confinement since April, the use of intrusive physical searches tantamount to sexual assault prior to legal visits, and force feeding.
With the exception of the use of plastic bullets, none of these are new practices at Guantánamo Bay. What is less well-known is that many of these conditions also exist in US prisons. The United States has the largest prisoner population in the world, of over two million adults. Violence and sexual abuse occur daily in US prisons. Furthermore, at any one time, over 80,000 men, women and children are held in solitary confinement. The use of solitary confinement, which has serious physiological and psychological consequences, is often arbitrary, and is used against vulnerable prisoners.
The state of California, which has the largest prisoner population in the US, holds 11,000 people in solitary confinement. It is home to the Pelican Bay State Prison, opened in 1989 to house the "worst of the worst", and includes a Special Housing Unit (SHU), where almost one third of its 3,500 inmates are held in prolonged solitary confinement. This involves spending "22.5 hours a day alone in windowless cells measuring about 7 x 11 feet. The remaining 90 minutes are spent, also alone, in bare concrete exercise pens."
The UN Special Rapporteur on Torture, Juan Mendez, has called for a global ban on the use of prolonged solitary confinement for any period of over 15 days; whether or not it constitutes torture or cruel and degrading punishment depends on the individual circumstance. At Pelican Bay, over 500 prisoners have been held in solitary confinement for over a decade, "nearly 80 have been there for more than two decades, and one prisoner recently marked his 40th year in solitary". Amnesty International reports that, "No other US state is believed to have held so many prisoners for such long periods in indefinite isolation." Some Guantánamo prisoners have been held in solitary for several years at a time.
On 8 July, prisoners across California went on hunger strike in solidarity with the prisoners at Pelican Bay to protest the use of prolonged solitary confinement. From an initial 30,000 prisoners – at 24 prisons across the state – who went on hunger strike on the first day, the number was reported to have fallen to around 1000 by the third week. However, as with the Guantánamo hunger strike, these figures are subject to constant manipulation by the authorities.
This hunger strike too has been met with repression. Fourteen of the strike leaders were placed in "administrative segregation" on 11 July. According to Amnesty International, which has condemned these measures as a breach of international human rights obligations, "A core group of hunger strikers in the Pelican Bay Security Housing Units claim the prison authorities have blasted cold air into their cells, as well as confiscated fluids, hygiene products and legal materials." Restricted access to lawyers and insufficient medical observation of their situation has been reported too.
This is not the first hunger strike at either facility. A large hunger strike in 2005 brought improvements to conditions at Guantánamo Bay. In March this year, lawyers for the hunger strikers issued a now-prophetic warning that "The practices occurring today threaten to turn back the clock to the worst moments of Guantánamo's history, and return the prison to conditions that caused great suffering to our clients."
At Pelican Bay, the current hunger strike had been foretold. In 2011, prisoners there – as well as others in solidarity elsewhere in California – held two three-week long hunger strikes, in July and September. Few changes have been made since as a result and the promised prisoner status review has barely materialised. The prisoners' five core demands today are the same ones made two years ago. In both cases, there are court cases pending related to the hunger strikes.
The prisoners are prepared to face extreme hardship, including death. With no end in sight to imprisonment at Guantánamo Bay, a victim of arbitrary detention and hunger striker, Samir Moqbel, describes the process of being force-fed: "As it was thrust in, it made me feel like throwing up. I wanted to vomit, but I couldn't. There was agony in my chest, throat and stomach." Describing his motivation for joining the hunger strike at Pelican Bay, Gabriel Reyes, who has spent 18 years in solitary since being convicted of burglary, says, "Unless you have lived it, you cannot imagine what it feels like to be by yourself, between four cold walls, with little concept of time, no one to confide in, and only a pillow for comfort – for years on end. It is a living tomb."
While the hunger strikers at Guantánamo are political prisoners, or indeed hostages, and those held at Pelican Bay have been convicted of serious crimes – the hunger strikes have been set up by convicted murderers – there is a clear line between serving a lawful sentence and being subject to torture and cruel and degrading treatment. Prisoners in pre-trial and immigration detention can also be held in solitary confinement.
The California hunger strike is reported to have claimed its first victim on 22 July in 32-year old Billy Sell, convicted of attempted murder and held in solitary confinement at an SHU in Corcoran State Prison. Prison officials claim he committed suicide, whereas those who knew him and supporters of the hunger strikers claim he died as a result of the hunger strike. Most of the deaths at Guantánamo too have followed lengthy involvement in hunger strikes, which can have damaging long-term health consequences.
This month's London Guantánamo Campaign "Shut Down Guantánamo!" protest outside the US Embassy at 12pm on Thursday 1st August http://www.facebook.com/events/138088106399264/ will be in solidarity with both the hunger strikers at Guantánamo Bay and in California. Feel free to join the lunchtime protest.
Leave a Reply