August, 2017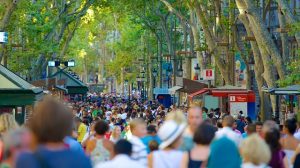 Matt Carr pays homage to his old city, Barcelona, a target of yesterday's attacks. This was not the first time the Ramblas has been visited by terrorism, he writes. But, once again, we must mourn, then resume the difficult search for a society where such things cannot happen — where haters, extremists and fascistic reactionaries can have no place.
The controversial film 'Misused Trust' highlights the rise of an Islamophobic and misogynistic discourse within some in the UK Sikh community —in alliance with the British far right— which must be rejected and resisted, argues Katy Sian.

"It falls to the epigram to remind us of our higher selves and larger allegiances to one another". American-Egyptian poet and author Yahia Lababidi introduces an exclusive selection from 'Where Epics Fail', his forthcoming collection of aphorisms.
More Ideas
More In Politics
More In Features
More In Profiles
More In Arts & Culture