The meaning of Radiohead
The most surprising thing to have happened to Radiohead is that they are now a byword for brave musical experimentation. It could have all gone so very wrong.
Editor's Desk - Posted on Wednesday, September 15, 2010 0:00 - 9 Comments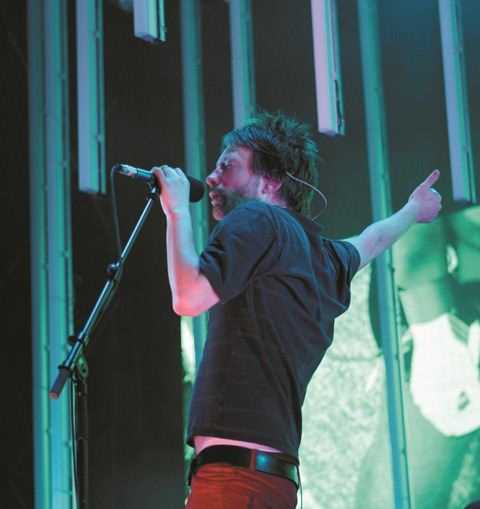 Hicham Yezza
In "Karma Police", Radiohead's zany ode to the disenfranchised, Thom Yorke sings: 'I've given it all I can/ But we're still on the payroll.'
Without wanting to indulge in a fanciful over-arching reading, this is quite a brilliant encapsulation of what the band's primary theme, its force motrice, has been since its inception: that of the inexorable human condition of being part of a society that refuses to acknowledge your individuality yet doesn't offer you a way out. A prisoner's dilemma for our emotionally-bankrupt age.
It is debatable how much of Radiohead's rise to global stardom in the mid-90s owed to the transfer of loyalty that ensued from the disappearance from the front lines of that other great band with an equal claim to the alienation niche, Nirvana. It is certainly the case that Radiohead's initial efforts were heavily embued with the Seattle-sound of Generation X angst. Yet their own brand of beneath-the-skin empathy is unmistakably theirs and always will be.
The most surprising thing to have happened to Radiohead is the fact they have become a byword for brave musical experimentation. It could have all gone so very wrong – yet it didn't. They patently hold most of what passes in the music industry for common wisdom in utter disdain. For instance, when "Creep" their mega hit of 1992 launched them as a mainstream success, everyone expected them to do the wise thing: More of the same, please!
Instead, they released "The Bends", a sinewy collection of solid, noisy, relentless sketches to the dismayed admiration of critics and fans alike. Indeed, the whimsical bathetic wailings of "Amnesiac", their fifth album (2001), would've been considered commercially suicidal by almost any other band in the world but they seemed to relish a taste for the perpetual wrong footing of their audiences.
The nearest cultural outfit one can think of to their brand of re-invention-lite is not another band but actually a different sort of artist altogether: Mr Ricky Gervais of 'The Office' and 'Extras' fame. If you think this is a laboured analogy, bear with me: Gervais' sure-footed evolution from masterful cringe-merchant to the uber spokesman for good-hearted cynicism seems, with hindsight, like an obvious strategic repositioning, yet it was a gigantic risk at the time and had, at its heart, a careful sense that creative stagnation, even at the very top is the kiss of death for any artist worth their salt. Likewise, Radiohead have simply refused to play the game they were so comfortably winning. A very commendable position – and one that has, fortunately for them and for us, paid off handsomely in the shape of sustained commercial and critical stature.
At a recent gig in Manchester in June, there was a moment when "Karma Police" was reaching its apotheosis and the crowd, lathered in quasi-religious togetherness, heaved side to side to the lyrics. For a minute there, I lost myself*, I lost myself. After twenty years on the road (and the couch?), the point was still the same: losing yourself maybe the best thing that can happen to you. Radiohead keep striving to lose "Radiohead" only to come up for air, Zelig-like, transformed into something stranger, hazier and as hard to corner as ever. We protest of course, but we do so with a beaming smile.
Hicham Yezza is Editor of Ceasefire.
* This was incorrectly rendered as "For a minute now, I lost myself" when the piece was originally posted
9 Comments
Leave a Reply