The gun-maker next door
Not many people are aware of it, but Nottingham is home to a major multinational arms company.
Politics - Posted on Friday, January 9, 2009 5:04 - 3 Comments
Kirk Douglas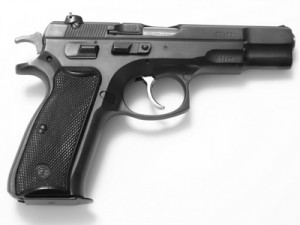 Not many people are aware of it, but Nottingham is home to a major multinational arms company. Just a short walk from the main University campus, an anonymous warehouse on the Lenton Lane industrial estate is the UK headquarters of Heckler & Koch – the world's second-largest manufacturer of handguns, assault rifles, submachine guns and grenade launchers.
Millions of Heckler & Koch weapons are in use in over 90 countries worldwide: In Kenya, H&K guns were used in the 2008 post-election violence; in Darfur, the Janjaweed has been armed with H&K assault rifles; in Iraq, notorious private military company Blackwater is using H&K machine guns; and in Kosovo, Serbian police used H&K guns to kill Albanian villagers. Just recently it emerged that Georgian soldiers fighting in South Ossetia have been illegally armed with H&K assault rifles. It is estimated that H&K weapons have caused 1.5 million deaths around the world.
It is perhaps unsurprising that Heckler & Koch prefers to keep its location secret. Its official address is a PO Box, its premises are unsignposted, and unwanted callers are discouraged by rapid armed response from Nottinghamshire Police. However, a little detective work reveals that a company called NSAF Ltd trades as Heckler & Koch GB, and it is based at Unit 3, Easter Park, Lenton Lane. Furthermore, according to H&K's own website, it is the Nottingham office that is responsible for the company's international sales to non-NATO countries.
After the fatal shooting of schoolgirl Danielle Beccan in 2004, Nottingham's Lord Mayor declared that "Guns have no place at all in our community – not in Nottingham, not in my city, nor any other city in Britain." How ironic then that Danielle Beccan's funeral was held at the Trent Vineyard church on Easter Park, Lenton Lane – right next door to a the world's second-largest manufacturer of guns.
In 2008, outraged by the presence of such an unethical company in Nottingham, a group of activists and students started a campaign against Heckler & Koch called Shut Down H&K. The campaign has been holding monthly demonstrations outside the company's warehouse.
The campaign's attempts to raise local awareness of the arms company have been frustrated by the police, who actively suppress media coverage of the demonstrations. Every time a local journalist expresses an interest in the story, their editor gets a phone call from Notts Police, warning them that it would be "irresponsible" to cover the story. The person responsible for this policy is Superintendent Simon Nickless – the same officer who defended the bogus arrest of Ceasefire editor Hicham Yezza as "necessary and reasonable".
Nevertheless, the campaign is determined to expose Heckler & Koch's presence in Nottingham, to publicise the unconscionable nature of its business, and ultimately, to shut it down. The more people who get involved with the campaign, the more powerful and effective it can become. If you would like to find out more, visit the campaign website at shutdownhk.org.uk and sign up to the mailing list. Let's kick the arms dealers out of Nottingham!
3 Comments
Leave a Reply