Modern Times: A voice from the Wilderness
In this week's 'Modern Times' column, Corin Faife discovers, through a mix of serendipity and curiosity, one of the most talked-about music videos of the past ten years: Arcade Fire's The Wilderness Downtown.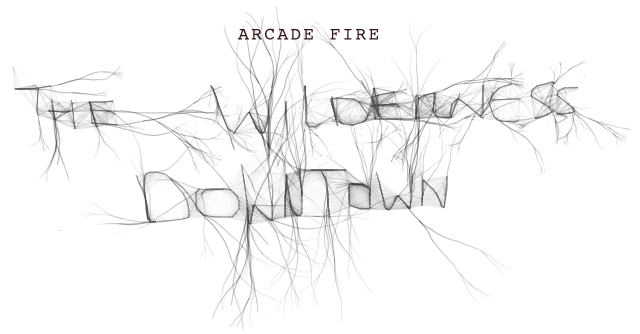 By Corin Faife
You never know what snippets of conversation you'll pick up in a restaurant. "Have you seen the new Arcade Fire video?" said a girl to her friend at a table next to me this weekend. "It's amazing. I sat in front of my laptop and cried my eyes out."
"It's interactive", she continued, "and I don't want to spoil it for you, but it means a lot if you don't live at home anymore. Just Google it when you get back." My interest piqued, I scribbled a note on a piece of napkin and tucked in into my pocket to be dug out the next morning. (If you haven't seen it yet, click on the above picture or follow this link then come back. I wouldn't want to spoil it for you either).
Sat in front of my screen I didn't quite cry my eyes out, but I did get that goosebumps sensation that comes with taking a sneak peak at how the future will look. It's a new type of viewing experience, with multiple windows showing simultaneous camera angles, the prompt to write your own message into the story, and of course the powerful and somewhat eerie personalisation; I'm sure I'm not the only one for whom the melodic yearning of the soundtrack covered up a sharp intake of breath at the sight of my house, my street, my life becoming part of the story.
The clip has generated a great deal of hype already, most of which falls into two categories: the first is summed up by the "Arcade Fire Reinvent the Music Video" type headline – gaggles of music journalists and arts critics gushing breathlessly about an indie-rock band pioneering the use of cutting-edge media to reach their audience on a new level.
Truthfully though, The Wilderness Downtown (for that is its name) is a music video for Arcade Fire in the same way that 'An Inconvenient Truth' is a documentary about Al Gore. But it seems to be only the second school of commentators – the media theorists, tech bloggers and web developers – who understand that the music is only an incidental vehicle for a beautiful experiment which heralds a new era of web experience.
The real star of the video is the HTML5 web format and Google's Chrome browser (plus the oft-overlooked CSS3-style sheet language), and the mesmerising, seamless new mode of mash-up content generation arising from their combination. The experience allows, amongst other things, the plugging of a gap in cinema's vocabulary of perspective; for whilst in literature storytellers have been experimenting with second person for a while now (most of us will have read a 'You choose the ending' story at some point in childhood, or maybe later in a more high-brow equivalent in Italo Calvino or Gunter Grass), the idea of a filmic equivalent was hitherto absent.
In more general terms, what TWD hints at is the idea of a video and visual media which is no longer a cut-and-dried artefact, but more of a template onto which individual experiences and preferences can be overlaid. With location awareness a standard feature of next-generation phones, and the increasing trend for consolidation of online profiles, the future seems to be moving inexorably towards bespoke information delivery across multiple platforms, and a world where ever more stories and narratives will take the same 'one archetype/many variations' model.
It seems like an exciting place to be. As you finish reading this article, you stop and ponder the possibilities of a new phase of web experience. To run out and embrace them, turn to page 45.
Corin Faife is a writer and activist. His 'Modern Times' column appears every Tuesday.
11 Comments
Leave a Reply