Le Blog: La colère des oubliés
For our many francophone (and francophile) readers, Ceasefire's new blog, entitled... well, 'Le Blog' is just the ticket. It will bring you Ceasefire's trademark sharp analysis and fresh wit but en Français!! In this week's instalment, Ceasefire's Canada correspondent Yassine Hamouni looks into the escalating stand-off between Western governments and their Labour movements.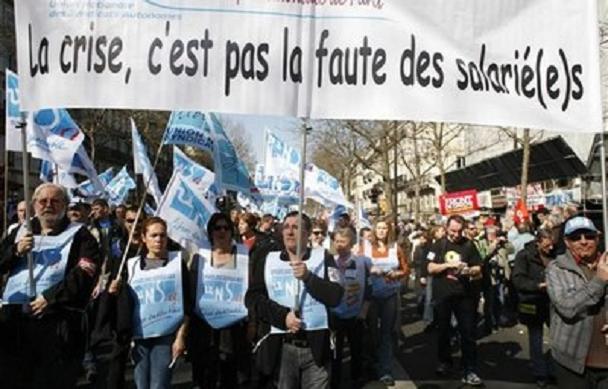 Par Yassine Hamouni
La grogne sociale s'est déversée un peu partout ces dernières semaines dans plusieurs villes européennes, un tir groupé qui s'effectue de la part de syndicats, ouvriers, étudiants et mouvements associatifs envers les multiples reformes tentées çà et là par certains gouvernements des pays développés, afin d'essayer de remédier à des économies en souffrance depuis le début de la crise.
Cette persistance de la récession, qui se fait sentir surtout sur le marché du travail, a été confirmée par le dernier rapport du bureau international du travail (BIT), traitant de l'état du travail dans le monde. Les experts du BIT ont exprimé leurs inquiétudes faces à la détérioration des prévisions des politiques, résultat: les populations ont bien sûr moins confiance en leurs dirigeants qu'avant la crise.
La situation est certes bien préoccupante, mais que doivent réellement reprocher aux gouvernements les populations et les travailleurs des pays occidentaux? N'est-ce pas la frénésie et la course à la consommation d'après-guerre qui ont accentué ce début de déclin? Ne se rendent-ils pas compte que c'est aux dépens des pays émergents que les gaspillages et les dilapidations se pratiquent? Les individus, à vrai dire, tiennent en même temps le rôle de victime et de complice indirecte et silencieux.
On aurait aimé constater de telles mobilisations les jours mêmes qui ont suivi le déclenchement de la crise et les premières faillites bancaires. On aurait dû protester plus vigoureusement contre ces mêmes gouvernements qui s'empressaient à l'époque de sauver des spéculateurs à la place des travailleurs. Joseph Stiglitz, prix Nobel d'économie l'a bien dit dans son dernier ouvrage « Le triomphe de la cupidité » : les contrats des cadres supérieurs de la finance sont sacro-saints, mais les accords salariaux des ouvriers doivent toujours être négociés.
Les banques sont seuls responsables de leur malheur. A quoi bon donc le secours sans faille des états alors que par voie de conséquence, on installe bien le malheur des populations? Des sauvetages qui ont permis à leurs décideurs de continuer à s'illusionner de la pérennité d'un système capitaliste sous perfusion. La crise économique c'est par le capitalisme et pour le capitalisme.
Du coté des états une fois la dette publique bien gonflée, on vous dit, « serrez-vous la ceinture », comme il n'est pas question de remettre la facture du sauvetage aux seuls responsables de tout ça, on se retourne vers les citoyens pour éponger les déficits. Sous couvert de "relance économique" et de "reprise de la consommation", on fait des coupes dans les programmes sociaux, privant les populations à faibles revenus de services essentiels.
Sur quoi se sont entendues les élites économiques au dernier sommet du G20 au Canada?!! L'austérité des finances publiques afin de permettre au monde financier de renouer avec les profits, à travers l'instauration de mesures néolibérales à l'échelle mondiale. Le matraquage qu'ont subi les manifestants à Toronto et Montréal s'apparentait à une attaque en règle de cette élite envers le prolétariat, une sorte d'aperçu du mode de répression de ce nouvel ordre économique mondial.
Sauf sursaut, un future lugubre nous guette…
Yassine Hamouni est correspondant de Ceasefire au Canada.
3 Comments
Leave a Reply
More Ideas
More In Politics
More In Features
More In Profiles
More In Arts & Culture