Andrew Smith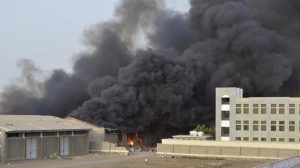 This week saw the start of the Saudi-led coalition's assault on the Yemeni port town of Hodeida. After three years of destruction, the war has reached its deadliest stage yet. Governments like the UK know this, yet continue to enable this suffering, writes Andrew Smith.
This week, the architect of the ongoing humanitarian disaster in Yemen, Saudi Crown Prince Mohammad Bin Salman, visits the UK, as Theresa May seeks to secure more lucrative deals for the UK arms industry. We can't let this shameful visit pass in silence, writes Andrew Smith of the Campaign Against Arms Trade.

After a thousand days of air strikes, and with millions of Yemeni lives under threat, Theresa May's government still won't do the right thing and stop UK arms sales to Saudi Arabia.

This week, activists from all over the UK have come to London to stop military equipment from getting into the setup of DSEI, one of the world's biggest arms fairs. We will unite and mobilise as many people as possible against DSEI's message of perpetual-war and military escalation, writes Andrew Smith of Campaign Against Arms Trade.

The humanitarian crisis in Yemen is a direct result of a war in which the UK is a key supplier of arms and military support. This immoral complicity must end, argues Andrew Smith of Campaign Against Arms Trade (CAAT).

Andrew Smith reports on his surreal day at the Annual General Meeting of BAE Systems, Britain's biggest arms company.

Over the past 18 months, the Saudi-led military campaign in Yemen has led to over 10,000 deaths and the destruction of billions of pounds' worth of vital infrastructure, including schools, hospitals and homes. How can the UK government claim it cares about the suffering of Yemenis when it continues to supply the weapons inflicting the damage? Asks Andrew Smith.

Last week, eight human rights protesters won a historical legal victory against DSEI, the world's biggest arms fair. This is a remarkable milestone on the way to banning such shameful events, argues Andrew Smith.

The British government's latest initiative, which could ban local councils, public bodies and student unions across England from boycotting or disinvesting in unethical companies, flies in the face of its rhetoric in support for devolution and local decision-making, argues Andrew Smith.

This week, between March 10-12, the quiet English town of Farnborough will play host to the Security and Policing 2015 conference and exhibition. This event will bring together some of the world's biggest arms companies with some of the worst human rights abusers, writes Andrew Smith.