Andrew Smith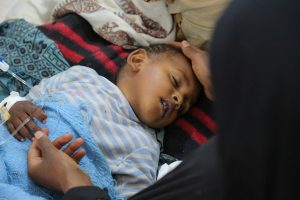 The humanitarian crisis in Yemen is a direct result of a war in which the UK is a key supplier of arms and military support. This immoral complicity must end, argues Andrew Smith of Campaign Against Arms Trade (CAAT).
Andrew Smith reports on his surreal day at the Annual General Meeting of BAE Systems, Britain's biggest arms company.

Over the past 18 months, the Saudi-led military campaign in Yemen has led to over 10,000 deaths and the destruction of billions of pounds' worth of vital infrastructure, including schools, hospitals and homes. How can the UK government claim it cares about the suffering of Yemenis when it continues to supply the weapons inflicting the damage? Asks Andrew Smith.

Last week, eight human rights protesters won a historical legal victory against DSEI, the world's biggest arms fair. This is a remarkable milestone on the way to banning such shameful events, argues Andrew Smith.

The British government's latest initiative, which could ban local councils, public bodies and student unions across England from boycotting or disinvesting in unethical companies, flies in the face of its rhetoric in support for devolution and local decision-making, argues Andrew Smith.

This week, between March 10-12, the quiet English town of Farnborough will play host to the Security and Policing 2015 conference and exhibition. This event will bring together some of the world's biggest arms companies with some of the worst human rights abusers, writes Andrew Smith.

As a growing number of voices worldwide call for an embargo on all arms sales to Israel, the UK's response has fallen dismally short, warns Andrew Smith.

As the people of Bahrain mark the third anniversary of the 2011 uprising, decision makers across the west need to reflect on their role in exacerbating tensions and facilitating repression in the country.