April, 2012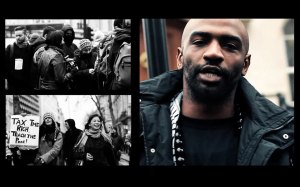 Like much social unrest, the music of the streets has drawn its own narratives of the revolts in August 2011. Terence Elliott-Cooper picks out some of his favourites
While staunchly denouncing the Assad regime, Saudi Arabia's rulers have stamped down hard on dissent at home, outlawing protests and imprisoning opponents, all with the tacit support of the West. Derek Oakley examines the case of detained poet Hamza Kashgari, currently facing execution over twitter comments.

Baudrillard, like Marx, based his work on the critique of alienation and the rejection of capitalism. Why, then, is Baudrillard rarely considered a Marxist thinker? In the latest instalment in his 14-part series, Andrew Robinson examines Baudrillard's theory of alienation and his critique of Marx.

This week, Labour peer Lord Ahmed was summarily suspended by his party for allegedly putting a bounty on the heads of Barack Obama and GW Bush. Despite these allegations being quickly shown to be false, they continued to be widely-propagated in the British media. Muddassar Ahmed says this case has worrying implications for political dissent and media ethics in the UK.

Ceasefire's Cordelia Lynn reviews the just-opened Damien Hirst retrospective at Tate Modern.

As the Syrian tragedy becomes increasingly painted in sectarian terms, author Robin Yassin-Kassab asks why so many Syrians, including leftists, liberals and secularists, continue to ignore the issue. It is time, he argues, to break this taboo once and for all.

In this month's column, Matt Carr looks at the case of Anders Breivik, perpetrator of the Oslo Massacres of last July, whose trial starts today.

As further evidence emerges of police racism in the UK, Adam Elliott-Cooper uncovers a pattern of consistent failings by the Independent Police Complaint Commission to meaningfully hold the police to account.

Activists call for a protest on Sunday as an initiative to fly 1,500 people into Tel Aviv Airport, a solidarity 'Flytilla', is blocked at Manchester airport.

In the third instalment of his 14-part introduction to the work of Jean Baudrillard, Andrew Robinson explores the French thinker's book 'The Consumer Society: Myths and Structures', and explains Baudrillard's view that consumption is a socially-imposed duty.