March, 2012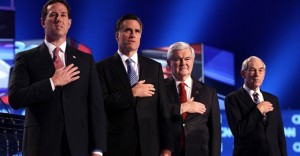 A poll published today reveals a third of Alabama and Mississippi voters say interracial marriage should be made illegal, whereas half think Obama is a Muslim, and two thirds do not believe in evolution. Hicham Yezza asks: is it time for humanitarian intervention?
In the first of three essays on "Screening Thought", academic and author Paul Taylor draws upon his first-hand experience of giving a public talk with Slavoj Zizek to show how the media's worst tendencies risk being adopted by audiences who should know better.

David Leon's article on the repulsiveness of the 'StopKony' campaign has sparked a wide-ranging online debate. In this short piece, he addresses the claim of his critics that he has not provided a useful alternative to the Kony campaign.

Bringing war criminals to justice is a commendable thing, which is why it is such a shame that the Stop Kony 2012 campaign is so malicious, vile and repulsive, says David Leon.

Last week's umveiling of the Stratfor/CIA emails by Wikileaks has been followed up almost immediately by the arrest of alleged hackers and claims Lulzsec's leader was an FBI informant. Ceasefire's Sebastião Martins reports.

Mark Gonzales is a radical poet best known for his appearance on HBO's Def Poetry Jam. Ceasefire's Usayd Younis caught up with him to learn about the art of resistance and resilience.

In the first of two articles on the violence of marketisation in higher education, Sara Motta ruptures the discourse which seeks to normalise these processes in order to "reject and rebel against the acts of misnaming and misshaping [as a means to] produce a different set of parameters" for re-imagining a critical education.

Yesterday, Maya Evans was jailed for peacefully protesting against Britain's military intervention in Afghanistan. Her shameful persecution, Hicham Yezza warns, is the latest example of the ongoing assault on our civil liberties.