May, 2011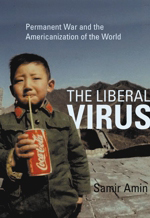 In a new addition to his "A to Z of theory" series, political theorist Andrew Robinson introduces, in a two-part essay, the work of Samir Amin, one of the leading theorists of World Systems Analysis and dependency theory. In part one, Robinson introduces Amin's approach to global accumulation and "Maldevelopment".
In a fascinating video interview, celebrated Israeli historian and dissident intellectual Ilan Pappe talks to author and film-maker Frank Barat about the latest developments in the conflict, including the Palestine Papers, the Arab Spring and the way forward. "It is now time for everyone", Barat writes in his introduction "to re-frame the questions"

Whose problem is it when a mother finds herself unable to take part in political resistance because she can't find childcare provision? In her new column, Sara Motta argues that a strong, inclusive movement cannot be built and sustained if we allow obstacles to female participation to be systematically ignored or trivialised.

The arrival of spring hails the start of the great artworld circus that is the Turner Prize. Watching the shortlist trigger the usual mixture of ill-conceived cynicism and giddy elation, Ceasefire columnist Daniel Barnes says it's time to reflect on the cultural relevance of Britain's most coveted art prize.

What happens when the tourism industry invades places of worship? Ceasefire's Ruqaya Izzidien, writing from Cairo, discovered some of the answers.

In his latest column, Kateb Salim takes a look at Syria, where Bashar Al-Assad's faltering attempts at stemming the tide of anger sweeping his country are threatening to unlock a pandora's box of uncertainty and chaos.

What does it mean when a woman covers her face? Is it an act of submission? An act of defiance? Or something else entirely? From the masked Argentinian Piqueteras to the Burqa-ban controversy in France, Ceasefire columnist Sara Motta takes on the politics of the female face.