April, 2011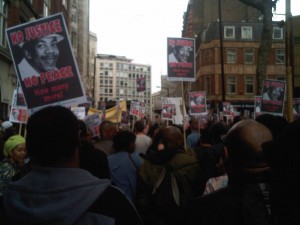 Last Saturday saw the biggest Black-led protest in Britain for twenty years. Thousands took to the streets to demand justice after reggae artist Smiley Culture died during a police raid on his home earlier this year. Associate Editor Adam Elliott-Cooper reports
Eva Baker addresses the media representation of the recent anti-cuts protest in London and asks which is more justifiable: black bloc tactics, or a national public sector destruction at the hands of white toffs?

In his latest column, Kateb Salim takes a look at the post-revolution scene in Tunisia and Egypt. Whilst progress has been undeniable in both countries, it is still far too early, he warns, to declare these revolutions complete.

Kim Longinotto, one of the world's foremost female film-makers has gained worldwide acclaim for her brutally honest portrayals of oppression and violence against women and children. In an exclusive new interview, she speaks to Ceasefire's Melanie Scagliarini about life, art and the centrality of truth-telling to her work.

A week ago, celebrated Israeli-Palestinian director and actor Juliano Mer-Khamis was shot dead by gunmen outside his Freedom Theatre in Jenin. In a moving, personal tribute, Nihal Rabbani, a friend and colleague, recounts her memories of him.

In this month's edition of his 'Irish Times' column, our Political Editor, Omayr Ghani, provides a round-up of events including last week's bombing, a new Irish government formed, Kousa Mousa accused over IRA links and much more

As the crisis in Côte d'Ivoire reaches its apotheosis, Kateb Salim traces its origins and the dynamics of the power struggle at its heart. The prospects for peace in the near future, he warns, are not looking too promising.

In this edition of Beautiful Transgressions, Ceasefire Magazine columnist Sara Motta reflects on the different forms of action during last week's TUC March in London, by revisiting the popular movements in Chile during the 1970s and 80s

A few days ago, Belgium dethroned Iraq as the country that has gone the longest without forming a government after an election. Ceasefire correspondent Emily Macintosh reports on how the country faces the real prospect of breaking apart.