Notes from the Margins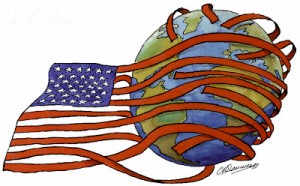 American hesitation over intervening militarily in Syria has led some hawkish interventionists to worry that the United States may be heading towards a new period of isolationism and abandoning its global leadership role. In his latest column, Matt Carr argues that this might not be such a bad thing.
The latest attempts to militarise the Syrian Civil War are paving the way for further destabilisation and war, argues Matt Carr in his latest column. A revitalised peace movement is necessary to prevent it.

In his latest column, Matt Carr celebrates the brilliant investigative journalism of the Taiwan-born reporter Hsiao-Hung Pai and her new book on Chinese rural migration.

In his latest column, Matt Carr looks at the disastrous impact of Spain's economic crisis and finds parallels in Spanish history.

In his presidential inauguration speech, Barack Obama praised the U.S. Armed Forces and the 'price' American soldiers have paid in defence of 'liberty.' Matt Carr reflects on the 'other' victims of these wars, who went unmentioned in the president's address.

In his latest column, Matt Carr looks at the contemporary resonance of D.W. Griffiths' racist epic The Birth of a Nation.

In his latest column, Matt Carr argues that Europe's obsession with preserving the single currency through brutalist austerity politics threatens to de-rail the European Union itself.

In recent years a number of Israeli companies, many of them staffed by former soldiers, have attempted to promote Israel as a destination for extreme tourism with a military component. Matt Carr looks at the phenomenon and considers the overlap between entertainment, voyeurism and propaganda that has transformed Israel into a military themepark.

The fall of the Berlin Wall prompted the more optimistic proponents of globalisation to hail the advent of a new "borderless" world. Two decades later, however, borders and boundaries have acquired a political importance not witnessed even during the hottest period of the Cold War. Matt Carr considers why this has happened.

In his latest column, Matt Carr looks at the brutal persecution of undocumented migrants in the Greek port-city of Patras, a continuum of violence that spans militarised law enforcement, the policing of protest, immigration control and the battlefields of the "war on terror"'.