Politics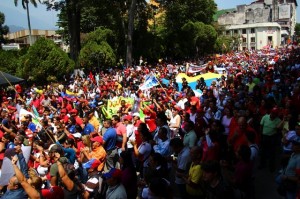 Lee Salter argues our understanding of the recent upheavals in Venezuela must be placed in its proper, larger context. It's not about economics, corruption or crime, he insists, but about the ultra-rich and their supporters trying to overthrow the will of the people.
This week, the UK's three main parties joined forces to claim an independent Scotland would not be able to keep the Pound. This is further evidence of the increasing panic gripping Westminster over September's referendum, argues Yvonne Ridley.

As the people of Bahrain mark the third anniversary of the 2011 uprising, decision makers across the west need to reflect on their role in exacerbating tensions and facilitating repression in the country.

Yesterday's verdict in the Mark Duggan case has sent shockwaves of anger and disbelief in communities across the UK. Ceasefire's Adam Elliott-Cooper argues the case epitomises the enduring nature of systematic and institutional injustices at the heart of the British political establishment.

2013 saw hunger strikes by detainees held without charge or trial at Guantánamo Bay and immigration removal centres in the UK. In spite of worsening conditions and growing desperation, in both cases, the response was further repression. Parallels can be drawn.

As the Editor of Left Foot Forward, James Bloodworth is an increasingly prominent voice on the Left in the UK. And yet, Ian Sinclair argues, Bloodworth's positions, notably on the "war on terror", have more in common with those of hawks in the UK and US Governments.

A student campaign has been launched against 'Student Rights,' a UK-based group that has attracted criticism for its failure to speak up for Muslim students' rights as well as controversy over its funding and associations.

Today's presidential election results in Chile saw a first-round victory for Nueva Mayoria candidate Michelle Bachelet, with the second-round scheduled next month.Alberto Mayol, a Chilean sociologist, writer and Left public intellectual spoke to Ceasefire's Ali Sargent.

A year ago, Talha Ahsan, a British poet with Asperger's, was extradited to a supermax prison in the US. Shami Chakrabati, director of human rights organisation Liberty, speaks to Hamja Ahsan, coordinator of the Free Talha campaign, about the cruel absurdities of UK extradition policy.

As the media-political campaign against so-called 'health tourism' intensifies, government policies continue to plight countless migrant lives. Luqman Onikosi writes of his own personal battle to receive medical treatment for his serious chronic illness against the bureaucratic cruelties of the UK immigration system.