Politics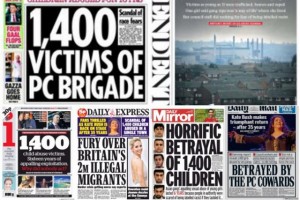 Recent coverage of the Rotherham child exploitation case has focused on the race, religion and ethnic background of the perpetrators. This fits neatly into a right-wing discourse around the supposed tyranny of political correctness and distracts from the prominent role of white, establishment figures in sexually exploiting children.
Once again, the spectre of war and destruction is hovering across Iraq and, once again, the mainstream media is acting as an uncritical supporter of Western intervention.

As a growing number of voices worldwide call for an embargo on all arms sales to Israel, the UK's response has fallen dismally short, warns Andrew Smith.

As Israel launches another bombing campaign against the population of Gaza, mainstream discourse is yet again painting the situation as a conflict between equals. This is not evidence of 'neutrality' but a de-facto show of support for the oppressor, writes Mohammed Suliman.

This month, Britain's immigrant 'detention estate' has been rocked by one of the largest protests to date, yet another consequence of the climate of hatred, fear and racism so deeply embedded in Britain's squalid current 'debate' about immigration, argues Matt Carr in his latest column. 

Michael Gove's virulent campaign against Muslim educationists - recently evidenced by the Trojan Horse plot that wasn't - shouldn't come as a surprise to anyone who's been paying attention to his record, argues Yvonne Ridley.

Animal rights campaigners and consumers are justified in their outrage over the ambiguity of food packaging labels. But anyone leaping into the latest Halal meat controversy should mind the Islamophobic bandwagon, warns Yvonne Ridley.

With India's general election set to begin on Monday, the BJP is widely expected to secure victory and its controversial leader, Narendra Modi, to become the country's next prime minister. Amrit Wilson reports.

Ten days ago, Ross Longhurst, a 72-year-old Nottingham resident and activist, was sentenced to 28 days in prison for his principled refusal to pay council tax in protest against the austerity agenda of both the coalition government and the local Labour council. His brave action should be saluted, argues Steven Mahatma.

On Sunday, several hundred people gathered outside the Home Office in London in solidarity with human rights campaigner Moazzam Begg following his "politicised" arrest on terror charges last week. Sara Chaudhry reports.