Politics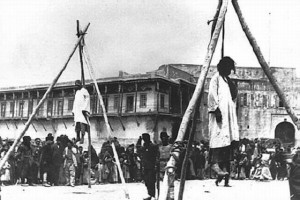 This week, Armenians worldwide commemorated their great national tragedy, the Armenian genocide of 1915. Robert Kazandjian explains why the battle to have this episode recognised matters.
In his latest column, Matt Carr celebrates the brilliant investigative journalism of the Taiwan-born reporter Hsiao-Hung Pai and her new book on Chinese rural migration.

John Lubbock argues we must leave Thatcher's ghost behind to undo her poisonous legacy.

As the centenary of heroic suffragette Emily Wilding Davison's death approaches, a campaign is under way for it to be marked with a minute's silence at the iconic Epsom Derby horse race. Unsurprisingly, the proposal is being resisted by the very same Establishment that tried to crush women's rights back in 1913, argues Yvonne Ridley.

In his latest column, Matt Carr looks at the disastrous impact of Spain's economic crisis and finds parallels in Spanish history.

Last week, the UK government hailed Professor James Crawford's legal advice on Scottish independence. So why, asks Chris Doyle, does it continue to ignore his advice on Israeli settlement trade?

In his latest report from Palestine, Derek Oakley looks at the effects of water and environmental degradation caused by Israeli settlements on the livelihoods of Palestinians.

Recent scandals, from undercover agents stealing the identities of dead children to senior counter terrorism officers trying to sell information to the media, have further tarnished the Met Police's long record of incompetence, greed, corruption, mendacity and sleaze. It is not fit for purpose and should be dismantled, argues Yvonne Ridley.

As British MPs prepare today's free Commons vote on equal marriage, AL Shaw asks whether a more precise definition of Homophobia can prove decisive in the fight against it.

Reflecting on conversations with people on 'both sides' of the Israel-Palestine divide, Derek Oakley explores the significance of 1948, and the prospect of Palestinians returning to their homes.