Interviews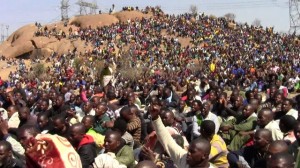 In 2012, thirty four striking miners were killed in South Africa's most notorious post-Apartheid massacre. Rehad Desai, filmmaker and academic spoke to Ceasefire's Usayd Younis about his new documentary 'Miners Shot Down' and the state of the country today.
Racism in policing, education and employment continue to be some of the biggest issues facing black communities. Ceasefire's Adam Elliott-Cooper talks to Robbie Shilliam and Stafford Scott about how academia, and the legacies of enslavement can help us understand and contribute to black community struggle today.

As Israeli Apartheid Week launches across campuses worldwide, author and activist Ben White talks to Ceasefire's Sara Chaudhry about the newly released updated edition of his book, 'Israeli Apartheid: A Beginner's Guide'.

Christopher Davidson, author of 'After the Sheikhs: The Coming Collapse of the Gulf Monarchies, talks to Ian Sinclair about the continued survival of the Gulf regimes, reasons for democrats to be hopeful and the role played in the region by the West.

Environmental campaigner Anjali Appadurai speaks to Ceasefire's Phil England about the incremental progress made at the Climate Change talks in Warsaw in December and why colonial attitudes and corporate interests are holding us back.

In part two of our exclusive interview, Hip-Hop artist Akala talks to Ceasefire's Adam Cooper about Lily Allen, Mark Duggan, police impunity, slavery reparations, the banning of slang in schools and much more.

Just days after the strongest typhoon in history left 10,000 feared dead in the Philippines, the latest round of UN climate talks are getting underway in Warsaw, Poland. A veteran of the UN climate talks, Asad Rehman of Friends of the Earth, says civil society and mass movements must escalate the challenge to corporate power if we are to start seeing meaningful outcomes.

Egyptian revolutionary socialist Hannah Elsisi, currently in Cairo, talks to Hesham Zakai about the sources and repercussions of Egypt's unfolding tragedy.

In a Ceasefire special on St. George's Day, Symeon Brown interviews Daniel Trilling, New Statesman Associate Editor about his latest book, Bloody Nasty People, and the wider debate over the far right, class and British identity.

Festival au Désert, a landmark event founded 13 years ago this week by a collective of North Malian Touareg musicians has been cancelled this year. In an exclusive interview conducted on the eve of French military intervention, the festival's founding director spoke to Ceasefire's Oualid Khelifi.