Features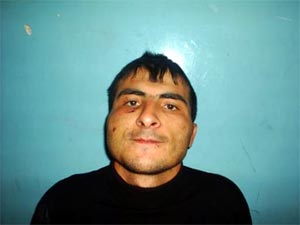 The "war on terror" has provided a blanket for states around the globe to commit and collude in human rights abuses, particularly of vulnerable minorities. Aisha Maniar reports on the extraordinary case of Rasul Kudaev.
Brighton's refuse worker wildcat strike continues into its second day with a surprising new member: Caroline Lucas, Green Party MP

Michael Segalov reports for Ceasefire on today's sit-in protest by three hundred workers against a 'pay modernisation' scheme by Green Party-run Brighton and Hove City Council.

On Saturday, BDS activists across London staged a number of occupations at John Lewis and Whole Foods stores, to protest against their sale of Sodastream products, made in illegal Israeli settlements. Areeb Ullah reports for Ceasefire.

In a Ceasefire special on St. George's Day, Symeon Brown interviews Daniel Trilling, New Statesman Associate Editor about his latest book, Bloody Nasty People, and the wider debate over the far right, class and British identity.

Two weeks ago, thousands of activists gathered in Tunis for the 2013 edition of the World Social Forum, the first time the landmark global event was held in an Arab country. Meriem Ais, Ali Meziane and Amine Mouffok report for Ceasefire on their WSF experience, particularly on the Algerian presence - and absences - at the event and what this presages for the future.

Aisha Maniar reports for Ceasefire on the ongoing hunger strike by Guantánamo Bay detainees, most of whom have been cleared of any charges, with lawyers warning of tragic consequences.

Ahead of a major protest in Berlin this Saturday, Leoni Linek reports on Germany's new refugee protest movement which, in the face of arbitrary arrests and police brutality, has scored a number of successes and inspired similar movements across Europe.

Stephane Hessel, legendary French Resistance fighter and author of the 2010 manifesto 'Time for Outrage', passed away on Tuesday at the age of 95. In a highly personal tribute, Frank Barat, coordinator of the Russell Tribunal on Palestine, pays homage to an inspiring and principled figure.

As Fashion Week hits New York, Ashok Kumar and Chetan Ahimsa uncover the history of exploitation in clothing factories, and the contemporary movements resisting the dangers involved in modern production.