Features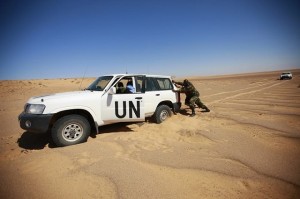 After years of occupation and a decades-long wait for a self-determination referendum, it is time for the UN peacekeeping force in the Western Sahara, whose mandate is up for renewal this April, to add human rights monitoring to its remit, argues Khalil Asmar.
In January, Haringey council revealed plans to evict hundreds of tenants from three sprawling industrial sites in Tottenham, after discovering private landlords had been renting commercial warehouse spaces to a young, London creative community for over a decade. The plans have sparked outrage from residents who are now fighting back to save their homes, and in many cases, their livelihoods.

As Israeli Apartheid Week launches across campuses worldwide, author and activist Ben White talks to Ceasefire's Sara Chaudhry about the newly released updated edition of his book, 'Israeli Apartheid: A Beginner's Guide'.

Attempts to decode the political crisis submerging Bangladesh must first survey its connections to the cultural landscape. The ever-widening gulf between the ruling class and the people under its subjugation stems from the Islamophobia of the current ruling elites, a hangover from the 19th-century Orientalism of the British Raj given a new lease of life by the 'War on Terror'.

Christopher Davidson, author of 'After the Sheikhs: The Coming Collapse of the Gulf Monarchies, talks to Ian Sinclair about the continued survival of the Gulf regimes, reasons for democrats to be hopeful and the role played in the region by the West.

In December 2013, Kurdish rights and women's rights advocate Margaret Owen travelled to Rojava, in Syrian Kurdistan, just three weeks before the region officially announced self-government. Here she reports on her experiences in the conflict-zone and the PYD's principles of gender equality in action.

Environmental campaigner Anjali Appadurai speaks to Ceasefire's Phil England about the incremental progress made at the Climate Change talks in Warsaw in December and why colonial attitudes and corporate interests are holding us back.

Sabiha Mahmood reports on her three-week visit to the Western Sahara and the Tindouf refugee camps in Algeria, with powerful photography documenting the lives of Sahrawis in Africa's last remaining colony.

Prompted by her recent visit to her homeland, Agaila Abba presents a highly personal portrait of the historical origins of the Western Sahara question and the ongoing Sahrawi refugee problem. With exclusive photography by Joe Huddleston.

In part two of our exclusive interview, Hip-Hop artist Akala talks to Ceasefire's Adam Cooper about Lily Allen, Mark Duggan, police impunity, slavery reparations, the banning of slang in schools and much more.