Features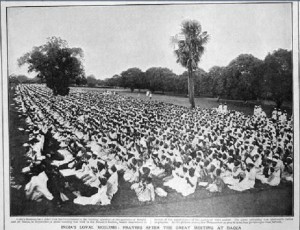 Attempts to decode the political crisis submerging Bangladesh must first survey its connections to the cultural landscape. The ever-widening gulf between the ruling class and the people under its subjugation stems from the Islamophobia of the current ruling elites, a hangover from the 19th-century Orientalism of the British Raj given a new lease of life by the 'War on Terror'.
Christopher Davidson, author of 'After the Sheikhs: The Coming Collapse of the Gulf Monarchies, talks to Ian Sinclair about the continued survival of the Gulf regimes, reasons for democrats to be hopeful and the role played in the region by the West.

In December 2013, Kurdish rights and women's rights advocate Margaret Owen travelled to Rojava, in Syrian Kurdistan, just three weeks before the region officially announced self-government. Here she reports on her experiences in the conflict-zone and the PYD's principles of gender equality in action.

Environmental campaigner Anjali Appadurai speaks to Ceasefire's Phil England about the incremental progress made at the Climate Change talks in Warsaw in December and why colonial attitudes and corporate interests are holding us back.

Sabiha Mahmood reports on her three-week visit to the Western Sahara and the Tindouf refugee camps in Algeria, with powerful photography documenting the lives of Sahrawis in Africa's last remaining colony.

Prompted by her recent visit to her homeland, Agaila Abba presents a highly personal portrait of the historical origins of the Western Sahara question and the ongoing Sahrawi refugee problem. With exclusive photography by Joe Huddleston.

In part two of our exclusive interview, Hip-Hop artist Akala talks to Ceasefire's Adam Cooper about Lily Allen, Mark Duggan, police impunity, slavery reparations, the banning of slang in schools and much more.

On Wednesday, an Egyptian court sentenced twenty one women, including girls as young as 15, to heavy prison terms for taking part in anti-Coup protests last month, a case that has caused great alarm among civil rights campaigners. Ceasefire's Alessandra Bajec reports from Alexandria and Cairo.

Just days after the strongest typhoon in history left 10,000 feared dead in the Philippines, the latest round of UN climate talks are getting underway in Warsaw, Poland. A veteran of the UN climate talks, Asad Rehman of Friends of the Earth, says civil society and mass movements must escalate the challenge to corporate power if we are to start seeing meaningful outcomes.

As part of a larger global protest, with over 400 marches in 150 different countries, hundreds of Anonymous members descended on London's Trafalgar square on the night of November 5th. The protest featured a surprise guest-appearance by Russell Brand and some less surprising heavy-handed policing.